Jun 30, 2010 — by Eric Brown — from the LinuxDevices Archive — 2 views
Amazon released its Kindle app for Android, while announcing a multimedia version for the iPhone and dropping the price of the Kindle, says eWEEK. Meanwhile, Android 2.2 rolled out to Nexus One users, but Sprint suspended its own rollout to the Evo 4G, says eWEEK, and Samsung announced plans for a Froyo update to its Galaxy S.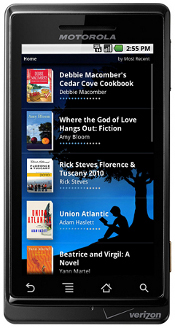 Amazon announced the Android version of its free e-reader app for its Kindle Store in May. Now available on Android Market, according to a story in our sister publication, eWEEK, Kindle for Android (pictured) offers access to over 540,000 books in the Kindle Store.
Supporting Android versions as old as version 1.6, the app provides a basic version of functionality already found on the Linux-based Kindle and Kindle DX e-reading devices, says Amazon. It joins other Kindle e-reading apps available now for RIM's BlackBerry, as well as Apple's iPhone, iPod touch, and iPad.
Features include the ability to adjust text size, add bookmarks, and view annotations created on other devices, writes Nicholas Kolakowski in eWEEK. Other features are said to include the ability to read in landscape or portrait mode, and turn pages via tapping or flicking.
Users can purchase e-books directly through their Android devices, but periodicals such as newspapers and magazines are apparently not available, says the story. (For more on Kindle for Android, please see our earlier coverage, here.)
Kindle app goes multimedia — but only on Apple devices
Earlier this week, Amazon announced a new version of its Kindle app for Apple mobile devices — including the iPad and iPhone — that adds support for embedded audio and video clips, says the story. This would allow readers, for example, to listen to a travel author's narration during a city tour, or view a demonstration video inside a how-to text, eWEEK notes.
Amazon tipped a future role for multimedia on the Kindle when it announced a Kindle Development Kit in January. The SDK was said to support "active content," an undefined term that seemed to suggest multimedia e-books.
The multimedia version of the Kindle app "would conceivably allow Amazon.com to carve off a certain percentage of readers who opt to purchase an iPad rather than a Kindle e-reader," writes Kolakowski.
He also notes that Google is expected to start selling e-books online through Google Editions, and let users access their libraries through a variety of devices. Google will reportedly allow publishers to set prices for their works, which would help Google create another competitive differentiator against Apple, says the story.
Last week, me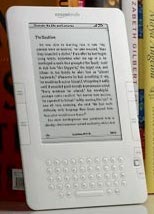 anwhile, Amazon dropped the price of its Kindle e-reader (pictured at left) from $259 to $189 in response to Barnes & Noble reducing the price of its Nook e-reader, says eWEEK. A Kindle version 2.5 software update was also released, allowing users to share e-book passages via Facebook and Twitter, and to organize books or documents into specific categories, says the story.
A follow-up story by Kolakowski cites a statement from William Kidd, director and principal analyst of financial services for iSuppli, who says e-reader price cuts are approaching their natural limits. At this point, Amazon and Barnes & Noble have priced their e-readers at near break-even levels, so any profits must now come from ebook sales, Kidd was quoted as saying. And only a few companies have the marketing muscle to play that content-centric game, he added.
One of those companies is Apple, whose iPad has been responsible for some five million e-book downloads through the company's iBookstore, or roughly 2.5 per iPad, says the story. The claim was said to have been made by Apple earlier this month.
As a result of Apple's iPad, the e-reader price cutting has happened earlier than expected, although it seems a natural evolution of the market, according to Kidd. "This is the same 'razor/razor blade' business model successfully employed in the video game console business, where the hardware is sold at a loss and profits are made on sales of content," Kidd was quoted as saying.

Android 2.2 reaches Nexus One, but Evo 4G's Froyo roll-out hits snag
As we reported on Monday, a few Nexus One smartphone owners

were said to have received Android 2.2 last week, and Sprint announced that it would soon be distributing the speedy, Flash-enabled "Froyo" release "soon" for its HTC Evo 4G (pictured).
Sprint apparently wasn't kidding, as eWEEK now reports that the over-the-air (OTA) update started rolling out on Monday. Apparently, it was a bit too soon, however, as the update quickly killed a number of the handsets, says the Michelle Maisto story.
Before the damage could spread further, Sprint quit the OTA update midway and released a statement saying that while only a few phones had been affected, distribution had been temporarily halted "until we can investigate further."
Meanwhile, on that same day, Google began a widespread release of Android 2.2 for its HTC-manufactured Nexus One, says another eWEEK story, this time by Clint Boulton. Thousands of Nexus One owners have received the update, said the story.
Last week, Verizon Wireless and Motorola said that the new Droid X will get an over-the-air upgrade to Android 2.2 later this summer, following an earlier commitment to update the original Motorola Droid.

Today, The Inquirer reported that Samsung says its high-end Galaxy S smartphone (pictured) would be updated to Android 2.2, although it did not say when. Nor did it say which versions of the Galaxy S would receive the update.
The story mentioned that the phone was being offered by Vodafone in Europe, but the Galaxy S is also available in Asian countries including Korea and Singapore, and will soon come to U.S. Cellular in the U.S.
Meanwhile, four new Galaxy S variants that for the most part differ only in branding, pre-installed software, and memory allotment have been announced for various U.S. networks. These include the AT&T Samsung Captivate, Verizon's Samsung Fascinate, T-Mobile's Samsung Vibrant, and Sprint's WiMAX- and keyboard-enabled Samsung Epic 4G. Presumably they will be available for Froyo updates as well, although the story was not clear on this point.
Availability
The eWEEK story on the release of the Kindle for Android may be found here, and the story on the Apple multimedia version should be here.
The eWEEK story on the Kindle price cuts may be found here, and the follow-up analysis of price cutting in the e-reader market should be here.
The eWEEK story on the Nexus One roll-out of Android 2.2 may be found here, and the report on the Sprint halt to its own Froyo update should be here.
The story in The Inquirer about Samsung's Android 2.2 rollout plans should be here.
---
This article was originally published on LinuxDevices.com and has been donated to the open source community by QuinStreet Inc. Please visit LinuxToday.com for up-to-date news and articles about Linux and open source.