Jun 14, 2011 — by LinuxDevices Staff — from the LinuxDevices Archive — 1 views
Officials with Calxeda, the startup that's building ARM-based chips for low-power data center servers, announced a "Trailblazer" program designed to create an ecosystem around its technology. But, while Calxeda touted support from Ubuntu Linux sponsor Canonical, among other companies, there's been no hint from Microsoft that it will create a server edition of its ARM-based "Windows 8."
Calxeda on June 14 announced its Trailblazer program, which kicked off with 10 initial members that touch on such areas as cloud computing and open-source software. They all fall in line with Calxeda's goal of creating data center solutions based on highly energy-efficient servers that are powered by the company's upcoming processor technology, with the goal of helping businesses stem the growth in energy consumption and reduce power costs.
Calxeda is one of a growing number of chip makers looking to take ARM-based low-power chip designs — which currently are found in most smartphones and tablets — and create processors for energy-efficient servers for such environments as cloud computing, web serving, and big data. They're looking to gain traction in an area traditionally held by x86 stalwarts Intel and Advanced Micro Devices. ARM CEO Warren East declared late last year that ARM-based chips would begin eating into Intel's sizable server processor market share by 2014.
Calxeda officials expect to be players in that scenario. In March, they said engineers were continuing to work on coding, and suggested that Calxeda's SoC (system on chip ) — which initially will be based on ARM's Cortex-A9 design — could start reaching OEMs later this year, with products based on the chips arriving soon after that.
The Trailblazer program is designed to push the Calxeda technology forward, according to CEO Barry Evans.
Evans stated, "The data center energy crisis is real, and the faster we can help our system vendors and partners get complete solutions in our customers' hands, the faster we can help them save money, and reduce their energy consumption and carbon footprint."
Initial program members are Autonomic Resources, Ubuntu sponsor Canonical, Caringo, Couchbase, Datastax, Eucalyptus Systems, Gluster, Momentum SI, Opscode, and Pervasive. More companies are expected to join, according to Calxeda officials.
These vendors will be among the first to receive and test Calxeda's products, and will also help end users evaluate Calxeda systems. The initial Trailblazer members will evaluate everything from application requirements to system configurations to estimated energy savings.
Calxeda officials said the program is a way of meeting customer and partner demand for getting systems powered by its chips into data centers. Trailblazer members will get access to early silicon for proof-of-concept testing. They also will get early access to hardware, operating system software, tools, applications, and joint sales and marketing, the company said.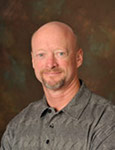 During an interview in March, Karl Freund (pictured), the former Hewlett-Packard and IBM executive who now is the startup's vice president of marketing at Calxeda, said demand is starting to grow as the company gets the word out.
"Before the response was, 'Are you crazy?'" Freund said. "Now the response is, 'When do we get one?'"
Calxeda officials said servers based on their SoC will offer 120 quad-core ARM nodes — or 480 cores — in a 2U (3.5-inch) form factor. The average power consumption will be about 5 watts per node, and such a system will consume about 600 watts and offer the same performance as a full rack of x86-based systems that use about 4,000 watts.
Challenges include lack of Windows support
However, there will be significant challenges, including the dominant positions Intel and AMD hold in the server market and the fact that a large number of data center applications run on x86, not ARM's architecture.
Freund is however quoted by The Register as saying, "Microsoft has not made any announcements about Windows Server on ARM. If Windows happens, great. That's all upside for us and we'll love it if it happens."
As we reported last month, Intel CEO Paul Otellini has said ARM's efforts to become a player in the server space "ain't gonna work." He was quoted as adding at a May 17 investor meeting, "the architecture has to grow up."
Responding to this, Freund reportedly told The Register, "We're not putting out tail between our legs and running away after what Intel has said. The good news is that customers are going to have a choice, and in those places areas where they want to optimize for power efficiency rather than 64-bit memory, we expect to maintain a significant advantage."
Last September, ARM announced its Cortex-A15 core, which it said will be shipped in SoCs by multiple licensees in 2012. Capable of 2.5GHz performance, the A15 could find a home in high-end smartphones, but it also adds hardware support for operating system (OS) virtualization, soft-error recovery, larger memory addressability (up to 1TB), and system coherency, says ARM.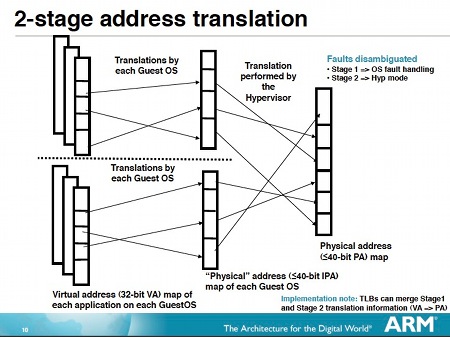 Large Physical Address Extensions (LPAE) will let ARM Cortex-A15 CPUs work with physical memory up to 1TB, ARM says
(Click to enlarge)

In November 2010, Marvell began sampling the Armada XP, a 1.6GHz chip that includes four ARM v7 processor cores and four gigabit Ethernet interfaces, along other server-centric attributes. Other related developments have included Nvidia's plans to build server CPUs, and ZT Systems' release of a power-sipping R1801e rackmount server.
Jeffrey Burt is a writer for eWEEK. Jonathan Angel added reporting to this story.
---
This article was originally published on LinuxDevices.com and has been donated to the open source community by QuinStreet Inc. Please visit LinuxToday.com for up-to-date news and articles about Linux and open source.