Nov 1, 2011 — by LinuxDevices Staff — from the LinuxDevices Archive — 2 views
Calxeda announced an ARM-based "server-on-a-chip" that includes up to four ARM Cortex-A9 cores, a fifth "management controller" core, a fabric switch, and multiple controllers supporting peripherals such as SATA drives, PCI Express, Ethernet, and SD cards. HP says it will build these ECX-1000 processors into "Redstone" servers — initially Unbuntu Linux-based — later versions of which may alternatively employ Intel Atom CPUs.
Back in March, Calxeda said its ARM-based server chips, based on a quad-core ARM Cortex-A9 design, would be reaching OEMs later this year. The company added at the time that its SoCs would enable vendors to create servers that will offer 120 quad-core ARM nodes, with an average power consumption of about five Watts apiece, in a single rack.
On Oct. 26, both Bloomberg and The Wall Street Journal added that HP would become the first major OEM to adopt Calxeda processors for some of its servers. And on Nov. 1, it all came to pass, with launch events at Calxeda and HP headquaters in Austin, Texas, and Palo Alto, Calif., respectively.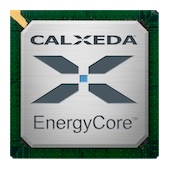 Calxeda's server chip — known as the ECX-1000 — includes two or four ARM Cortex-A9 cores, which can be clocked at speeds from 1.1 to 1.4GHz. The SoC (system on chip) also has a fifth processor dedicated to power and systems management, according to the company, and consumes a maximum of 5 Watts in its four-core 1.4GHz version.
Calxeda says the so-called Energy Core Management Engine can "perform real-time power optimizations by individually tuning 14 different power domains within the node, idling or turning off entire subsystems when possible, yet instantly resuming operation within a matter of clock cycles." Supporting IPMI 2.0 and DCMI management protocols, the management processor further provides a dedicated Ethernet MAC and Serial-over-LAN support, for out-of-band systems management, the company adds.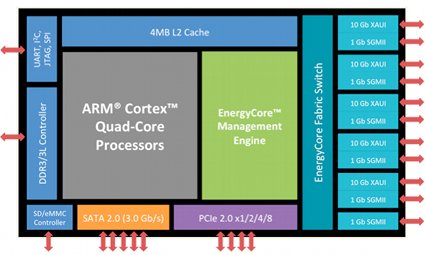 A block diagram of Calxeda's ECX-1000
(Click to enlarge)
The ECX-1000, reportedly fabricated using a 40nm processor by TSMC (Taiwan Semiconductor Manufacturing Corp.), has much more etched onto it. Notably, there's an 8×8 fabric switch, designed not only to link the chips to an outside network, but also to link multiple ECX-1000s to one another in a cluster.
According to Calxeda, the switch offers 80Gb/sec. of bandwidth. Supporting gigabit and 10Gb Ethernet, it can link as many as five XAUI 10Gb ports, six 1Gb SGMII ports (multiplexed w/XAUI ports), and three 10Gb Ethernet MACs (supporting IEEE 802.1Q VLANs, IPv4/6 checksum processing, and TCP/UDP/ICMP checksum offload), the company adds.


More details of Calxeda's ECX-1000
(Click to enlarge)
Given that the ARM Cortex-A9 cores are 32-bit (unlike ARM's upcoming 64-bit ARMv8), the ECX-1000 is not being aimed at mainstream applications nor at supercompting. Rather, it's "ideal for workloads such as web serving, 'Big Data' applications, scalable analytics such as Apache Hadoop, media streaming, and mid-tier infrastructure such as caching and in-memory scalable databases," Calxeda claims.
Additiuonal features cited by Calxeda for the ECX-1000 include:
Cache:

32 KB L1 instruction cache per core
32 KB L1 data cache per core
4 MB shared L2 cache with ECC

Integrated memory controller:

72-bit DDR controller with ECC support
32-bit physical memory addressing
supports DDR3 (1.5V) and DDR3L (1.35V) at 800/1066/1333 MT/s
single and dual rank support with mirroring

PCI Express:

4 integrated Gen2 PCIe controllers
1 integrated Gen1 PCIe controller
up to 2 PCIe x8 lanes
up to 4 PCIe x1, x2, or x4 lanes

SATA controllers

Support for up to 5 SATA disks
Compliant with SATA 2.0, AHCI Revision 1.3, and eSATA specifications
SATA 1.5Gb/s and 3.0Gb/s speeds supported

SD/eMMC controller:

compliant with SD 3.0 host and MMC 4.4 (eMMC) specifications
supports 1- and 4-bit SD modes and 1/4/8-bit MMC modes
read/write rates up to 832 Mbps for MMC and up to 416 Mbps for SD

System integration features:

3 I2C interfaces
2 SPI (master) interfaces
2 high-speed UART interfaces
64 GPIO/interrupt pins
JTAG debug port
Calxeda's EnergyCard
Calxeda also announced a reference product for server manufacturers that incorporates four ECX-1000 chips. Known as the EnergyCard, it's a 10 x 2.7-inch card that includes two PCI Express-style connectors, four mini-DIMM sockets accepting up to 1GB apiece, and a multitude of SATA ports.


Calxeda's EnergyCard
(Click to enlarge)
As pictured above, there are four SATA 2.0 ports dedicated to each SoC, for a total of 16. Calxeda adds that four SATA channels are also available via the edge connectors, as are eight 10Gb Ethernet channels, a high-speed UART interface, two GPIOs, an I2C interface, and a JTAG debug port.
According to Calxeda, the EnergyCard uses 12V power, dissipates 25 Watts overall, and may be cooled passively via a heatsink. Operating range is from 32 to 140 deg. F, the company adds.
Manufacturers or system integrators can plug multiple EnergyCards into a passive system board for "near limitless" expansion, Calxeda says. According to Karl Freund, the company's vice president of marketing, customers could fit 18 to 240 ECX-1000 chips into a single 2U box, and up to 3000 of the devices in a full rack.
Citing an HP design (see below), Calxeda CEO and co-founder Barry Evans said, "A single rack of HP's Calxeda servers delivers the throughput of some 700 traditional servers and dramatically simplifies the infrastructure needed to hook them all together and manage the cluster."
Given that Microsoft has not even announced plans to create a server version of its ARM-powered Windows 8 operating system, ECX-1000 servers will run Linux. Canonical's Ubuntu is specifically mentioned by Calxeda, but the devices will also run Red Hat's Fedora, or so a Nov. 1 article in The Register claims.
Canonical's Mark Shuttleworth stated, "The fundamental constraint in the world of massively parallel approaches to data management and analytics is power. Today marks the beginning of a new way of thinking about what is possible in data and analytics. What is happening here at Calxeda and HP is the beginning of that revolution in the data center."
HP's Redstone servers
HP announced it will use Calxeda ECX-1000 processors in its first "Redstone Server Development Platform" products, to be released during the first half of 2012. Future Redstone versions "will include Intel Atom-based chips as well as others," the company added.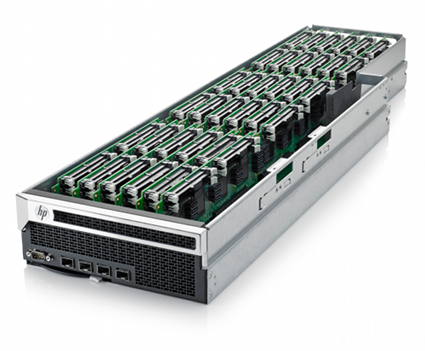 HP's Redstone
(Click to enlarge)
One image released by HP shows a tray (above) that appears to contain 18 of Calxeda's Energy Cards, while another image (below) shows a unit that will hold four of these trays. Dimensions weren't cited, but HP said Redstone can incorporate "more than 2,800 servers in a single rack, reducing cabling, switching and the need for peripheral devices, and delivering a 97 percent reduction in complexity."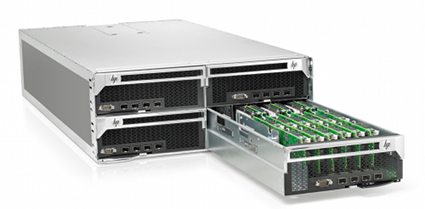 A rack for four Redstone trays
(Click to enlarge)
As part of a multiyear, multi-phased program dubbed Project Moonshot, HP said, it will open a "Discovery Lab" in Houston, Texas in Jan. 2012, with other sites planned for Europe and Asia. Clients will be able to use remote or onsite access to test and benchark applications on the Redstone platform "and other extreme low-energy platforms," the company added.
Further information
More information on Calxeda's ECX-1000 can be found on the ECX-1000 product page. More information on the company's quad-note EnergyCard may be found on the EnergyCard product page. Availability was not detailed.
Jonathan Angel can be reached at [email protected] and followed at www.twitter.com/gadgetsense.
---
This article was originally published on LinuxDevices.com and has been donated to the open source community by QuinStreet Inc. Please visit LinuxToday.com for up-to-date news and articles about Linux and open source.