Feb 28, 2011 — by LinuxDevices Staff — from the LinuxDevices Archive — 2 views
Yet another Atom processor has broken cover — this time offering 64-bit processing, the ability to use up to 4GB of RAM, and support for hardware virtualization. The 1.66GHz N570 will be offered first in SeaMicro's SM10000-64 server, which employs 256 of the chips in a 10U rackmount case.
When Intel announced its dual-core Atom N550 for netbooks last August, we quipped that for once the chip giant had managed to publicize one of its CPUs in advance of its customers. Not so in the case of the N570: This new offering doesn't yet appear on Intel's website or price lists, yet it's being loudly touted by Santa Clara, Calif.-based SeaMicro. (And, as we review later, the server vendor isn't using just one N570 per device — it's using 256 of them.)
The N570 appears to be the latest in Intel's Pine Trail series of Atoms — also known as "Pineview" when their companion I/O controllers are taken into account. SeaMicro promotes it as "Intel's most advanced Atom" and claims the CPU is "the first low-power Atom processor to support virtualization."
In most ways similar to the N550, the N570 again includes an on-chip memory controller and integrated graphics, and gets only a modest clock speed boost (up to 1.66GHz from 1.5GHz). But the amount of RAM supported has doubled from 2GB to 4GB, according to SeaMicro.
SeaMicro also touts the N570's 64-bit operation, leading The Wall Street Journal to conclude that the processor is Intel's first 64-bit Atom. In fact, that's not the case — others that support 64-bit instructions include the N550, N450, and D510, for example.
| | | | | | |
| --- | --- | --- | --- | --- | --- |
| | Clock speed | Cores | Second-level cache | Memory | TDP |
| N450 | 1.66GHz | 1 | 512KB | 667MHz DDR2 | 5.5 Watts |
| N455 | 1.66GHz | 1 | 512KB | 800MHz DDR3 | 5.5 Watts |
| N470 | 1.83GHz | 1 | 512KB | 667MHz DDR2 | 6.5 Watts |
| N475 | 1.88GHz | 1 | 512KB | 800MHz DDR3 | 6.5 Watts |
| N550 | 1.5GHz | 2 | 1MB | 800MHz DDR3 | 8.5 Watts |
| N570 | 1.66GHz | 2 | 1MB | 800MHz DDR3 | 8.5 Watts |
| D410 | 1.66GHz | 1 | 512KB | 667/800MHz DDR2 | 10 Watts |
| D425 | 1.8GHz | 1 | 512KB | 800MHz DDR3 or 667/800MHz DDR2 | 10 Watts |
| D510 | 1.66GHz | 2 | 1MB | 667/800MHz DDR2 | 13 Watts |
| D525 | 1.8GHz | 2 | 1MB | 800MHz DDR3 or 667/800MHz DD2 | 10 Watts |
Intel's Pine Trail Atoms
The N570 apparently uses the same 45nm process as the N550, and shares that chip's dual cores, 1MB second-level cache, and 8.5-Watt TDP. The Wall Street Journal's Don Clark quotes an Intel official as saying SeaMicro "absolutely" influenced the chip's design, while adding that the CPU will be offered to any other customers who are interested.
SeaMicro's SM10000-64
SeaMicro says its SM10000-64 server (below) is designed to replace 40 1U dual-socket, quad-core servers with a single unit that takes up a quarter of the space — and uses a quarter of the power. This qualifies the unit as the "world's most energy-efficient 64-bit x86 server," the company adds.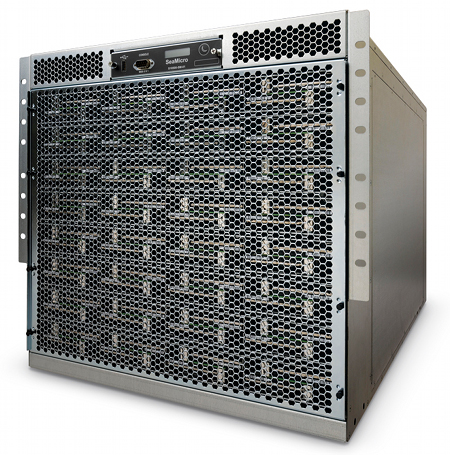 Sea Micro's SM10000-64
(Click to enlarge)
According to SeaMicro, the SM10000-64 holds 256 Atom N570s on 64 compute cards that house four CPUs apiece and are interconnected with a 1.28TB/sec. "supercomputer style" fabric. The server includes 1.024TB of DDR3 memory, up to 64GB SATA devices that can offer hard disk or solid state storage, and from 8 to 64 gigabit Ethernet uplinks, says the company.
The device is said to "run off-the-shelf operating systems for application compatibility, enabling drop-in adoption," though no further software details were provided. The SM10000-64 includes an integrated top-of-rack switch, load balancer, and console server, and overall power consumption is under 2,500Watts, SeaMicro adds.
Availability
According to Sea Micro, the SM10000-64 is available now for prices starting at $148,000. More information may be found on the SM10000-64 product page or data sheet.
---
This article was originally published on LinuxDevices.com and has been donated to the open source community by QuinStreet Inc. Please visit LinuxToday.com for up-to-date news and articles about Linux and open source.