Sep 9, 2011 — by Eric Brown — from the LinuxDevices Archive — 1 views
Chumby is readying a Linux-based IPTV set-top-box that can be remotely controlled by a Wi-Fi connected Android device. Soon to be offered as an open development platform, NeTV is equipped with an 800MHz Marvell processor, and it will include both a Webkit browser that can overlay content on video and a personalized news crawler.
Chumby has yet to formally announce the NeTV, but is expected to release a developer's version later this month, with the potential for a consumer release in the future. This is according to Engadget, which was tipped to the NeTV development pages that have appeared on Chumby's site (see link at end).
NeTV
Like other IPTV devices, the NeTv can display web pages and other digital content on a TV. The key innovation here is the ability to overlay content over standard video sources, including cable or satellite TV, or Blu-ray movies.

Overlays includes a personalized news ticker that apparently will draw content from Chumby's online service of personalized push content (previously offered via more than 1,000 non-interactive "widget" applications). Chumby "widgets" are found on a Chumby Android app, as well as on a variety of Linux-based Chumby devices. These include the company's own Chumby One digital picture frame (DPF) style device (pictured), and the somewhat similar Sony Bravia-enhanced Sony Dash.
Another selling point here is the ability to control the content with an Android phone or tablet via a Wi-Fi connection. For example, users can click on a widget to bring up a web page via the built-in Webkit browser, which can play videos at 480p, 720p, or 1080p (24fps), according to Chumby. Users can also upload images from their Android phones for display on TV.
The NeTV box will also ship with an IR remote control as an alternative to an Android phone. iOS support is promised in the future.
The NeTV widgets will include Twitter, Facebook, sports scores, and news updates, says Chumby. Android users, meanwhile, can also view SMS and email updates on the news banner.
There does not appear to be much interactivity available on content displayed on the TV, aside from web browsing, displaying images, or playing movies. The NeTV UI is pitched as a positive, however: "Event display UI is non-intrusive and passive, so it can be left on all the time," according to the Chumby NeTV website.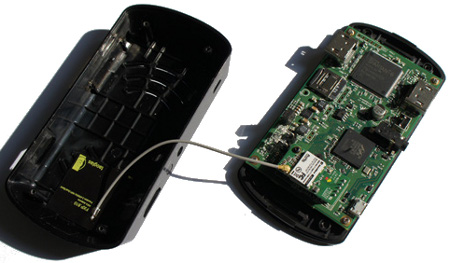 NeTV, internal view
Like earlier Chumby devices, this one is built on a Marvell processor. The 800MHz CPU is likely one of Marvell's
Armada processors
, a close cousin to the Sheeva Architecture processors used in Marvell Plug Computer designs such as the Pogoplug.
In addition, the NeTV device incorporates a Xilinx Spartan 6 field programmable gate array (FPGA) chip to handle the overlay duty. Chumby offers a technical page on the Spartan 6 and promises more information. It does not appear, however, that most app developers need to get their hands dirty with FPGA programming.
The NeTV development system is powered by a 5V supply with a micro-USB connector, and can usually be powered via a USB connection to a computer. (Problems can occur in this configuration, however, according to Chumby.)
According to notes provided for developers, when it is booted the NeTV configures its micro-USB port to act as "an Ethernet gadget." It also includes an integral DHCP server, the company adds.
From a developer point of view, the NeTV has numerous applications beyond a consumer IPTV box, says Chumby. The platform has "very strong potential applications in education, digital signage, smart energy, and low-cost computing," says the NeTV developer page. Schematics and other details have been posted for developers in separate sections for firmware and application development.
The firmware will be available as a full professional software development kit (SDK), as well as a hobbyist "local compilation" version. Application development is divided into local UI development, web services development, and event architecture (crawler development), says the company.

A demo of the Chumby NeTV
Source: Chumby via This Is My Next
(click to play)
Availability
The NeTV developers version will ship later this month, according to Engadget. More information may be found at Chumby's NeTV Wiki site.
---
This article was originally published on LinuxDevices.com and has been donated to the open source community by QuinStreet Inc. Please visit LinuxToday.com for up-to-date news and articles about Linux and open source.