Jul 22, 2010 — by Eric Brown — from the LinuxDevices Archive — 2 views
The team behind the cloud-based Peppermint variant of Ubuntu Linux released a scaled-down, site-specific browser (SSB) version that is said to boot in under 10 seconds. The "Peppermint Ice" distro uses Google's Chromium as the default browser, and while still offering support for native apps, is even more focused on web-based apps than is Peppermint.
Written by Kendall Weaver, the creator of the Pepperment distro, which shipped in May (see farther below), Peppermint Ice was designed as a mechanism for launching web applications and cloud applications such as SaaS (Software As A Service) apps, says the Peppermint team. When a web based application is called from within Ice, the distro pulls up the Chromium Browser — the open source version of Chrome — in place of the Firefox browser used as the default in Peppermint.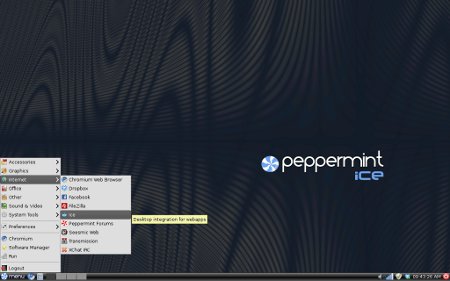 Peppermint Ice, main screen


(Click to enlarge)
"Essentially, the Ice SSB acts as software that is installed locally but is actually delivered via the Web," explains the Peppermint team. Unlike Google's upcoming, Linux-based
Chrome OS
, which only runs web-based applications, but like another cloud-ready contender,
Jolicloud
, Peppermint and Peppermint Ice allow the installation of both web-based and native apps.
The Ice version, which is touted as being faster booting and faster performing than Peppermint, moves one step closer to the cloud metaphor, but still supports native applications.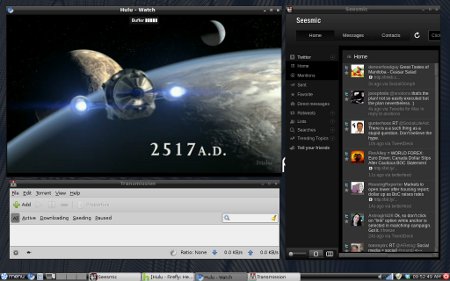 Peppermint Ice, running Hulu
(Click to enlarge)
According to a story in
DownloadSquad
by Lee Matthews, the Peppermint team claims Ice can boot in six seconds on a notebook running an Intel Core 2 processor with an OCZ Vertex SSD (solid-state drive). On Matthews' own "admittedly poorly-configured, Atom-powered Gateway netbook," Peppermint Ice booted in a still very impressive 10 seconds, he writes. By comparison, earlier reports had the full Peppermint OS booting at a still-quite-respectable 25 seconds.
Compared to using a regular tabbed browser, as one does, say, in Peppermint OS itself, an SSB-specific distro like Ice assigns only one function to the SSB, says the Peppermint team. In a tabbed browsing system, with several windows open, "if one service or site in any given tab crashes you run the risk of losing data by crashing the other tabs and potentially the browser itself," says the team.
Peppermint background
The original Peppermint OS has already been downloaded 250,000 times in 149 countries, says the team. The OS is based on Ubuntu 10.04 ("Lucid Lynx"), and is a fork of Lubuntu 10.04 — an Ubuntu variant that uses the lightweight LXDE desktop as the default. As the Peppermint name suggests, meanwhile, the distro also borrows some features from the Ubuntu-based Linux Mint.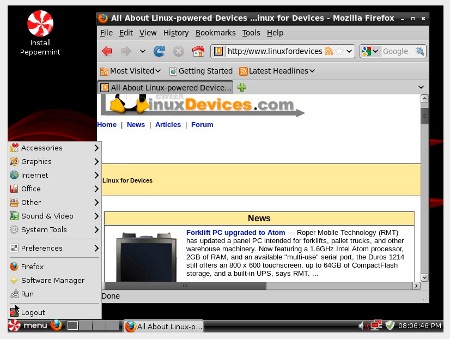 Peppermint OS
(Click to enlarge)
While acting as a full-featured, 30,000-package standalone Linux OS for desktop PCs, Peppermint can also be downloaded for netbooks in a configuration with considerably fewer packages. Peppermint lets users launch and operate web- and cloud-based applications as if they were desktop apps, says the Peppermint team.
Several pre-loaded launchers are supplied, including ones for Pandora, Hulu, and YouTube. Users can then configure the OS to launch other web-based applications, says the team.
Peppermint supports cloud applications by integrating technology closely based on the Seesmic Web Twitter client browser, which itself is based on Mozilla's Prism technology. Prism, which enables web-based apps to run outside a web browser, enables Peppermint OS to "integrate seamlessly with cloud and Web-based applications as if they were installed as software on your system," according to the original announcement on May 10.
Availability
Peppermint Ice is available now for free download, here, and a Live CD version is available for $9, here. More information may be found here.
The DownloadSquad story on Peppermint Ice may be found here. An eWEEK story on Peppermint Ice may be found here.
---
This article was originally published on LinuxDevices.com and has been donated to the open source community by QuinStreet Inc. Please visit LinuxToday.com for up-to-date news and articles about Linux and open source.