May 26, 2010 — by Eric Brown — from the LinuxDevices Archive — 1 views
Google released version 5.0 of its Chrome web browser — including the first stable builds for Linux and Mac platforms — promising faster performance plus new multi-machine sync and HTML5 utilities. Meanwhile, tech pundit Om Malik suggests that Google's Linux- and Chrome-based Chrome OS should step aside to let the fast-growing Android evolve.
Chrome 5.0 is now available for download in stable versions for Windows, Mac, and Linux, making it the first non-beta release of the Linux and Mac versions.
Early 32-bit Linux versions of the Chrome web browser appeared last year, and in August, Google announced that a 64-bit Linux version was coming. Chrome for Linux went beta in December, and is now available in stable form for both 32- and 64-bit downloads.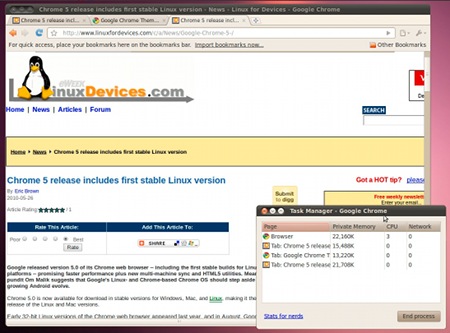 Chrome 5 for Linux
(Click to enlarge)
Google Chrome 5.0 is claimed to have improved JavaScript performance by 213 percent for the V8 benchmark, and 305 percent for the SunSpider benchmark since Chrome's first Sept. 2008 beta, according to a Clint Boulton story in our sister publication, eWEEK. Chrome 5.0 is also said to leverage HTML5-based geolocation APIs, which users make use of in Google Maps, as well as in drag-and-drop for files in Gmail.
Improved sync features
The Chrome bookmark manager has also been enhanced with HTML5 functionality, says eWEEK. In addition to synchronizing bookmarks across several computers, users can sync browser preferences such as themes, homepage and startup settings, Web content settings, languages, and settings for page zoom, says the story.
Future plans call for integrating Adobe Flash Player 10.1 into Chrome, something that could happen when 10.1 goes final in June, says eWEEK. According to the publication, Chrome has quickly moved up the charts to a 6.7 market share worldwide.
The Chromium team responsible for bringing Chrome to Linux heralded their achievement in both a formal announcement and an amusing and informative cartoon (see links farther below).
The announcement blog stated, "From the early porting days of layout test fixing, deep and hairy posix and raw X11 code, to designing a truly native UI and building a host of new and polished features, we're thrilled to work with the larger community to deliver a fast, stable, secure, and sophisticated browser."
Malik: Chrome OS should step aside
At last week's Google I/O show, Android 2.2 was everywhere, but Chrome OS was barely mentioned. In fact, some questioned whether Google was backpedaling on the open source operating system, which marries a Linux kernel with the Chrome browser and is targeted at cloud-based applications.
This week, GigaOM's Om Malik argued that Google should further downplay Chrome OS in favor of Android due to factors including the rise of touch-enabled tablets, as well as Android's phenomenal growth, both in units sold and in the maturity of the operating system.
Google's mixed messages
In fact, at a media briefing at Google I/O, Google execs including co-founder Sergey Brin suggested that Chrome OS would take longer than expected before it was accepted in the marketplace, according to a Fortune story by Seth Weintraub.
Although Weintraub did not specifically quote any Google execs to this effect, he suggests that the general impression from the Google panel was that "because of bandwidth limitations, current processor level, and HTML 5's infancy, the company doesn't view ChromeOS, due out later this year, as a mainstream solution."
On the other hand, Weintraub suggests that Android is still considered by Google to be a temporary solution that will fade away once cloud-computing and Chrome OS are ready for prime time. Once again, however, no specific quotes were offered.
Writes Weintraub, "In a few years time, Google fully expects ChromeOS to become its workhorse OS."
Despite the accelerating pace of the tech industry, it's difficult

to imagine Google abandoning the red-hot Android "in a few years time." However, Google may eventually cede the tablet space to Chrome OS once the Linux- and Chrome-based operating system matures and improves its touch support.
Although netbooks are still said by Google to be the dominion of Chrome OS, which is due to ship later this year, Android is clearly the initial choice for tablets. In February, Google posted some prototype designs for a Chrome OS based tablet (pictured above right).
Nothing more was heard from tha

t project, but last month, rumors emerged about an Android-based Google prototype tablet. The tablet prototype (left) was demonstrated (though not formally announced) running beta versions of Android 2.2 with Adobe's Flash 10.1 earlier this month at Web 2.0.
According to Malik, meanwhile, Chrome OS is already hampered by the fact that despite its open source nature, it is even more linked to Google technology than is Android, limiting its appeal to open source developers.
"Its underpinning would be the company's identification system and would always prefer Google web apps," Malik writes. "And given that Google doesn't have a presence in the social web, it would lack social sense and sensibility."
By comparison, open source, cloud-based alternatives such as the Linux-based and "completely socially aware" JoliCloud OS could give Google a run for its money in the niche for web-based operating systems, suggests Malik.
And that is the major problem for Chrome OS. Web-based operating systems are still a market niche, and will be so for awhile, argues Malik. Meanwhile, he notes that 100,000 Android-based phones are activated every day, and Android is on 60 devices from 21 OEM makers on 59 carriers in 48 countries.
As for tablets, Google's acquisition of BumpTop should give Android the multitouch chops to compete with the iPad. Even without it, about a dozen Android-based tablets have been announced or demo'd so far this year, many of them running the powerful Nvidia Tegra 2 processor.
"I just think Google needs to pick a winning horse," Malik concludes. "And the winner here is clearly Android."
Meanwhile, Google's pairing of Android and the Chrome browser in Google TV suggests that Google may in fact be considering such a move for its mainstream version of Android. This in fact, could set the stage for a merger of Android and Chrome OS. Integrating a platform that runs native apps with a platform focused on web-based apps won't necessarily be easy, but it may prove to be more sensible than confusing the market with a dual-OS strategy.
Availability
The Chromium blog announcing the stable Linux version of Chrome 5.0 may be found here, and the cartoon version should be here. The Chrome 5 for Linux download page may be found here.
The eWEEK story on the Chrome 5 release should be here.
The GigaOM blog suggesting Google backburner Chrome OS in favor of Android should be here, and the Fortune story on the media briefing at Google I/O should be here.
---
This article was originally published on LinuxDevices.com and has been donated to the open source community by QuinStreet Inc. Please visit LinuxToday.com for up-to-date news and articles about Linux and open source.