Jan 31, 2003 — by LinuxDevices Staff — from the LinuxDevices Archive — 48 views
The Equinox ESP-2 MI is a compact, 2-port serial hub that offers IP-based LAN connectivity to systems and devices which have serial ports, but lack direct network interfaces. Equinox expects the device, which uses embedded Linux as its internal operating system, to be popular in industrial/manufacturing environments, which are increasingly migrating away from proprietary "fieldbus" interfaces, toward… standard TCP/IP networks. Other applications for the device are likely to be in the hospitality, medical, and security markets.

According to Tom Leh, Equinox product marketing manager, some of the unique features of the ESP-2 MI are . . .
RS-232, RS-422 and RS-485 serial signaling support

RS-485 configuration options for RTS or Automatic Data Detection Control (ADDC enables simplified RS-485 half-duplex control for multi-drop applications)

Flanged mounting design permits deployment in any position or angle, or to a DIN-rail via an industrial accessory kit

Administrative system support for Linux, SCO OpenServer/Unixware, AIX, and Windows 2000/NT/XP

Built-in Datascope diagnostic support through the Equiview Plus management software platform

Multiple input power connector options allowing for a secure latching connector with screw-type clamp terminals or a convenient barrel plug

Compact size: 4.8 x 4.4 x 1.6 in
The built-in intelligence of the ESP-2 MI is based on a single-board embedded computer which has a 66 MHz Motorola Coldfire 5272 CPU, with 32MB SDRAM memory. Like many embedded systems, there is no internal disk drive. Instead, a 4MB FLASH chip contains the device's embedded software (including Linux) and can be upgraded via the LAN. The system's I/O connections consist of an Ethernet port for connection to the LAN along with two multimode (RS-232/422/485) serial ports, and there is no display associated with the device.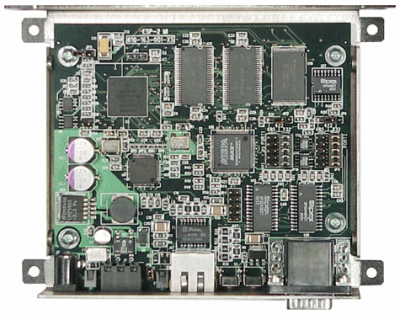 The ESP-2 MI's Coldfire-based embedded computer
As with many cost- and resource-constrained devices, the embedded operating system is uCLinux, based on kernel 2.4.19. Other interesting open source software components include the uClibc embedded libraries, the boa web server, the MTD Flash memory support, the udhcp dhcp client, and the colilo Coldfire boot loader.
Why Linux?
There were four key reasons why Linux was used as the ESP-2 MI's embedded OS, according to Leh: "The full source was easily obtainable, our developers had extensive experience with UNIX and Linux, we had success with other projects using embedded Linux and uCLinux, and we had access to frequent updates."
Rather than making use of the services of a commercial embedded Linux supplier, the Equinox project team opted to do the full development themselves. "We obtained full source code from uCLinux," said Leh. "No external support was utilized."
"We experienced no major problems," Leh continued. "Most of the initial software was developed on a Motorola Evaluation Platform. Use of a ROM emulator made initial debugging of the unit easier. Code could be altered quickly without having to burn a new FLASH image."
There were, however, two big obstacles encountered. "The uCLinux serial driver did not support all of the features of the Coldfire 5272 UART," recalled Leh. "Also, we had problems running the UARTs at high band rates." The baud rate problem turned out to be partly due to the limited clock rate of the Coldfire processor being used, but there was also an issue related to the interrupt response time of the Linux kernel, Leh explained.
How does the company feel about the future of Linux in the embedded market? "Embedded Linux usage is growing rapidly at the expense of traditional RTOSs and their fragmented market share," Leh said. "It is increasingly used for critical embedded software functions and its emergence as an open standard platform is dramatic. Issues with 'Real Time' and power management appear to be neutralized by its improved modularity and source code structure, and adoption is increasing."
"Linux's future in embedded appears very bright," concluded Leh.
The ESP-2 MI, which was unveiled at LinuxWorld in New York in January 2003, is priced at $349 for a single unit.
---

This article was originally published on LinuxDevices.com and has been donated to the open source community by QuinStreet Inc. Please visit LinuxToday.com for up-to-date news and articles about Linux and open source.