Jan 13, 2012 — by Eric Brown — from the LinuxDevices Archive — 6 views
MEN Micro announced a rugged, PowerPC-based "XM51" computer-on-module (COM) featuring Freescale QorIQ processors — including the eight-core, 1.5GHz P4080 — and up to 16GB of DDR3 SDRAM. In other QorIQ news, Freescale and Mentor Graphics will jointly deliver high-speed simulation platforms for QorIQ based on Mentor's Vista virtual prototyping package.
The XM51 adopts MEN Micro's ESMexpress form-factor, which the company says is currently in preparation with ANSI/VITA as a new standard called RSE 59. Introduced in 2008, the 4.9 x 3.75-inch (125 x 95mm) format is designed for extreme vibration and shock resistance, as well as industrial operating temperatures.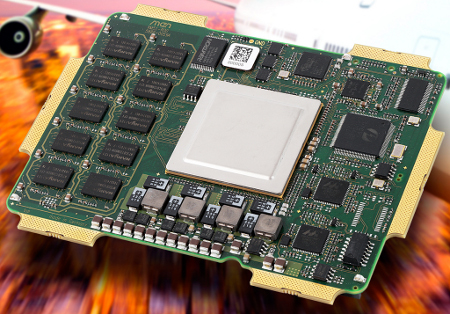 MEN Micro's XM51


(Click to enlarge)
ESMexpress has been used in the company's Atom-based
XM1L
module, among others. (The company also spawned a 3.75 x 2.16-inch ESMini version of the standard, which debuted in the Atom-based
MM1
COM, and was followed up by the
MM50
module, supporting a Freescale PowerPC MPC5121e or dual-core MPC5123 system on chip.)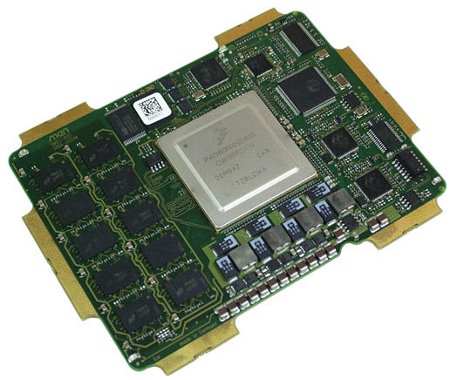 Front side of XM51
(Click to enlarge)
Now MEN Micro has returned to the larger ESMexpress format with its PowerPC-based XM51. Yet this is a PowerPC SoC of a whole different magnitude. When fitted with the eight-core, 1.5GHz
Freescale QorIQ P4080
, the XM51 is likely one of the fastest COMs on the planet.
The QorIQ P4080 offers features including a private backside cache per core, tri-level cache hierarchy, datapath acceleration, a Virtutech-based hypervisor, and a CoreNet "coherency fabric" inter-core interconnect. Other options include the QorIQ P4040, a pin-compatible quad-core version of the SoC, which offers a sub-15 Watt typical power envelope, compared to 30 Watts for the eight-core model.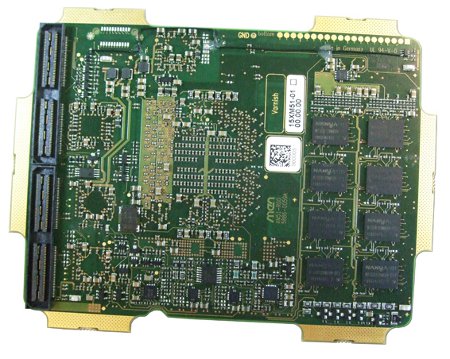 Back side of XM51
In addition, users can choose the newer QorIQ P3041, which also provides four cores clocked to 1.5GHz, but which reduces power consumption to 12 Watts — also adding dual SATA 2.0 interfaces, RAID support, and improvements to Serial RapidIO (SRIO). All three processors offer 32KB instruction and data L1 cache, as well as a private 128KB L2 cache per processor core, says Freescale.
When coupled with an application-specific carrier board, the XM51 can act as a semi-custom solution for industrial, harsh, medical engineering, mobile, and mission-critical environments, says MEN Micro.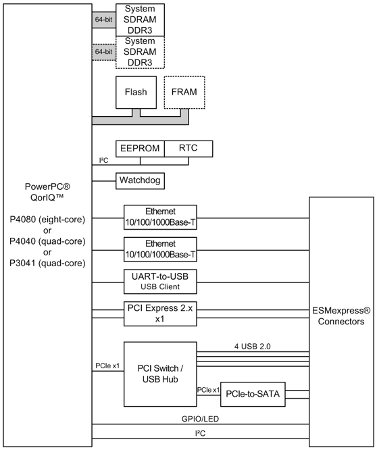 XM51 block diagram
(Click to enlarge)
The XM51 can be equipped with up to 16GB of soldered DDR3 SDRAM memory, says MEN Micro. The memory can be deployed via either one or two controllers and can be assigned to the processor cores as desired, tapping special QorIQ functionality. The exception is the P3041, which supports only one controller.
Customers can add 128KB of onboard non-volatile FRAM and up to 256MB of flash memory, and memory can also be expanded via USB on the carrier board, says the company.
I/O transmitted through the ESMexpress connector include dual gigabit Ethernet channels, four USB 2.0 host interfaces, and one USB client port, says MEN Micro. Dual 3Gbps SATA ports and two PCI Express x1 links running at 5Gbps each are also said to be available.

Like other ESMexpress modules, the XM51 is installed in a closed, conduction-cooled housing (pictured at right). Deployed in this case, the XM51 supports temperatures from -40 to 185 deg. F (-40 to 85 deg. C), while guaranteeing 100 percent EMC protection.
All components are soldered against shock and vibration and prepared for coating against humidity or dust, says the company. The module is firmly secured to the board with eight screws, and ships with rugged connectors that are said to support high frequency and differential signals.
Features and specifications listed for the XM51 include:
Processor — Freescale QorIQ P4080 (8 x e500mc cores, 1.5GHz), P4040 (4 x cores, 1.5GHz), or P3041 (4 x cores, 1.5GHz); 1.2GHz operation also supported for all cores
Memory:

up to 16GB soldered DDR3/ECC SDRAM at up to 667MHz
up to 256MB boot/program Flash
128KB non-volatile FRAM
2 x memory controllers available except with P3041

Expansion — 2 x PCI Express x1
Networking — 2 x 10/100/1000 Ethernet channels with 2 x LEDs per channel
Other I/O:

2 x SATA 2.x (3Gbps)
4 x USB 2.0 host
USB client port
3 x GPIO
I2C

Other features — real-time clock, temperature sensor, power supervision, watchdog
Power — +12V (9~16 V) input; 32 W max consumption
Ruggedization (with case):

Operating temperature — -40 to 185 deg. F (-40 to 85 deg. C)
Shock resistance — 15 g, 11 ms (EN 60068-2-27)
Bump resistance — 10 g, 16 ms (EN 60068-2-29)
Vibration (sinusoidal) resistance — 1 g, 10-150Hz (EN 60068-2-6)
MTBF — 475,088 h @ 40 deg. C according to IEC/TR 62380 (RDF 2000)
Conformal coating on request

Dimensions — 4.9 x 3.75 inches (125 x 95mm), not including case; ESMexpress form-factor (proposed ANSI/VITA 59 RSE)
Weight — 8.11 oz (230 g), including case
Operating system support is provided for VxWorks and Linux (on request). An ATX carrier board is available for evaluation and development, and the XM51 module can be also be evaluated on a COM Express carrier board via an adapter, says MEN Micro.
Freescale and Mentor partner on QorIQ simulation platforms
Mentor Graphics announced it has signed a preferred, long-term partnership agreement with Freescale Semiconductor to deliver high-speed simulation platforms for Freescale's QorIQ P-Series, Advanced Multiprocessing (AMP) QorIQ, and QorIQ Qonverge multicore processors. The simulation platforms will be based on Mentor's Vista Architect software, which can execute a variety of virtual prototyping platforms, as well as port, debug, and optimize operating systems and application software, according to the company.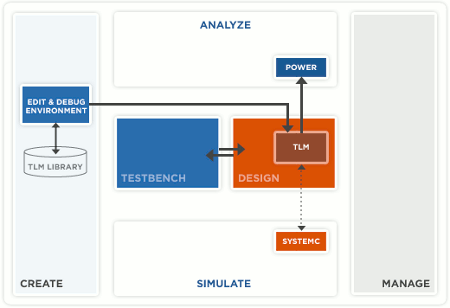 Mentor Graphics' Vista in action
The base QorIQ SoC models will be provided and validated by Freescale,and integrated and packaged in Vista libraries. These "Vista Virtual Prototype" packages will include the SoC HW model, optionally integrated with Linux, and can be expanded by the customer with a variety of standard and custom IPs and physical I/Os, says Mentor Graphics. The platforms can also scale to include timing and power attributes to enable performance and power tradeoff analysis, says the company.
Availability
The XM51 is available for $3,370 with delivery at six to eight weeks ARO. More information may be found at MEN Micro's XM51 product page.
More information on Mentor Graphics' Vista Architect may be found on its Vista product page.
---
This article was originally published on LinuxDevices.com and has been donated to the open source community by QuinStreet Inc. Please visit LinuxToday.com for up-to-date news and articles about Linux and open source.