Oct 12, 2011 — by Eric Brown — from the LinuxDevices Archive — 3 views
Mentor Graphics announced it is bringing its Genivi-compliant Mentor Embedded Linux In-Vehicle Infotainment (IVI) Base Platform platform to Freescale Semiconductor's ARM Cortex A9-based i.MX6 system on chips (SoCs). Meanwhile, the Linux Foundation announced the first Automotive Linux Summit (ALS), to be held Nov. 28 in Yokohama, Japan.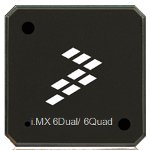 The competition between Genivi-compliant automotive Linux distributions began in earnest this week. The Genivi Alliance All Members Meeting is engaging in open source car talk in San Jose, Calif., Oct. 11-14.
Not only has MontaVista Software unveiled the latest version of its MontaVista Automotive Technology Platform (ATP) platform, but Mentor Graphics has followed up by collaborating with Freescale — bringing its competing platform to the latter's Cortex-A9-based i.MX6 SoCs (pictured). In addition, the Linux Foundation launched the new Automotive Linux Summit (see farther below).
In August, both the MontaVista and Mentor Graphics development platforms — modified versions of their mainstream MontaVista Linux and Mentor Embedded Linux distributions, respectively — were selected by the Genivi Alliance as two of five distros deemed to be compliant with the open source Genivi automotive spec. The other three are Wind River Platform for Infotainment, Canonical's Ubuntu IVI Remix, and MeeGo.
The MeeGo project appears to be on the way to being shuttered (before being reborn as the basis of the new HTML5-based Tizen project). However, MeeGo backer Intel, which also owns Wind River, has suggested the platform may be able to proceed in its current form on the strength of its IVI implementation.
Whereas Mentor and Freescale are collaborating on developing Mentor's IVI platform for its Cortex-A9-based i.MX6 processor family, MontaVista says its ATP platform initially supports Freescale's Cortex-A8-based i.MX53 processor, including Freescale's SABRE tablet design for the processor.
ATP also supports the Cortex-A9-based Renesas R-Car M1 reference platform. All five distros support both the original Intel Atom reference platform for the Genivi automotive middleware spec, as well as the new ARM platform, although the others have yet to embrace specific SoCs.
The Genivi Alliance was launched in March 2009 with a goal of developing open platform IVI reference designs and middleware based on Linux. The Genivi spec spans interactions with upper layer multimedia and web technologies on the one hand to underlying automotive telematics gear on the other.
Founding members include Intel, Delphi, General Motors (GM), Magneti Marelli, PSA Peugeot Citroen, Visteon, and Intel's Wind River, which earlier this year partnered with Magneti Marelli and BMW on a Genivi-based solution. As the ARM version was launched to join the initial Atom-based implementation, the group was joined by ARM Holdings, as well as ARM SoC vendors such as Freescale, Renesas, and Texas Instruments (TI).
i.MX6 background
Freescale's i.MX6 SoC family was announced in January of this year as a multicore platform that would bring 3D HD video to tablets, smartphones, automotive infotainment systems, and other embedded devices. The single-core i.MX 6Solo, dual-core i.MX 6Dual, and quad-core i.MX 6Quad are all clocked at 1.2GHz.
Scheduled to begin sampling this fall, the i.MX6 advances the i.MX family with dual-stream 1080p video playback at 60 frames per second (fps) and 3D video playback at 50Mbps, according to Freescale. It is also said to support desktop-quality gaming, augmented reality applications, and novel content creation capabilities.
The i.MX6 series uses 40nm fabrication and provides low power draw and advanced power management capabilities, says Freescale. For example, the SoC is claimed to enable 1080p video (single stream) with only 350mW consumption.
The SoC also adds support for the open source VP8 codec, which drives the related WebM open container format, both of which are supported in Android 2.3. So far, none of the five Genivi-compliant rivals have announced Android support except for MontaVista, which has added Android and HTML5 support to the latest version of ATP.
Mentor IVI Base Platform background
Mentor Graphics' Mentor Embedded Linux IVI Base Platform is based on technologies found in the company's Mentor Embedded Linux development software. The IVI Base Platform integrates graphics, communication, and multimedia middleware with libraries, system infrastructure, drivers, and management components, says Mentor Graphics.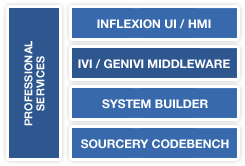 Mentor IVI Base Platform architecture
The IVI Base Platform is built upon the OpenEmbedded-based System Builder, the same build engine used in Mentor Embedded Linux. It also integrates Sourcery CodeBench, acquired when the company
bought CodeSourcery
last December. The company's Inflexion UI tool is also provided along with
Mentor Embedded Professional Services
, says the company.
According to Mentor Graphics, which also maintains the Nucleus real-time operating system (RTOS), the company is well established in offering comprehensive electrical and electronic design automation solutions. The solutions target the automotive, commercial vehicle, and off-highway industries, including OEMs and Tier 1 suppliers, says the company.
Stated Ken Obuszewski, product marketing director for Freescale's Multimedia Applications Division, "Mentor's expertise in providing innovative technologies for the automotive industry was a key reason for our collaboration focused on i.MX6 processors and Mentor's GENIVI-compliant IVI Base Platform."
Stated Tony DiRenzo, business development director of automotive solutions, Mentor Graphics Embedded Software Division, "The IVI Base Platform for i.MX6 extends Mentor Embedded Linux with an automotive infotainment software stack that will reduce OEM development costs and create dynamic, customized solutions with minimal risk."
Linux Foundation launches Automotive Linux Summit
The Linux Foundation (LF) announced the first Automotive Linux Summit (ALS), to be held Nov. 28 in Yokohama, Japan. The ALS is billed as a vendor-neutral business and technical conference for companies and developers "using or looking to use Linux and open source technologies in automotive applications." These are said to include in-vehicle on-board system, cloud solutions for vehicle-to-vehicle and vehicle-to-infrastructure communications, and traffic and mobility management solutions.
The ALS call for papers, which ends Oct. 21, suggests possible topics including open source compliance and licensing, as well as real-time and high-availability Linux technology. Other potential topics include integrating audio, media management, and communications stacks into IVI solutions.

Keynotes at the one-day event include Tsuguo Nobe (right), program director, Vehicle Information Technology Center, at Nissan Motor, an "associate" member of the Genivi Alliance. Also keynoting is Graham Smethurst (below, left), president, Genivi Alliance and head of Infotainment Architecture Design, BMW.

Although Genivi is not mentioned as a core technology on the ALS site, it appears to be the only major consortium driving the IVI portion of the automotive equation. In addition to various in-house automotive platforms developed by automakers, Microsoft is a leading automotive computing player, having signed up Ford and Toyota with its Windows Embedded Automotive 7 based solutions.
Automakers in the Genivi Foundation's top founding/charter list include founding member PSA Peugeot Citroen, as well as BMW and Jaguar/Land Rover. The "core" membership includes Hyundai, Mitsubishi, and Renault, among many other automotive component component and general technology firms. In addition to Nissan, associate members include Honda and GM, which apparently downgraded its membership since helping to found the organization.
Availability
More information on the Mentor Embedded Linux In-Vehicle Infotainment (IVI) Base Platform may be found at Mentor Graphics' Mentor Embedded IVI Base Platform website.
The Linux Foundation's inaugural Automotive Linux Summit (ALS) event will be held Nov. 28, at the Pacifico Yokohama in Yokohama, Japan. More information on ALS, including registration and call-for-paper submissions, may be found at the LF's ALS 2011 website.
---
This article was originally published on LinuxDevices.com and has been donated to the open source community by QuinStreet Inc. Please visit LinuxToday.com for up-to-date news and articles about Linux and open source.