Apr 19, 2011 — by Eric Brown — from the LinuxDevices Archive — 8 views
The Fedora Project announced the beta release of its Fedora 15 "Lovelock" Linux distribution, featuring the new GNOME 3 desktop, the Systemd initialization system, and a new dynamic firewall feature. Meanwhile, though, GNOME 3 has received mixed reviews from the GNOME faithful, many claiming the project went too far in simplifying the interface.
The new beta version of Fedora 15 follows an alpha that arrived in early March. The final is expected in late May. Sponsored by Red Hat, the community-based Fedora is aligned with the commercial Red Hat Enterprise Linux (RHEL) release, with Fedora largely used as an upstream, exploratory sandbox for Red Hat.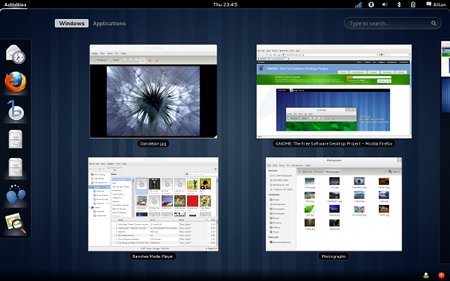 GNOME 3
(Click to enlarge)
The "Lovelock" release of Fedora offers a variety of additions and enhancements for the desktop and server, led by the GNOME project's
GNOME 3
desktop, which formally debuted earlier this month (see farther below). Other changes include new KDE 4.6 and Xfce 4.8 desktops, and a cloud-oriented BoxGrinder appliance builder.
There's also the new OpenOffice.org clone LibreOffice 3.3, which was developed as a fork project after users began worrying about Oracle's commercial ambitions for OpenOffice. Last week Oracle released OpenOffice.org as a fully open source community project, while halting sales of its commercial version, but momentum seems to have already shifted to LibreOffice — which added several new features in its debut release while stripping out others.
Fedora 15 also features Systemd as the default configuration utility, replacing SysVinit and Upstart for system and session management. The most noticeable change is a faster boot experience, says the project.
For the beta announcement, the project calls out the dynamic firewall feature as a highlight, suggesting it is more complete in this beta version. The firewall lets users change settings without the need to restart the firewall, says the project. The firewall is also said to make persistent connections possible.
For more details on Fedora 15, please see our previous Fedora 15 alpha coverage, as well as the links at the end of the story.
GNOME 3: Too dumbed down for Linux users?
GNOME 3, which will first appear in Fedora 15 as the default desktop, and in Ubuntu 11.04 as the newly demoted backup to Canonical's Unity desktop, was announced earlier this month with much fanfare. Among many other changes, GNOME 3.0 features a new, streamlined GNOME Shell and desktop, as well as improvements to search, user messaging, system settings, and the GTK+ libraries, plus a major revision of the Nautilus file manager.
Years in the making, the release was intended as a consumer-oriented refresh for a desktop environment that has increasingly been perceived by newcomers as confusing and overly technical compared to KDE and other desktop environments. Yet according to many GNOME users, the project may have gone too far in simplifying the interface.
As summed up in a recent LinuxInsider story by Katherine Noyes, Linux bloggers and forum posters have been venting over all the changes in the last two weeks. While mainstream reviews have been largely favorable, Noyes reports on a sizable backlash among GNOME users who say the environment has gone too far in the direction of minimalism.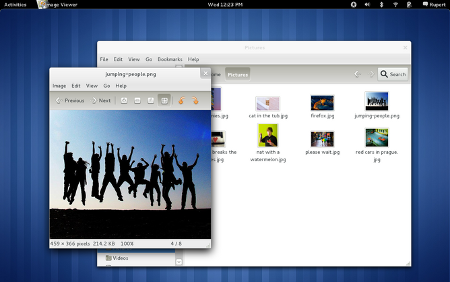 GNOME 3's new desktop
(Click to enlarge)
Particularly galling to many is the removal of the minimize and maximize buttons. This, as well as other changes, suggested to several quoted observers that the GNOME project wrongly concluded users don't need to multitask. In short, summed up a cited blogger named Hairyfeet, GNOME decided its "users are dumb as bricks."
Another user lamented the many unnecessary changes to the interface when more speed was what was really required. "I wish they would quit rearranging things and concentrate on making things faster," Slashdot blogger Gerhard Mack was quoted as opining.
For some Ubuntu users, the changes pushed them over the edge into supporting Canonical's Unity, says the story. This is despite the fact that many GNOME faithful had faulted Canonical for abandoning GNOME, while criticizing Unity for itself being too stripped-down and alien to the traditional Linux UI experience.
Datamation's Bruce Byfield writes that while he finds both KDE 4.6 and Unity to be slightly preferable to GNOME 3, once users get used to the radical new release, they may find the environment "more endurable than you originally imagined."
This is especially true once users learn how to change the default settings," he adds. Byfield explains how to set GNOME 3 to a more 2.x like fallback mode, and then summarizes the pros and cons of a number of other desktop alternatives including Trinity and Xfce.
Ironically, most of these are also stripped down in one way or another. In short, it may be more and more difficult for users to find the traditional, techie desktop with all the configuration bells and whistles.
Ars Technica's Ryan Paul has a more favorable take on GNOME 3, but even he notes, "The whole environment is significantly less configurable than its predecessor and is missing a handful of important features."
The omissions are said to include the aforementioned lack of minimize and maximize buttons, and the lack of desktop preferences options. "You can't change your widget or window manager theme, set a screensaver, or adjust any of the interface colors," he writes. "Shockingly, even font configuration appears to have been removed."
Especially troubling is the lack of a "persistent preview of my workspaces and active tasks without having to switch out of what I'm doing," writes Paul.
Despite these faults, Paul praises most of the new features and interface changes. "Many of the substantial and far-reaching changes that the new shell brings to the GNOME user experience are compelling and thoughtfully crafted," he writes. "The new desktop will likely appeal to users who share GNOME's philosophy of debris-free computing."
Paul concludes that compared to the much-criticized release of the radically new, prematurely released KDE 4.0, GNOME 3.0 is better implemented and has been better explained to existing users. He also suggests that future versions of GNOME could meet many of the latest criticisms.
"KDE has had some time to mature since its initial 4.0 launch, however, and is quite robust again today," he notes. "If you compare the latest KDE 4.6 with GNOME 3.0, there is a whole lot to like on both sides."
Availability
The Fedora 15 beta announcement may be found on Red Hat News, and downloads may be found on Fedora's download page.
---
This article was originally published on LinuxDevices.com and has been donated to the open source community by QuinStreet Inc. Please visit LinuxToday.com for up-to-date news and articles about Linux and open source.