Apr 19, 2010 — by LinuxDevices Staff — from the LinuxDevices Archive — 4 views
Google is reportedly working on a tablet computer based on its Android operating system, not the Chrome OS. Google has declined to comment on the tablet rumor, but that hasn't stopped analysts from mulling over the operating system choice.
Last week's report that Google is working on a tablet based on its Android mobile operating system raises begs the question of why the company wouldn't release a tablet based on its Chrome Operating System. Consider what the device is meant to do. The New York Times said April 12 that Google is reportedly talking with publishers about putting books, magazines and other content on the device, which would run Google's Chrome Web browser.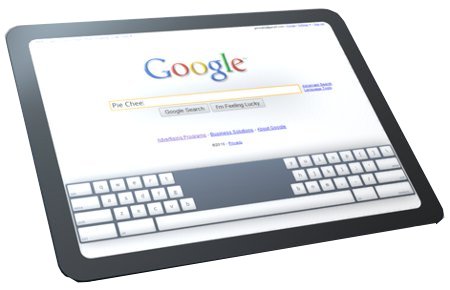 Google's tablet prototype

The Google tablet, then, seems to be a machine for running Web apps in the Chrome browser. That is precisely what Chrome OS is expected to do when it appears on netbooks from leading manufacturers such as Acer, Asus and Hewlett-Packard later this year.
Google built Chrome OS as the be-all, end-all OS for consumers' cloud computing needs, allowing users to consume all manner of Web applications from the couch. That is exactly what Apple is doing with its popular iPad tablet.
IDC analyst Al Hilwa told our sister publication eWEEK, "I find it interesting that the tablet will not use Chrome OS. If any type of device is suited for what was earlier on articulated as the main value proposition for Chrome OS, then it is a pad-type device."
Hilwa wonders whether or not the iPad, which soared to more than 500,000 units shipped in its first two weeks since hitting the market, caused Google to rethink its strategy with operating systems.
The iPad is on pace to sell nine million units by December, which is when Chrome OS is expected to appear on netbooks. If Chrome OS isn't ready for netbooks, surely it isn't ready for tablets.
That makes Android, which already lives on the Archos 5 Internet Tablet and is slated to appear on tablets from ViewSonic and Notion Ink, the clear choice.
"To use Android allows speed to market," Hilwa said. "Additionally, a more developed content consumption model is an asset, which is why smartphone platforms are favored for these types of devices."
Most Internet users, even those who author content, spend 90 percent of their time consuming it. Google exists to feed that consumption with Web services paired with advertising.
"The potential opportunity here is enormous and potentially larger than the PC market in the long run," Hilwa said. "The successful devices have to offer compelling usability, performance and simplicity of access. This is the magic behind the iPad."
iPad's early success should only hasten Google's tablet efforts. Perhaps, in time, Google will push tablets and netbooks based on Android and Chrome OS into the market. Google would need to tread lightly here; Android already has a well-documented fragmentation issue.
"There is a strong temptation for device manufacturers to optimize and differentiate in a narrow-scope way, adding unique features to their product," Gartner's Ray Valdes told eWEEK. "This often works against the broad-scope set of user needs, which often center around consistency and predictability.
"This fragmentation issue is present even before adding Google Chrome OS to the mix. Combining Chrome OS and Android into a product portfolio results in a mélange that will test the smarts and political skills of people at Google."
Valdes said there is also a lot of room for improvement in the way Google has handled device manufacturers.
Indeed, Google's positioning of Android on smartphones in the market is clear. It would be nice to get a clearer picture of Google's murky netbook and tablet strategy.
Clint Boulton is a writer for our sister publication eWEEK.com.
---
This article was originally published on LinuxDevices.com and has been donated to the open source community by QuinStreet Inc. Please visit LinuxToday.com for up-to-date news and articles about Linux and open source.