Oct 1, 2010 — by LinuxDevices Staff — from the LinuxDevices Archive — views
Google has expanded Android Market paid application support for developers to 29 countries, and boosted to 32 the number of countries where consumers can buy apps for their phones. The search giant has also replaced its Nexus One web store with Google Phone Gallery, a site where users may compare three Android handsets at a time.
Google took steps to alleviate a major pain point of its Android Market by expanding support for paid applications sales and purchases to additional countries. The company is now letting developers sell apps built for the Android operating system in 29 countries, up from just nine through Sept. 30.
Developers may now also sell apps in Argentina, Australia, Belgium, Brazil, Canada, Denmark, Finland, Hong Kong, Ireland, Israel, Mexico, New Zealand, Norway, Portugal, Russia, Singapore, South Korea, Sweden, Switzerland, and Taiwan.
To this point, users have been able to buy paid apps from the Market in only 14 countries. Google is expanding that number to 32 countries over the next two weeks, according to a posting by Android platform manager Eric Chu on the company's Android Developers Blog.
The Android Market is adding Argentina, Brazil, Belgium, Czech Republic, Denmark, Finland, Hong Kong, India, Ireland, Israel, Mexico, Norway, Poland, Portugal, Russia, Singapore, Sweden, and Taiwan as countries where users may buy apps.
While it would be nice if Google completely synced the countries where developers can sell paid apps with those where Android phone owners can buy them, Google's extension will greatly boost the opportunity for Android developers seeking to sell their applications and for buyers who want to purchase apps.
But it's still a far cry behind the 90-plus countries where developers for Apple's iOS iPhone and iPad platform can sell their apps.


August share of free vs. paid apps on Android Market and Apple's App Store
Source: Pingdom AB
(Click to enlarge)
In August, data collected by Pingdom AB said about 70 percent of the 250,000 apps in Apple's App Store are paid apps, while the Android Market free-to-paid app ratio is practically a perfect inverse: 64 percent of the 95,000 apps in the Android Market are free.
Fortunately for Android developers, Google isn't done expanding paid app support.
"Among other initiatives, we look forward to bringing the Android Market paid apps ecosystem to even more countries in the coming months," Chu said.
A new phone gallery
This week, Google also opened its Google Phone Gallery, a web site where users can compare three of nearly 40 Android phones side by side and navigate to purchase them from carriers.
For the Google Phone Gallery, Google's product search technology lets users slice and dice results by country (16 listed yesterday), maker (Motorola, Samsung, HTC and LG) and carrier (currently 35).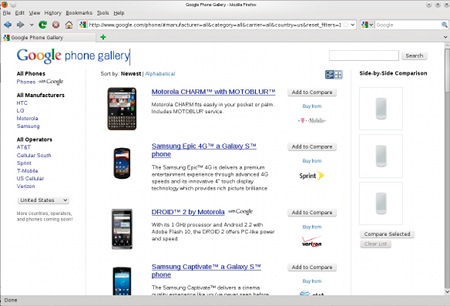 Google's Phone Gallery
(Click to enlarge)
All the devices listed in the Google Phone Gallery are pre-installed with Android Market application store, as well as Gmail, search and Google Maps.
Consumers may also search explicitly for devices optimized to use Google mobile services including search, voice search, Google Talk, Google Maps, YouTube and the Android Market application store. Such devices include Verizon Wireless' entire Motorola Droid line, the HTC Evo 4G from Sprint, and T-Mobile's myTouch 3G.
Perhaps the best part is the comparison engine Google offers to let users compare technical specifications and features of three phones side by side. Users may then click the links Google provides to Verizon, Sprint, T-Mobile and AT&T to purchase phones online.
Google will continue adding phones and countries as new devices come to market, Android Product Manager Ben Serridge said in a posting on the Google Mobile blog.
This Android phone gallery, which essentially replaces the Google Nexus One Webstore, is something Andy Rubin, Google Android engineering head, promised to bring to fruition after Google ceased selling Nexus One to the public.
While the Google Phone Gallery is clearly limited to "phones," it will be interesting to see if the comparison engine evolves to include additional Android-based devices, such as tablets and TVs.
Clint Bolton is a writer for our sister publication eWEEK.
---
This article was originally published on LinuxDevices.com and has been donated to the open source community by QuinStreet Inc. Please visit LinuxToday.com for up-to-date news and articles about Linux and open source.