Aug 13, 2010 — by Eric Brown — from the LinuxDevices Archive — 4 views
Google formally released the open source Android 2.2 ("Froyo") operating system, and announced two new widgets: "Voice Actions" for voice commands and an enhanced search widget. Meanwhile, an audio streaming flaw in Froyo is heading for a fix, says reports.

Other than the small matter of Oracle announcing a far-reaching lawsuit against Google last night for infringing on its Java patents, it's been a positive week for the search giant and for the open source Linux/Java operating system it sponsors.
In addition to new Android phones being announced, such as the Motorola Droid 2 (pictured), Google's Android project yesterday formally released Android 2.2, which most notably adds browser speed improvements and Flash Player 10.1.
Other "Froyo" enhancements include USB tethering with Wi-Fi hotspot support, audio streaming and Android Market improvements, plus a host of new enterprise features.
Froyo is currently available only on a few phones, including Google's Nexus One and some HTC Evo 4G and original Droid phones. It will soon ship on the Droid 2, and next month will be available for the Droid X, while many other Android devices will be updated in the coming months.
Voice support upgraded, plus new Voice Actions widget
Android 2.2 also adds a number of voice technology enhancements to the platform, including the ability to accept voice commands from a Bluetooth headset. Limited voice command features were available with Android 2.1, including some basic Voice Search commands, including the ability to say "Navigate" in the Google Maps Navigation application. With Froyo, users can also issue commands such as "call," "email," and "note."
Yesterday, Google also announced a Voice Actions widget that extends Voice Search commands, enables new voice commands, and provides speech-to-text features for speaking text messages or emails. The freely downloadable Voice Actions is not part of Froyo, but requires it to run.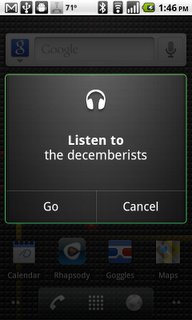 Google's Voice Actions in action
New voice commands enabled by Voice Actions are said to include:
send text to [contact] [message]
listen to [artist/song/album]
call [business]
call [contact]
send email to [contact] [message]
go to [website]
note to self [note]
navigate to [location/business name]
directions to [location/business name]
map of [location]
In addition, Google released an updated version of the free Google Search widget for Android that offers recommendations. For example, searching for a local Italian restaurant will now offer a list of suggested restaurants with addresses and ratings. The updated search widget also offers a a pencil icon that can be tapped to refine searches, says Google.
Froyo's audio streaming problems have been fixed
Android 2.2 adds audio streaming capabilities, but also comes with a nasty bug that affects sound quality says TechCrunch. The flaw "makes your headphones sound like a pair of tin cans whenever you tune into a streaming music service like Pandora or MOG," writes the publication's Jason Kincaid.
After numerous user complaints, a bug report was posted on the Google Code site, says the story. Comments posted on the report were said to have stated that the problem is related to Android's switch from the OpenCore media framework to Stagefright.
Stagefright supports HTTP progressive streaming, but cannot properly handle the AAC+ and eAAC+ media codecs used by some of the most popular music streaming services, such as Pandora, adds Kincaid.
Google reportedly told Kincaid that the bug has been fixed, and that the company is working with its partners "to update the affected Android devices as quickly as possible."
Availability
Google's Android 2.2 page may be found here, and the announcement of Voice Actions and the new Google Search should be here.
The TechCrunch story on Froyo's audio problems may be found here.
---
This article was originally published on LinuxDevices.com and has been donated to the open source community by QuinStreet Inc. Please visit LinuxToday.com for up-to-date news and articles about Linux and open source.