Mar 16, 2010 — by Eric Brown — from the LinuxDevices Archive — 59 views
A startup that includes former members of Openmoko has begun shipping a hackable Linux-based "copyleft" clamshell for $99. Qi Hardware's Ben NanoNote incorporates Ingenic's MIPS-compatible 336MHz XBurst Jz4720 processor, 32MB SDRAM, and 2GB NAND flash, and offers a 3-inch, 320 x 240 display.
Named after "Ben" (本), which means origin in Chinese, the developer-focused Ben NanoNote could be considered an ultra-mobile PC (UMPC), clamshell PDA, palmtop, or a low-end "smartbook." Qi Hardware says the device, which will be upgraded in the future, is the first in a planned line of NanoNote-branded products.
Launched by former members of open platform Linux smartphone vendor Openmoko, the company is aiming to go even further than Openmoko in opening up its platform with "100 percent copyleft" licensing (see farther below).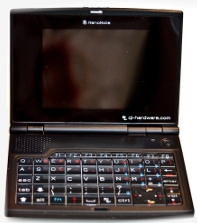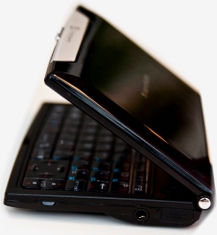 Ben NanoNote
The Ben NanoNote is built around an "XBurst" architecture Ingenic Jz4740 Multimedia Application Processor. The MIPS-compatible
Jz4740
, often referred to simply as an XBurst SoC, has been used in a number of low cost, Linux-based netbooks, including iUnika's open source
Gyy
. The processor can clock to 400MHz, although Qi Hardware tops it off at 336MHz.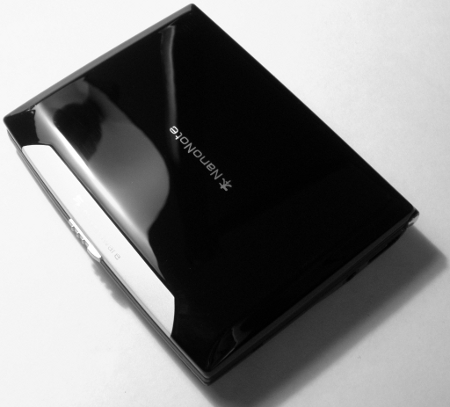 Ben NanoNote, closed
(Click to enlarge)
Equipped with 32MB of SDRAM and 2GB of NAND flash, the Ben NanoNote offers an SDIO-compatible microSDHC slot for expansion. The 3.89 x 2.95 x 0.69-inch (99 x 75 x 17.5mm) clamshell device supplies a 59-key QWERTY keyboard designed for thumb action, as well as a 3-inch, 320 x 240 color TFT display. The device weighs 4.44 ounces (126 g) with the supplied 850mAh lithium-ion battery, says the company.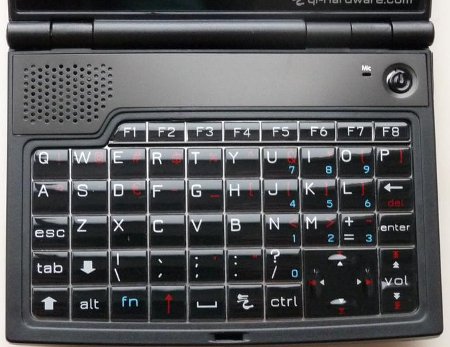 Ben NanoNote keyboard
(Click to enlarge)
The Ben NanoNote also offers a mini-USB host port, 3.5mm headphone connection, plus a mic connector and mono speaker. Ethernet and WiFi are not built in, but the device is compatible with several WiFi SDIO cards, including the Spectec SDW-821 and SDW-823, says Qi Hardware.
The Ben NanoNote offers OpenWRT Linux pre-installed, and the device can also boot over USB. (OpenWRT is a small footprint distribution commonly found on routers.) Other components in the distribution include the Uboot boot-loader, although one of the many project pages on Qi Hardware notes that the eventual plan is to move to the lightweight Qi boot-loader.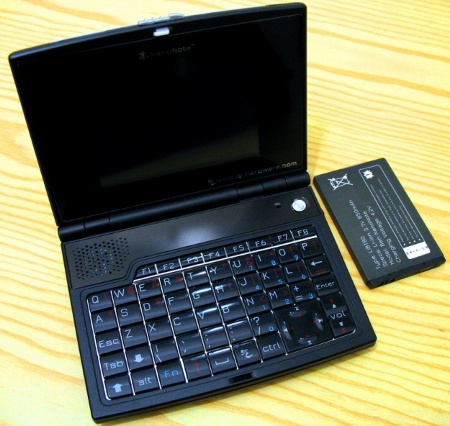 Ben NanoNote with battery


(Click to enlarge)
Qi Hardware also supplies two reference boards for the device: the AVT2 RC1 (pictured below) and a similar KiCAD version, the AVT2 RC2. The AVT2 TC1 is equipped with an Xburst processor, 64MB of SDRAM, 2GB flash, an SDHC slot, as well as other I/O found on the Ben NanoNote, says Qi Hardware.
Special features are said to include a serial console, UART port, boot select switch, and JTAG test points. The board, which is available with schematics, PCB, and gerber files, is further equipped with 8-bit RGB LCD connector and a touchscreen interface.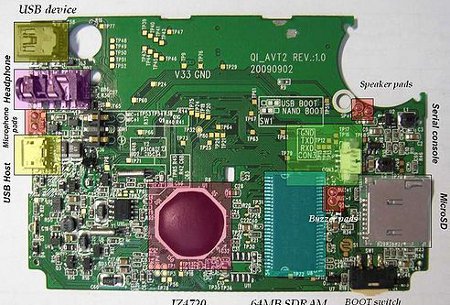 AVT2 RC1 reference board
100-percent copyleft
Openmoko, which was known for its hackable open source Linux "Neo FreeRunner" phone, last year scaled back operations — including plans for a new FreeRunner model — but the company is still supporting the current FreeRunner. In October, Openmoko, which hosts the Openmoko.org open source development project, released a portable reader device devoted to Wikipedia called the WikiReader.
According to an interview by Linux.com last July with Qi Hardware's president Stephen Mosher (formerly Openmoko VP of marketing) the company's plans for new NanoNotes could eventually range from netbooks to smartphones. Mosher was said to have added that Qi would go one step further than Openmoko, by not only completely opening up the NanoNote's specs and schematics, but also publishing a full hardware and software roadmap for the device.
Indeed, the roadmaps, schematics, and much more information are now available. The story quotes Mosher as adding, "Democratizing hardware design is a big challenge but I know it invigorates the community."
The Ben NanoNote also appears to be even more "open" than Openmoko, billing itself as being 100-percent copyleft hardware. Among other provisions, copyleft requirements demand that any derivatives of software must be made available under the same terms. However, full copyleft is different than "weak copyleft," which allows such derived software to be combined with proprietary software.
Mosher is also said to have noted that one lesson learned from Openmoko was to work with basic off-the-shelf components, or as he puts it, "existing, stable hardware devices," rather than attempting too many hardware innovations in the early going. Qi Hardware will work its way up gradually from the simple Ben device rather than attempt something as sophisticated as the Freerunner, Mosher said.
The model here appears to be the Arduino project, which Qi Hardware cites on its web-site as being one of the few other true copyleft hardware projects. Linux.com also reported that Qi was supporting a community effort to complete OpenMoko's aborted redesign of its Freerunner.
Availability
The Ben NanoNote is available from several sources including Hackable Devices, here, and Sharism.cc, here for $99. More information (and we mean much, much more) may be found at the Qi Hardware project site, here.
Last July's Linux.com story on Qi Hardware should be here.
---
This article was originally published on LinuxDevices.com and has been donated to the open source community by QuinStreet Inc. Please visit LinuxToday.com for up-to-date news and articles about Linux and open source.