Feb 11, 2011 — by Eric Brown — from the LinuxDevices Archive — 1 views
HP's WebOS-based TouchPad tablet has received a surprisingly favorable response, but what really has pundits blogging is HP's suggestion that WebOS will head for desktop PCs. Meanwhile, more details are emerging on the new WebOS 3.0 release that runs on the Touchpad, including an updated Synergy engine that HP intends to integrate a growing ecosystem of devices based on WebOS.

When HP rolled out its HP TouchPad tablet on Feb. 9, along with its similarly WebOS-based HP Pre 3 and HP Veer smartphones, it received a far more welcoming response from the press than had been anticipated.
True, many openly questioned whether the TouchPad could compete against the Apple iPad and Android 3.0 tablets, despite HP's marketing clout. And few showed faith that the 1.4GHz Pre 3 (pictured at right) and Veer phones can make it in a cutthroat smartphone market led by the iPhone, BlackBerry and a profusion of Android handsets.
(Meanwhile, even more competition may be coming from Microsoft's slow-to-warm Windows Phone 7, which appears to have a new lease on life with today's announcement by Nokia that it plans to adopt Microsoft's phone OS.)
But all told, observers at the San Francisco event were impressed by the TouchPad (below), especially with its multitasking performance, fueled by Qualcomm's new dual-core ARM Cortex-A9 Snapdragon APQ8060 processor and a new WebOS 3.0 release. The latter features an enhanced version of the Synergy communications engine, which not only helps unify notifications between apps but may also be able to link diverse WebOS devices.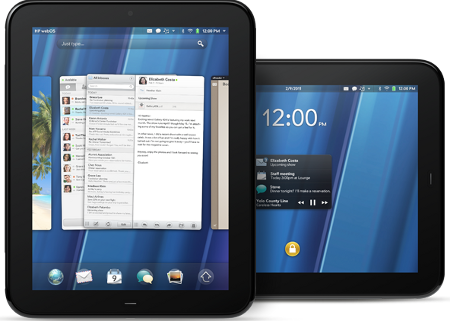 HP TouchPad
(Click to enlarge)
WebOS 3.0, explained later in further detail, appears to at least partially fork WebOS in the same way that the tablet-focused Android 3.0 appears to be splitting off from the smartphone-oriented Android 2.x.
HP aims WebOS at desktop
The most intriguing discovery at the unveiling, however, was HP's stated intention to eventually bring WebOS to PCs. After announcing it was buying Palm, HP said in May that it would offer WebOS on smartphones, tablets, and printers, but not on netbooks or desktops. Yet last month HP training materials emerged that strongly suggesting HP was prepping a WebOS-based netbook.
Now it appears that HP — the world's leading desktop PC manufacturer — has even greater ambitions for WebOS. As reported by several sources, including PCMag, Steven McArthur, HP's senior vice president for the consumer applications said as much at the end of the TouchPad unveiling in San Francisco.
"Apple and Google…have a world where they're bifurcated between their mobile apps, with their portable systems and their desktop systems," McArthur was quoted as saying by PCMag. "We think it's possible to do that in a much more elegant way, and deliver this ecosystem on a PC."
When asked if he meant using WebOS as a full desktop OS or rather as a Linux fast-boot companion to Windows, McArthur was quoted as responding only that, "We'll announce that [answer] in the coming months."
In comments that appear to have been made separately to PCMag, McArthur said, "Will I scale to every single PC form factor out there? No. But it will scale to most. You need to get components, chipsets, like that, all lined up. And there are always edge cases — there is so much diversity in the PC world that there are always edge cases."
Some observers, including Ryan Paul at Ars Technica took

McArthur's comments to mean HP will at least initially use WebOS only as a fast-boot companion to Windows PCs. Currently, HP offers the Linux- and Splashtop-based "QuickWeb" fast boot option on a number of Windows 7 notebooks such as the Pavilion dm1z, and netbooks, such as the HP Mini 210.
Previously, HP has tried out its own Ubuntu-based "Mi" Linux distribution on netbooks, but has since settled mostly on Novell's SUSE Linux for the relatively small number of HP systems that offer Linux options. (Meanwhile, reports The Consumerist, at least one recent user who bought an HP system and wiped Windows in order to install Linux, has been informed (incorrectly) by HP's tech support person that their warranty has been voided.)
Other observers took the HP comments, to mean much more: the beginning of the end of HP's relationship with Microsoft and Windows.
In a triumphant blog posted after the HP event, Linux Foundation executive director Jim Zemlin wrote, "The world's largest PC supplier is indicating that they are going to ship PCs without Windows. For Microsoft — who was nowhere at this event — that has got to hurt. Perhaps this really is the year of the Linux desktop."
For the record, HP execs said at the event that HP's "phenomenal relationship" with Microsoft will continue, despite the announcements, reports PC Mag. Meanwhile, the company released its Windows 7-based, 8.9-inch Slate 500 tablet back in October.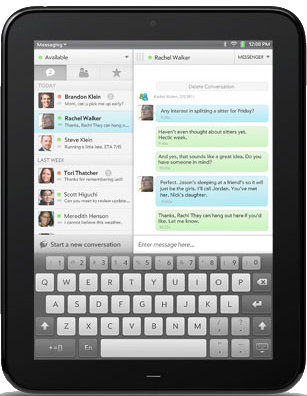 TouchPad, showing virtual keyboard
Nicholas Kolakowski, writing in our sister publication
eWEEK
, was more impressed with HP's plans for
creating a broad ecosystem of WebOS devices
tied together with a common Synergy communication engine.
In a separate eWEEK analysis, Chris Preimesberger appeared to agree, writing, "This might turn out to be one of the most important launches in HP's long and celebrated history because it brings the corporation into the 21st century with its connected mobile devices." Preimesberger adds, however, "Or it could be the introduction of a real flop."
HP Enyo drives WebOS 3.0, TouchPad
HP's biggest challenge is the fact that WebOS has a little less than 7,000 apps. That may be more than RIM's BlackBerry or Microsoft's Windows Phone 7, but it's just a drop in the bucket compared to the hundreds of thousands of Android and iOS apps out there.
As described in a separate PC Mag story interviewing HP's McArthur, the company has at least one "novel strategy of development" to boost WebOS app development. Within HP, the Palm team will develop a top-tier app itself, and then give it away to a high-profile third party such as a Facebook or Rovio, McArthur is quoted as saying.
On a more fundamental level, HP plans to further develop its "Enyo" application development framework, which emerged in November after the October launch of WebOS 2.0. Designed to eventually phase out the current Mojo framework, Enyo offers faster app launching, more flexible porting between multiple screen sizes, improved HTML5 support, better event handling, and an easier object-oriented development framework, according to PreCentral.net.
Meanwhile, HP emphasizes that while Enyo is being made available with WebOS 3.0, Mojo apps will be able to run in an emulation window.
Enyo is more of a means to an end — a larger app collection - than it is an end to itself. PCMag quotes McArthur as saying, "Someone said to me that if you look at the developer tools for Windows, it will tell you why it works — because even with shitty tools they got a lot of developers."
WebOS 3.0 unveiled
At HP's launch of the TouchPad, Pre 3, and Veer, HP revealed that the TouchPad, but not the two phones, will run a new WebOS 3.0. "It turns out that the HP TouchPad doesn't run HP webOS 2.0," reported PreCentral.net directly after the event. It runs webOS 3.0, a different beast than the 2.X we saw on the HP Veer and HP Pre 3."
WebOS 3.0 has not been formally announced, but PreCentral.net's WebOS experts were able to divine the differences as they explored the TouchPad's UI. Just as Google has been ambiguous about the relationship between Android 3.0 and Android 2.x, HP is similarly mum as to what degree the new release forks WebOS, suggests the story.
Key themes of WebOS 3.0, some of which we touched upon in our TouchPad coverage, include multitasking enhancements, optimization for tablet sizes and resolutions, and improvements to the Synergy communications engine.
In addition, there were major changes to the launcher, notifications, virtual keyboard, browser, email, messaging, calendar, and photos functions, as detailed in the PreCentral coverage. A follow-up story then examined higher level and third-party WebOS 3.0 apps, such as the new video chat function.
Here's a brief summary of their findings:
Launcher — Now optimized and redesigned for the big screen, the launcher features tabs across the top for app pages, among other modifications.
Notifications — The separate notification bar has disappeared, and notifications are now embedded in the top bar. New capabilities are said to include tapping on notification icons to open a drop-down menu for further actions.
Virtual keyboard — Redesigned for tablet displays, the virtual keyboard (pictured farther above) now offers a number row on top for easier access.
Email and messaging — Changes to the email app are "big and welcome," according to PreCentral.net. The email app includes Enyo-based technology, and sports a nifty grab handle that lets users easily resize and jump between the accounts and folders, list view, and email panels, says the story. Also new is a multi-select function. The messaging app offers less dramatic changes, but also supplies the grab handle UI element, says the story.

WebOS calendar (left) and contacts apps on TouchPad


(Click on either to enlarge)

Calendar — The new release updates earlier flaws, for example finally listing appointments in the month view. Otherwise, while the calendar (pictured above, left) takes advantage of the larger screen real estate to show more info, such as all available calendars, the overall UI "has gone super spartan, and we're cool with that," says PreCentral.net.
Photos — The redesigned photos app now offers a launch view with a series of side-scrolling views of albums, and it also features the new grab-handle device. Social networking integration has been deepened with the ability to make comments directly from the photos app, and the printing function has been upgraded and given the HP spin to good effect, says the story.
Video chat — The new video chat function supports the front-facing camera on the TouchPad. It was unclear whether this would be extended to the WebOS 2.x release on the Pre 3 phone, which also offers a videocam, says the story. Said to support Skype calls initially, the video chat function is rather bare bones, says the story.
Kindle, QuickOffice, and Twitter — The Kindle app is praised for being basic, "which is what you need when reading," but the page-turning animation was said to be choppy. The Quickoffice app appeared to work just fine, says PreCentral.net, although the editing functions promised for the final were not ready. HP also demo'd a "Just Type for Twitter" app that the site was not sure would end up as a shipping app or was just a way to demo WebOS 3.0's enhanced Just Type functionality.
Time, Inc. content and a Roxio video store — There was less revealed about two other third-party apps, says the story. Time, Inc. will offer browsing interfaces for its various magazines including Sports Illustrated, says the story, and Roxio will help develop a video app store for WebOS. Features are said to include new arrivals, searches, trailers, synopses, and renting or buying content.
---
This article was originally published on LinuxDevices.com and has been donated to the open source community by QuinStreet Inc. Please visit LinuxToday.com for up-to-date news and articles about Linux and open source.