Sep 13, 2010 — by LinuxDevices Staff — from the LinuxDevices Archive — views
[Updated, 12:30 p.m.] — Intel kicked off this week's IDF (Intel developer forum) with details of its second-generation Core processors, previously code-named Sandy Bridge. Available "in early 2011," the CPUs will provide visual performance rivaling discrete GPUs (graphics processing units), include dedicated hardware for video transcoding, and offer other architectural improvements including "next-generation" Turbo Boost technology, the company says.

Intel had already tipped some details of its second-generation Core processors, previously known by their "Sandy Bridge" code name. However, this morning's keynote — delivered in San Francisco by Paul Otellini (right), the company's president and CEO, and Dadi Perlmutter, executive vice president and general manager — brought further details as well as some diverting product demonstrations.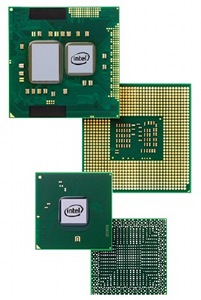 According to the chipmaker, the second-generation Core CPUs are scheduled for production later this year, and will be available in devices in early 2011. Like the earlier Core CPUs (left) rolled out at the Consumer Electronics Show (CES) back in January, the Sandy Bridge processors are described as employing "cutting-edge 32nm processor technology with second-generation high-k metal gate transistors," but they also sport a "new microarchitecture," according to Intel.
Otellini and Perlmutter also reportedly used their keynotes to reveal the code name of a 22nm successor to Sandy Bridge. The downsized "Ivy Bridge" CPUs will debut in the second half of 2011, according to reports by Fudzilla and IT Pro, but there's no immediate word on whether they'll incorporate new capabilities or be a mere die-shrink.
Faster graphics and a new instruction set
While Intel canceled its plans to bring a discrete GPU to market earlier this year, the new Cores are claimed to deliver "enhanced visual features focused on the areas where most users are computing today: HD video, stereoscopic 3D, mainstream gaming, multitasking, and online socializing and multimedia."
In his keynote, Otellini showed someone playing the popular Starcraft II: Wings of Liberty game on a prototype, second-generation-Core-powered laptop. "The game's visual effects looked essentially the same as on a similarly configured laptop with a discrete graphics card," Intel claims.
Intel adds that such a laptop is powerful enough to simultaneously record a high-definition video of the game play to later share with friends. According to the company, the second-generation Cores will include dedicated silicon for media processing, which includes transcoding HD video from one format to another.
According to Intel, the second-generation Cores will offer a new 256-bit instruction set known as AVX (advanced vector extensions), accelerating floating-point-intensive applications such as digital photo editing and content creation. Demonstrating the ability of AVX to accelerate motion and facial recognition tracking, the chipmaker reportedly installed a camera at the keynote hall entrance with a "video trip wire," counting the number of people entering the hall and even detecting when a specific object was removed from the room.
Intel says the new Cores will further offer a "next-generation" version of its Turbo Boost technology, which varies CPU frequency to maximize performance or conserve energy depending upon the type of instructions being executed. A new power-averaging algorithm "manages power and thermal headroom to optimize performance," the company says.
Finally, Intel says the "vastly improved" processor cores in the new CPUs will be "better connected with an innovative ring interconnect for improved data bandwidth, performance, and power efficiency." The interconnect is an on-die system that will enable high-speed, low-latency communications, the company claims.
A low-power roadmap for desktops
As far as we've been able to determine, the announcement of the second-generation Cores today was not accompanied by specific model numbers, clock speeds, or detailed power consumption data. (If such information does emerge at IDF sessions, we'll update this story with a table. Meanwhile, Fudzilla's Fuad Abazovic has reported that the devices will have names such as "Core i7 2600K," where the "2" denotes a second-generation device.)
But Intel did highlight a "desktop low-power roadmap" that will see second-generation Cores with 65W, 45W, and 35W TDPs being targeted at "smaller, more stylish desktop systems." The chipmaker says it will offer these processors with a "new low-profile fan heat sink" and will sell compatible Mini-ITX boards, "helping local system integrators participate in this fast-growing product segment."
The company added that it will offer a reference motherboard and power supply code-named "Buffalo Bay" for the second-generation Cores. All-in-one desktop designs based on this platform are being shown off at the IDF, Intel adds.
Otellini also demonstrated high-end Core vPro CPUs and a forthcoming Xeon server platform — formerly code-named Romley — that include AESNI (advanced encryption standard new instructions). The devices were shown off via a three-party video conference with 256-bit encryption on a live video stream.
According to an Intel release, "the server decrypted and encrypted all three video streams with virtually no time delay." AESNI will enable a tenfold improvement in encryption and decryption performance, the company claims.
Next-generation Xeon processors will be aimed at two-socket servers and workstations, and will offer eight cores and sixteen threads per processor, Intel says. They're "on schedule for production in the second half of 2011," Intel adds.
Perlmutter stated, "The way people and businesses are using computers is evolving at an explosive rate, fueling demand for an even more powerful and visually appealing experience. Our upcoming 2nd Generation Intel Core processor family represents the biggest advance in computing performance and capabilities over any previous generation. In addition to offering these features inside Intel-based laptops, we plan to scale these advances across our server data center and embedded computing product portfolio."
Further information
More information on Intel's ongoing developer forum, which runs through Wednesday, Sept. 15, may be found on the company's website, here.
Reports about "Ivy Bridge" by Fudzilla and IT Pro may be found here and here, respectively, while the earlier Fudzilla report about second-generation naming may be found here.
---
This article was originally published on LinuxDevices.com and has been donated to the open source community by QuinStreet Inc. Please visit LinuxToday.com for up-to-date news and articles about Linux and open source.