Apr 14, 2010 — by LinuxDevices Staff — from the LinuxDevices Archive — views
Intel announced a new Atom processor aimed at embedded devices and in-car infotainment platforms. The "Tunnel Creek" CPU offers an onboard graphics controller, memory controller, and audio, linking to a separate I/O controller via a standard PCI Express interface, according to the company.
Part of an overall platform known as "Queens Bay," Tunnel Creek was detailed in presentations today at the chipmaker's 2010 Intel Developer Forum in Beijing. The chip is positioned as a successor to Intel's original Atom, the Z5xx, whose "Silverthorne" CPU was paired with a "Poulsbo" northbridge/sourthbridge in an overall platform nicknamed "Menlow."
Like Menlow, Tunnel Creek is aimed at embedded devices and in-car platforms, though we should note that the Z5xx also found a home in some mobile internet devices (MIDs), tablets, and netbooks (Dell's Inspiron Mini 10 and MSI's Wind U110 and U115 were notable examples of the latter). And, like Intel's later "Menlow XL" Z530P and Z530PT, the Tunnel Creek measures 22 x 22mm and is still produced using 45nm technology.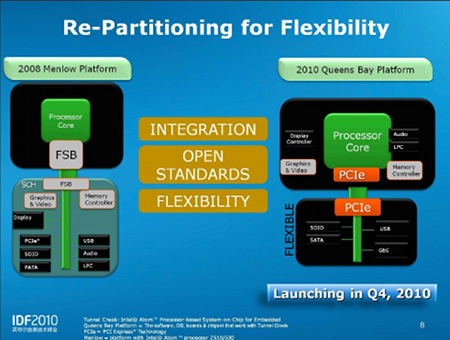 The Queens Bay platform
Source: Intel (Click to enlarge)
But Intel now refers to Tunnel Creek as a SoC (system on chip), justifying this by incorporating a graphics controller (reportedly the Powervr-based GMA500), memory controller, and audio onto the Atom itself. Like the company's "Pineview" Atoms, the N450, D410, and D510, Tunnel Creek employs a relatively simple IOH I/O controller (here, 23 x 23mm).
According to Intel, the Queens Bay platform has an overall package size that's 46 percent smaller than Menlow. It's said the platform also offers OEMs much greater versatility than did Menlow or even Pine Trail (the chipmaker's name for the Pineview Atoms and their NM10 or ICH8 I/O controller): That's because instead of using a proprietary interconnect, Tunnel Creek communicates with the IOH via an industry-standard PCI Express bus.
Intel anticipates third-party vendors will create their own IOH chips for Tunnel Creek that add custom functionality for applications such as in-vehicle infotainment, IP media phones, and premise service gateways. Meanwhile, the chipmaker says, it will sell its own IOH for general embedded applications, offering typical interfaces such as USB, PCI Express, gigabit Ethernet, SATA, and SDIO.
Queens Bay reportedly has an overall TDP similar to Menlow, at approximately 5 Watts. It's said the CPUs will be offered 600MHz, 1GHz, and 1.3GHz variants, all offering hyperthreading and Intel's VT virtualization technology. The Tunnel Creek CPUs clock the GMA500 at 400MHz, offering twice the graphics performance of Menlow, Intel says.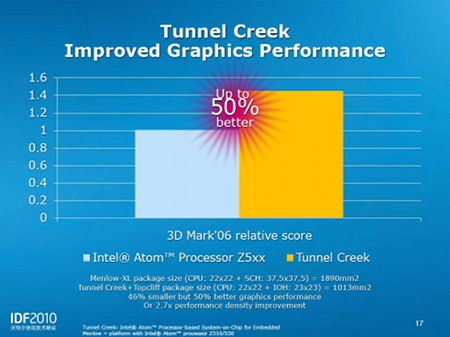 Queens Bay's PCI Express bus will enable third-party I/O controllers
Source: Intel (Click to enlarge)
According to Intel, Queens Bay will include an embedded graphics driver that enables pre-OS splash screen support for LVDS displays. The platform will also be offered with either a standard BIOS that runs off-the-shelf operating systems, or a custom BIOS that optimizes boot times and runs RTOSes as well as other specialised OSes, the chipmaker adds. It's said that after the silicon is launched, a development kit known as "Trinity Lake" will let OEMs roll their own BIOSes at low cost.
Positioning Queens Bay as appropriate for devices such as IP media phones, smart cash registers, and in-vehicle entertainment, Intel says the platform will be available in an extended temperature version (-40 to 85 deg. C), and with seven- to ten-year lifetime support. By the end of the year, Tunnel Creek CPUs will also be offered on the Infotainment Compute Module (ICM) pictured below, the chipmaker says.


ICM modules
Source: Intel
It's said ICM modules will measure either 106 x 85mm or 85 x 85mm, and will employ 230-pin edge MXM2 edge connectors. Offering signaling for "common automotive functions," the ICM format will permit migration to a next-generation Atom design without carrier board changes, Intel promises.
What about Moorestown?
As Queens Bay's power consumption and size make clear, the platform is not as revolutionary as Intel's long-promised "Moorestown" platform, of which some details were reiterated at IDF 2010. Also scheduled for release later this year, Moorestown includes the "Lincroft" CPU and "Langwell" I/O controller, as pictured below.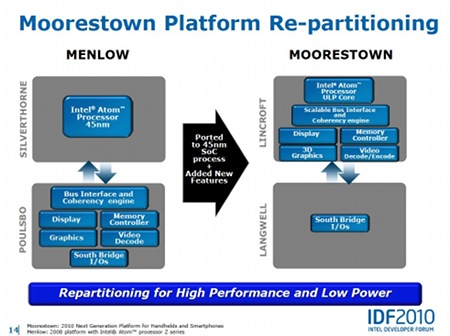 Intel's Moorestown
(Click to enlarge)
Again incorporating on-chip graphics, Moorestown will connect the CPU and I/O controller via Intel's proprietary DMI, not PCI express. Active power consumption will be half that of Menlow's, and idle power consumption is now said to have been reduced by a factor of 50.
Intel says Moorestown will be aimed at x86 smartphones and other devices with screen sizes up to about four inches. The board real estate it occupies, meanwhile, will be half that of the original Menlow platform.
New partnerships in China
At IDF, Intel highlighted two partnerships with Chinese companies. China Mobile, said to be the world's largest wireless company, will work with Intel to develop its next generation wireless network infrastructure and help move into a "compute and cloud" model, the companies stated.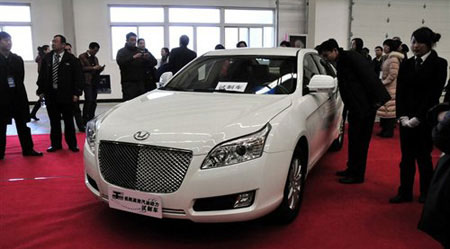 HawTai's B11 luxury sedan
Source: Global Times
Intel also announced today that Chinese auto manufacturer, Rongcheng HawTai Automobile will incorporate an in-vehicle-infotainment (IVI) system in its in its B11 luxury sedan (above) based on an Intel Atom processor and the Linux-based MeeGo stack.
Stated Wang Dian Ming, vice chairman of HawTai Automotive, "With an infotainment solution that utilizes the Intel Atom processor, we are leveraging the well-established and latest Internet technologies, and re-using existing software that has been developed on the MeeGo based Linux platform. It saves us application development costs, and enables new services to be introduced quickly with high reliability."
Supported by Intel and Nokia, MeeGo is a merger between the Moblin and Maemo stacks for mobile devices ranging from smartphones to IVI systems to netbooks. Yesterday, the Linux Foundation, which hosts the MeeGo project, announced 27 partners vowing support for the mobile open source Linux distribution. There were numerous Chinese vendors among, them, but no mention of HawTai. The other automotive focused partner is BMW Group.
Availability
According to Intel, its Queens Bay platform will be available during the fourth quarter of this year. More information on Queens Bay and Moorestown may be found in IDF 2010 presentations on the chipmaker's website, here.
---
This article was originally published on LinuxDevices.com and has been donated to the open source community by QuinStreet Inc. Please visit LinuxToday.com for up-to-date news and articles about Linux and open source.