Oct 4, 2011 — by LinuxDevices Staff — from the LinuxDevices Archive — 1 views
Intel has quietly launched its 32nm, "Cedar Trail" Atoms, which will reportedly sell for as little as $42. The portable-focused Atom N2600 and N2800 can be clocked up to 1.86GHz and 2.13GHz respectively, while the desktop-oriented D2500 and D2700 stretch to 2.13GHz and 2.4GHz, according to the company.
Since the 2008 release of its original Z5xx ("Silverthorne"), Intel has released 42 different, 45nm-fabbed Atom processors (a total that doesn't even include the Atom-based CE4100 and CE4200 systems-on-chip). The chipmaker's most recent such product is the "Oak Trail" Atom Z670, which has already been incorporated into a variety of tablets and other devices.
But in April, the company tipped a smaller Atom platform code-named "Cedar Trail," which it promised would shrink courtesy of 32nm fabrication and go on sale during the second half of this year. Featuring further improvements in power consumption, "Cedar Trail" (below) will include Blu-ray 2.0 support, a dedicated media engine "for full 1080p playback," plus additional video options including Intel Wireless Display, DisplayPort, and HDMI, the company said at the time.

Intel's Cedar Trail
(Click to enlarge)
Thanks to leaks that soon began pinging around the blogosphere, it was clear by May that the new Cedar Trail Atoms would be known as the D2500 and D2700 for desktops, and the N2600 and N2800 for portables.
And a May 26 story by DigiTimes writers Monica Chen and Joseph Tsai cited "sources from netbook players" as saying the N2600 and N2800 would sell for just $42 and $47 — a significant drop from the cost of the existing Atom N4xx and N5xx CPUs, which ranged from $64 to $86 at the time.
Likely drawing on the same porous Taiwanese sources, CPU World writer Gennadly Shvets published the same prices on May 24. His story also summarized available information on clock speeds and power consumption in a table, which we adapted and is reprinted below.
| | | | | |
| --- | --- | --- | --- | --- |
| Model | Clock speed | Cores/threads | TDP | Price |
| D2500 | 1.86 GHz | 2/2 | 10W | $42 |
| D2700 | 2.13 GHz | 2/4 | 10W | $52 |
| N2600 | 1.6 GHz | 2/4 | 3.5W | $42 |
| N2800 | 1.86GHz | 2/4 | 6.5W | $47 |
Intel's upcoming D- and N-series Atoms
Source: CPU World
Information on Cedar Trail's enhanced graphics apparently first emerged, meanwhile, on the VR-Zone website. On May 10, it ran an "exclusive" story with what appeared to be a Intel-sourced graphic (below).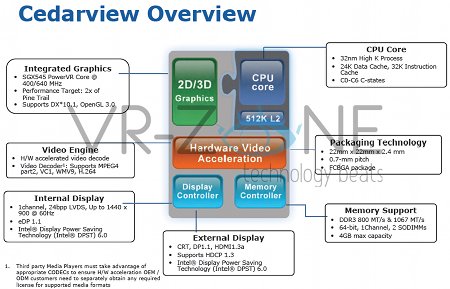 Intel's Cedarview platform
Source: VR-Zone
(Click to enlarge)
The slide indicated that the 32nm-fabbed Cedar Trail chips measure 22 x 22nm. Also disclosed was PowerVR graphics IP licensed from Imagination Technologies, providing support for DirectX 10.1 and OpenGL 3.0, as well as hardware accelerated video decoding for MPEG-2, MPEG-4 part 2, VC1, WMV9, and H.264.
Stealthy confirmation from Intel
Intel still hasn't confirmed the pricing quoted above, nor has it posted product pages for the four Cedar Trail Atoms, as far as we're aware. But, the N2600, N2800, D2500, and D2700 quietly became official when the chipmaker quietly placed a PDF-formatted data sheet for the processors on its website.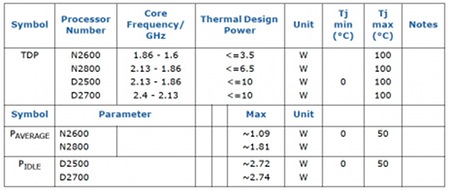 Clock speeds for Intel's new Cedar Trail Atoms
Source: Intel
(Click to enlarge)
This 119-page document essentially confirms the information already mentioned in this story. As shown above, however, it adds that the N2600 and N2800 can potentially be clocked up from their normal 1.6/1.86GHz to 1.86/2.13GHz, while the D2500 and D2700 may be bumped from 1.86GHz or 2.13GHz to 2.13GHz/2.4GHz.
Apparently the fastest Atom processors ever, the new chips have maximum TDPs of 10 Watts for the D2500 and D2700. The N2800 and N2600, meanwhile, can operate using just 6.5 Watts or 3.5 Watts, respectively.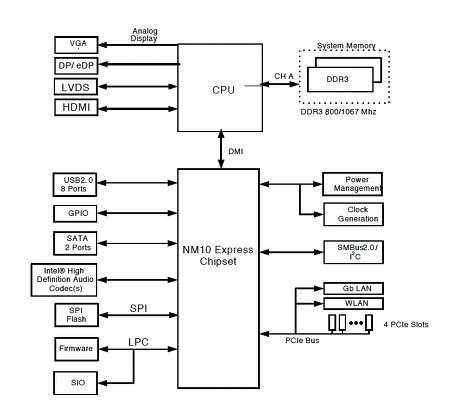 A block diagram of the Cedar Trail platform
Source: Intel
(Click to enlarge)
Intel's documentation also confirms our previous suspicions that the Cedar Trail CPUs would use the company's existing I/O controller. The maximum amount of RAM supported is 2GB for the N2600, and 4GB for the other three processors, according to the company.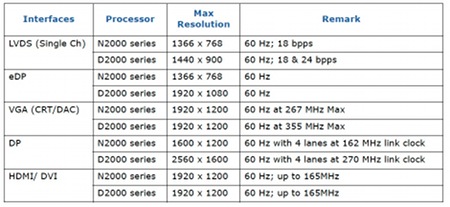 Resolutions supported by the Cedar Trail processors
Source: Intel
(Click to enlarge)
Intel adds that the built-in graphics on the N2600, N2800, D2500, and D2700 support LVDS, Embedded Display Port, VGA, Display Port, HDMI, and DVI interfaces. As indicated by the table above, the most widely supported resolution is 1920 x 1200 pixels, but the D2xxx processors support Display Port screens with 2560 x 1600 pixels.
Jonathan Angel can be followed at www.twitter.com/gadgetsense.
---
This article was originally published on LinuxDevices.com and has been donated to the open source community by QuinStreet Inc. Please visit LinuxToday.com for up-to-date news and articles about Linux and open source.