Oct 2, 2009 — by LinuxDevices Staff — from the LinuxDevices Archive — 4 views
Zotac has released a Mini-ITX motherboard that combines Intel Atom processors with Nvidia's Ion northbridge/southbridge combo. The "Ion ITX-F" includes Atom 230 or 330 CPUs, supports HD video playback, sports an HDMI connector and dual S/PDIF audio outputs, and offers a PCI Express x16 expansion slot, the company says.
As regular readers will be well aware, Intel's initial single-core Atom 230 and dual-core Atom 330, both intended for the low-cost PCs the chipmaker refers to as "nettops," are typically combined with the 82945GC northbridge, whose GMA950 integrated graphics are not capable of doing 1080p HD video playback. Successor Atoms, known as the D410 and D510, respectively, will reportedly remedy that situation, adopting a speedier, on-chip graphics core based on Imagination Technologies' Powervr SGX535.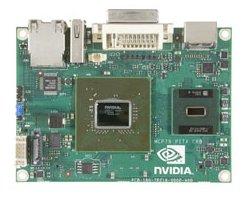 Meanwhile, Nvidia has made current Atom 230/330 devices HD-capable by offering its Ion platform, a single northbridge/southbridge companion chip (pictured at right) that includes a GeForce 9400 GPU (graphics processing unit). Nvidia says Ion-based products can have DDR3 memory interfaces with frontside bus speeds of up to 1066MHz. Graphically, they support DirectX 10, offer resolutions up to 2560 x 1600 pixels, provide 1080p HD video playback, and deliver HDMI, VGA, DisplayPort, and dual-link DVI video outputs, the company says.
Since its December 2008 introduction, the Ion has made it into several dozen nettops and netbooks, many of which were shown off at Taiwan's Computex show back in June. In May, meanwhile, Zotac put the Ion into the Ion ITX, a mini-ITX motherboard that could be adopted by either hobbyists or OEMs for creating their own devices.
Earlier this year, Berkeley, Calif.-based system integrator ZaReason shipped a Linux-based nettop equipped with the Ion ITX, called the Ion Breeze 3770. In a Phoronix review, the HD-capable nettop significantly outperformed a similarly configured system running Intel's 82945GC graphics chipset.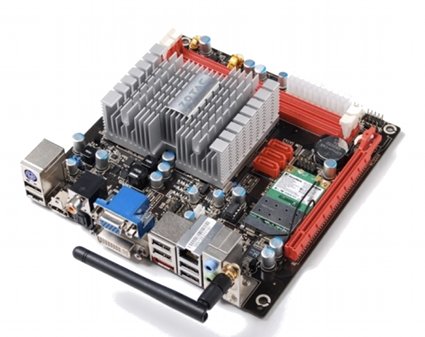 Zotac's Ion ITX-F
(Click to enlarge)
Now, Zotac has followed its earlier product up with the Ion ITX-F (above), which, by the company's own account, is identical to the Ion ITX except for the addition of a PCI Express x16 expansion slot. Like the earlier board, this one also includes Mini PCIe expansion, but the latter slot has now been pressed into service for a standard 802.11b/g/n wireless LAN adapter, according to the company.
As on the Ion ITX, the edge of the Ion ITX-F (below) is crammed with ports, including VGA, DVI, and HDMI video outputs, optical and coaxial S/PDIF audio outputs, six USB ports, an RJ45 gigabit Ethernet connector, a PS/2 keyboard port, analog audio I/O, and a WiFi antenna connector. Meantime, ports or pin headers on top of the board provide an additional four USB ports, a serial port, three SATA ports, and one eSATA port, Zotac says.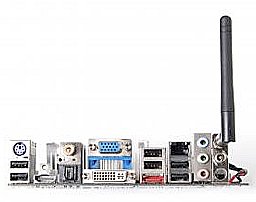 Zotac's Ion ITX-F offers VGA, DVI, and HDMI video outputs
According to Zotac, the Ion ITX-F's two 240-pin SODIMM slots allow it to accept up to 4GB of DDR2 memory. Although the company didn't specify, we suspect that like the Ion ITX before it, the Ion ITX-F will be offered in a version that comes with an onboard DC-to-DC converter and an external power brick. Since the Ion ITX-F is claimed to run fanlessly, using an external DC power supply makes for silent operation and makes the board potentially adaptable to use in a vehicle.
Features and specifications listed by Zotac for its Ion ITX-F motherboard include the following:
Processor — Intel Atom 230 or Atom 330 clocked at 1.6GHz, with Nvidia Ion companion chip
Memory — Up to 4GB of DDR2 RAM
Storage — SATA hard disk drives (RAID 0 or 0+1 configurations are both possible)
Networking:

LAN — Gigabit Ethernet
WLAN — 802.11b/g/n

Other I/O:

1 x VGA
1 x HDMI with HDCP support
1 x DVI
2 x S/PDIF (one optical, one digital)
Audio — mic in, line in, line out via 3.5mm connectors
10 x USB 2.0 (6 external, 4 internal)
3 x SATA
1 x eSATA
1 x serial (via pin header)
DC power input (optional)

Expansion:

Mini PCI Express expansion slot (occupied by WLAN card)
PCI Express x16 expansion slot

Power consumption — n/s
Dimensions — 6.7 x 6.7 inches
Carsten Berger, marketing director for Zotac, stated, "End users loved our Ion ITX series motherboards, but some requested PCI Express expansion. We listened and thus the Zotac Ion ITX-F series was born. Our engineers managed to integrate PCI Express x16 expansion without sacrificing any of the award-winning features."
Availability
Although Zotac does not mention Linux support for its Ion ITX-F, listing only Windows 7 and Windows Vista, the appearance of the similar Ion ITX on the ZaReason Ion Breeze 3770 suggests that Linux compatibility is likely. Pricing and availability information was not provided. More information should eventually appear on this Zotac page for Intel-based mobos, here.
A detailed review of the previous Ion ITX model, including additional photographs, benchmarks, and information about power consumption, can be found on the Hot Hardware website, here.
---