Jul 29, 2010 — by Eric Brown — from the LinuxDevices Archive — 10 views
Monsoon Multimedia announced a Linux-based IP set-top and DVR that supports streaming to and from remote PCs and Macs, plus the iPad as well as Android, BlackBerry, and iOS phones. The HD-ready Vulkano ranges in price from $259 to $379, starting with the Vulkano (8GB or 16GB storage) and advancing to the SATA-equipped Vulkano Pro (500GB or 1TB).
Like a number of IP set-top boxes (STBs), the Vulkano enables users to watch YouTube videos on a connected TV with resolutions of up to 1080i. Yet, the device can also record video and stream it to remote devices, replacing the functionality of multiple digital video recorder (DVR) boxes such as the TiVo, Slingbox, and Roku devices, claims Monsoon Multimedia.
For now, the Vulkano's Web support is limited to YouTube, although support for services such as Netflix and Hulu are said to be in the works, as is a full web browser and Google TV support (see farther below).

Monsoon Vulkano


(Click to enlarge)
By downloading a free software application from Monsoon (or from the Apple App store for the Apple devices), users can set up the Vulkano to stream video to remote PCs and Macs, as well as to Android, Blackberry, iPhone, iPod Touch, and iPad mobile devices.
In addition, remote users using compatible devices supporting UPnP (Universal Plug n Play) can stream up to 1080i video through the Vulkano to a connected TV or to other supported devices, such as the iPad, says the company.
Monsoon suggests that the Vulkano's capability of acting as a two-way intermediary between a TV and mobile devices is unique, though we've noted a few devices that appear to offer somewhat similar functionality. For example, KDDI's Motorola-made Au Box converts and transmits TV and Web content to the Japanese carrier's cell phone. (Some other recent IP STBs may be found in the list of related stories at the end of this article.)

Vulkano in white
With the Vulkano's Mobile Video Recording (MVR) technology, consumers can schedule and record content from any TV channel onto the Vulkano, and transfer the content to compatible 3G or Wi-Fi-equipped mobile devices, either on demand or automatically, says Monsoon.
For example, iPad owners can schedule a recording, and have the resulting video automatically downloaded to the device via an included EPG (electronic program guide). In addition, software players for PCs, Macs, and iPads also support remote Pause/Live functions, says the company.
Additional features available with the Vulkano are said to include:
Direct record mode with pause, fast forward/rewind
Schedule TV recording by show, channel, or time
Browse EPG for shows and episode descriptions
Mark channels as "favorite" for quick access
Multiple-user support, with separate recording areas
Connect to TV sources including cable or satellite set-tops, DVD players, and DVRs
Stream video at H.264 and MPEG-4 standards at rates as low as 150kbps
The Vulkano and Vulkano Pro, which appear to be identical except for storage options, are based on C2 Microsystems' dual-core RISC CC1200 system-on-chip (SoC) clocked to 350MHz (see later in this story for more details). This HD-ready SoC, equipped with C2 Micro's Linux-based Jazz 2 architecture, is said to handle the transcoding required to reformat video for mobile devices.
As noted, the Vulkano is offered with either an 8GB or 16GB SD card, while the Vulkano Pro moves up to a 500GB or 1TB hard disk drive (HDD). Both units, however, are equipped with SD/MMC slots as well as SATA II ports.


Rear view of Vulkano
The Vulkano and Vulkano Pro are further equipped with an 802.11n router, a gigabit Ethernet port, and two USB 2.0 ports, says Monsoon. A/V connectivity includes HDMI 1.2, YPrPb, S-Video, and composite ports, the company says. The device is also said to offer Macrovision x support.
Multimedia format support is said to include:
Video decoding — H.263 (Sorenson), H.264 BP, H.264 MP, H.264 EP, H.264 HP, AVS, VP6, M-JPEG, MPEG-2 [email protected], MPEG-4 ASP, WMV7/8, WMV9/VC-1
Video encoding — MPEG-4 ASP, H.264 BP, H.264 MP, M-JPEG
Image decoding — JPEG, GIF, PNG, BMP
Audio decoding — MP3, WMA8, WMA9, WMA10 Pro, AAC LC, HE-AAC, FLAC, OGG Vorbis, G.711, G.726, G.729AB
Audio encoding — WMA8, MP3, AAC LC, G.711, G.726, G.729AB
In the near future, the Vulkano will add players for Linux, Symbian, and Windows Mobile, as well as offer free service upgrades such as Yahoo! Widgets, Netflix, and Hulu, says Monsoon. Later this year, the company says it will add a web browser with media extensions, including HTML5 media support.
Next year, the Vulkano will also support Google TV, although in an interview with LinuxDevices, Colin Stiles, EVP of Sales and Marketing at Monsoon, said that this will be likely via a plug-in layered on top of the Vulkano stack, as opposed to a complete installation such as Logitech's Google TV companion box. To act as a complete Google TV platform, the Vulkano would also likely need to switch to an Intel Atom processor, like the initial Sony and Logitech Google TV devices.
According to Stiles, the ultimate goal is to license its Vulkano technology to other STB vendors. "We're planning to port it to other devices," he said. "There's been a lot of interest."
A GPL test case

A previous Linux-based DVR from Monsoon Multimedia called the Hava (pictured) was notable for its role as a test case in the first legal test of GPL violations in the U.S. In Oct. 2007, however, the Software Freedom Law Center (SFLC), acting on behalf of the two principal BusyBox developers, announced that an agreement had been reached to dismiss the GPL enforcement lawsuit against Monsoon Multimedia. Once the the SFLC filed suit against Monsoon for not complying with the open source license, the company quickly agreed to comply with the GPLv2 requirements.
C2 Microsystems' CC1200
The CC1200 SoC used in the Vulkano decodes all current broadcast formats and a wide variety of Internet content formats, says C2 Microsystems. The SoC is also said to perform audio post-processing and video de-interlacing and scaling for HD displays.
The CC1200 transcodes content into several formats for place-shifting and for side-loading onto portable devices, and encodes video for monitoring, chat, and place-shifting applications, says the company.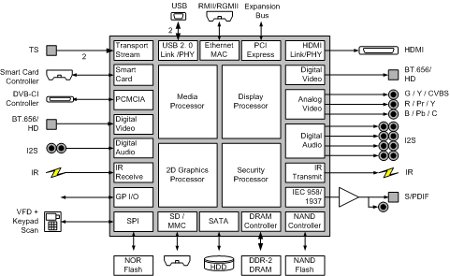 C2 Micro's CC1200 block diagram


(Click to enlarge)
The CC1200 is built around a dual-core SMP, four-way superscalar RISC architecture, says C2 Microsystems. Clocked to 350MHz, the SoC offers two hardware threads per core, as well as a 256-bit SIMD vector unit, says the company.
Additional features are said to include codec acceleration processors for digital broadcast standards, a 2D graphics accelerator, display and security processors, and extensive media codec support. Capable of encoding at D1 resolution, the SoC can decode digital broadcast video at up to 1080p and Internet content at up to 720p, says C2 Microsystems.
Other features are said to include support for DDR2 memory at up to 512MB, as well as support for parallel NAND flash. I/O support includes gigabit Ethernet with an RMII/RGMII interface, USB 2.0 OTG, PCI-Express, SDIO, and various digital and analog A/V interfaces including HDMI, says the company.
The CS1200 and earlier CS1100 both offer C2 Micro's Jazz 2 architecture, supported by a Linux 2.6-based Jazz 2 software development kit (SDK). The architecture provides hard real-time processing functions embedded within a pluggable Media Framework, says the company.
Stated Steve Stone, CTO at Monsoon, "We designed Vulkano from the ground up to replace single purpose solutions, such as TiVo, Roku, Slingbox, etc. In the coming months we will be pushing new apps to Vulkano owners for free so they can rest assured that this is the first and last product they'll need for all their TV and Internet media needs."
Availability
Vulkano is available immediately for pre-order at Monsoon Multimedia's MyVulkano website, here and will be available on Aug. 10 at Amazon.com, as well as other selected etailers, retailers, and distributors worldwide, says the company.
Pricing is said to be as follows:
8GB Vulkano — $259
16GB Vulkano — $279
500GB Vulkano Pro — $349
1TB Vulkano Pro — $379
More information on Monsoon Multimedia may be found at its corporate site, here. More on C2 Microsystems' CC1200 processor may be found here.
---
This article was originally published on LinuxDevices.com and has been donated to the open source community by QuinStreet Inc. Please visit LinuxToday.com for up-to-date news and articles about Linux and open source.