Sep 16, 2010 — by Eric Brown — from the LinuxDevices Archive — 11 views
Always Innovating says its new "Mini Book" mobile internet device rides piggyback on a "Smart Book" tablet, which in turn can be plugged into a keyboard to become a netbook. Built using the 1GHz Texas Instruments DaVinci DM3730 processor, the modular, hackable devices are further claimed to switch between Android, Ubuntu, Chrome OS, and AIOS Linux distros at the touch of a button.
The modular Smart Book is based on Always Innovating's earlier, BeagleBoard-based "Touch Book" convertible netbook/tablet. (This Linux-based device was announced in March 2009, with shipments beginning in August of that year.)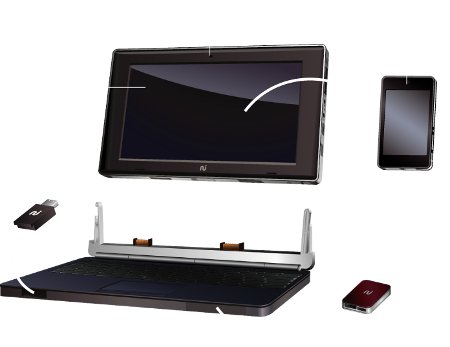 The Smart Book, with Mini Book MID at upper right, and USB-to-HDMI adapter in lower right
(Click to enlarge)
Whereas the Touch Book is based on the Digi-Key distributed, OMAP3530-based BeagleBoard, the Smart Book instead uses technology based on the new BeagleBoard-xM, which incorporates the 720p-ready, 1GHz Texas Instruments (TI)
DaVinci DM3730
system-on-chip (SoC).
Like the Touch Book — with which the Smart Book shares most of its specs — the Smart Book is offered as a fully open platform. "As usual everything is open source (available on our git) and even open hardware (schematics)," wrote Grégoire Gentil, founder of Always Innovating and creator of the Smart Book, in an email.
Gentil calls the Smart Book "ingenious" and a "Swiss Army Knife." While we've all heard all that before, assuming that the device functions as described, the Smart Book seems to fit the description.
The device can be bought as a $199 mobile Internet device (MID) called the Mini Book, containing a single board computer (SBC) that is based on the community-driven BeagleBoard-xM, but is half the size. The smartphone sized Mini Book device lacks a cellular radio, but offers Skype VoIP via Wi-Fi.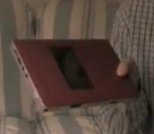 The Smart Book can also be bought as a $369 tablet computer that has the MID embedded in the back of the device, constituting a second, back-facing screen (right). This tablet/MID combination can then can be converted into a netbook by plugging it into a USB- and Bluetooth-enabled keyboard, with the entire package available for $549.
In addition, Always Innovating sells a version of the tablet for $299 without the detachable MID, but with the MID's SBC embedded in the tablet. This MID-less tablet can be plugged into the keyboard for a convertible version that sells for $399, says Always Innovating. These latter two configurations are referred to as the Touch Book II.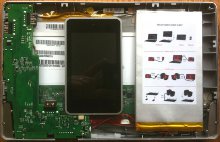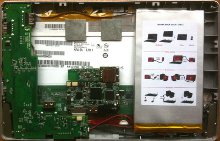 Internal views of Smart Book tablet showing detachable Mini Book MID installed (left) and cheaper Touch Book II version with Mini Book replaced by SBC alone (right)


(Click on either to enlarge)
With or without the detachable MID, the display can further be used as a secondary monitor for another computer, according to Always Innovating. This is possible when a user removes a DisplayLink USB-to-HDMI adapter that's normally tucked away in the Smart Book's keyboard, then employs it to connect the screen to a PC's USB port.
The supplied DisplayLink adapter, which is touted as "the tiniest USB-to-HDMI adapter ever," can be used at other times to connect a PC to an HDTV, the company adds.
Always Innovating will even sell the SBC (pictured below) separately for bulk orders or projects that want to develop their own tablets, wrote Gentil. "All the connectivity is exposed through a single 40-pin connector," he added.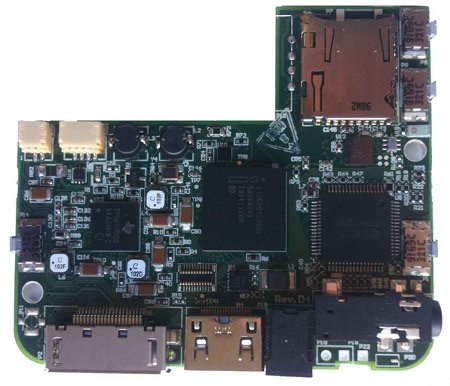 The Smart Book's BeagleBoard-xM based SBC
(Click to enlarge)
The Smart Book is the first commercial product we've heard of to make use of TI's new 1GHz
DaVinci DM3730
. Despite the lack of the OMAP name, the DM3730 is billed by TI as the heir to its OMAP3530.
Like the OMAP3530, it's based on the ARM Cortex-A8 core instead of the more powerful Cortex-A9, but it boosts the clock speed from 720MHz to 1GHz. Compared to the OMAP3530, the 45nm-fabricated DM3730 offers a 50 percent increase in ARM performance, a 40 percent increase in DSP performance, and double the 3D graphics performance, claims TI. At the same time, it is said to consume 40 percent less power.
Other contributors to the performance boost are said to include more Level 1 cache and a faster frequency for the SDR controller.
Smart Book specs
The Smart Book is equipped with 512MB RAM, as well as 256MB NAND flash, and an 8GB microSD card, says Always Innovating. The 8.9-inch capacitive, multitouch screen offers a generous 1024 x 600-pixel resolution.
Equipped with 802.11 b/g/n and Bluetooth 2.1 wireless technologies, the Smart Book provides four USB 2.0 ports, two of them external, says Always Innovating. A 2GB USB keychain is also said to be provided.
Other features are said to include accelerometers, speakers, a headset, as well as ports for a microphone and headphones. An HDMI port is offered, and as noted the device supports 720p video playback. In addition, a webcam is said to be built into the tablet.
The Smart Book is touted as having outstanding battery life, thanks to its three batteries, one for each component in the modular array of devices. The keyboard sports a 12000mAh battery, while the tablet gets a 6000mAh battery, and the Mini Book MID offers a 1500mAh model.
The batteries are even said to offer the unique capability of transferring energy from one to the other. A 5V, 3.5A power adapter is also supplied. Fully assembled, the Smart Book measures 9.7 x 7.0 x 1.3 inches and weighs three pounds, says Always Innovating.
The Mini Book screen is said to be fully functioning even when embedded in the back of the tablet. It is unclear whether both the tablet and MID screens will be able to operate simultaneously, however. "We are still working on the video driver for the MID display," wrote Gentil. "So, it's a work in progress."
Multi-OS-tasking
The Smart Book is said to switch between multiple Linux-based operating systems at the touch of a button. According to Gentil, the device is currently optimized to run Android 2.1, Ubuntu 10.04 ("Lucid Lynx"), and its own Angstrom-based AIOS Linux, which also ran on the Touch Book.
YouTube

demonstration by Gentil showing Smart Book switching between OSes
(Click to play)
Surprisingly, the Smart Book also runs a customized, alpha version of Google's
Chrome OS
, though we doubt Always Innovating is one of Google's official hardware partners. When the system ships by the end of the year, says Gentil, it should run the Chrome OS beta, as well as Android 2.2, and
Ubuntu 10.10
("Maverick Meerkat").
All the operating systems are claimed to run side-by-side, at the same time, and can be switched between by pressing an "AI" button on side of the Smart Book (see video above).
And how is this unlikely feat accomplished? According to Gentil, "We have started from chroot, but we had to develop/customize many, many things (drivers and so on) to handle properly all inputs and outputs."
Gentil's main YouTube demo of Smart Book


(Click to play)
Availability
The Smart Book is expected to ship before the end of the year and will range in price from $199 to $549, as detailed farther above. Advance orders may now be placed here, and additional information, including videos, specs, developer pages, and much more, may be found here.
---
This article was originally published on LinuxDevices.com and has been donated to the open source community by QuinStreet Inc. Please visit LinuxToday.com for up-to-date news and articles about Linux and open source.