Oct 20, 2011 — by Eric Brown — from the LinuxDevices Archive — 16 views
Kobo announced a $200 Android 2.3 tablet with a seven-inch, 1024 x 600 pixel AFFS+ anti-glare display. The Kobo Vox eReader features an 800MHz processor, 512MB of RAM, 8GB of internal storage, a microSD slot, Wi-Fi, and access to the Kobo eBook Store, says the company.
We're still more than three weeks away from the launch of Amazon's $200 Kindle Fire Android tablet, which has motivated vendors of seven- and eight-inch tablets to rush to market beforehand.
Most of these tablets appear to be overpriced compared to the heavily discounted Kindle Fire, which features a dual-core processor, a seven-inch, 1024 x 600 IPS (in plane switching) display, plus Amazon's marketing clout and name recognition. No doubt, many competitors will sharply cut their prices before the holidays.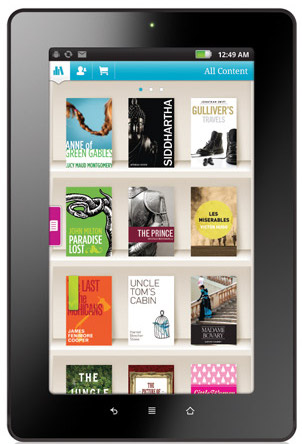 Kobo Vox eReader

Toronto-based Kobo, however, many not be one of them. For one thing, its new Kobo Vox eReader tablet, like the recently announced, eight-inch Velocity Cruz T408 Android tablet, is priced right at $200. It also offers some fairly competitive specs, including Android 2.3 and a 1024 x 600 AFFS+ screen (see later for details).
In addition, Kobo has name recognition of its own. The company claims to have five million users of its low-cost, monochrome e-reader tablets.
Kobo rose to prominence by letting Borders slap its logo on Kobo bargain-priced e-readers, but the bookstore chain went out of business in September. The Kobo eBook Store lives on, however, offering 2.5 million books, with over one million of those free, according to the company.
The Kobo eBook Store app is widely available on smartphone and tablet platforms. It is increasingly bundled on other tablets, including the recently released E-Fun Nextbook Premium 8.
Kobo has never trumpeted the Linux operating system behind its popular low-cost Kobo e-readers, just as Sony never revealed that its Sony Reader PRS-T1 actually runs a heavily modified version of Android. (Yes, the T1 is in the process of being hacked, Nook Color style.)
Now, Kobo is moving up to Android, as well as a color screen. The Linux-based Kobo eReader Touch Edition released this summer offered a six-inch, 800 x 600 touchscreen, but used E Ink's gray-scale Pearl technology. (The $130 e-reader also moved up to an 800MHz Cortex-A8-based Freescale i.MX508 processor and like the lower-end Kobo WiFi, offered Wi-Fi, which had been notably missing on the company's first e-readers.)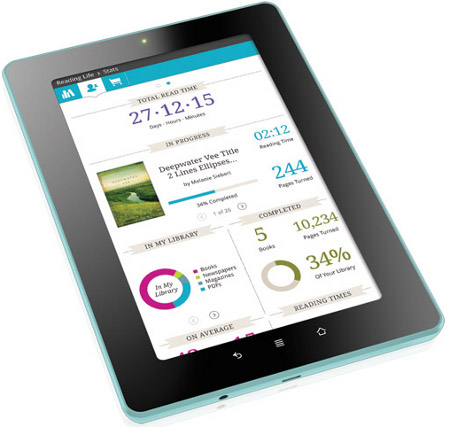 Kobo Vox showing its e-reader interface
(Click to enlarge)

The new Kobo Vox also offers an 800MHz processor, this time of unstated lineage. That instantly puts it at a disadvantage to the Kindle Fire and its dual-core, 1GHz Cortex-A9 system on chip.
While Amazon offers its own heavily modified version of an earlier version of Android, Kobo runs a somewhat less modified version of Android 2.3 ("Gingerbread"). Kobo pushes this advantage over the Kindle Fire and Barnes & Noble Nook Color, touting the "unencumbered access to Android 2.3 so you are free to customize your experience."
Equipped with 512MB of RAM, the Kobo Vox offers 8GB of storage, as well as a microSD slot that supports cards up to 32GB, says Kobo. The screen's seven-inch, 1024 x 600 display uses Hydis' AFFS+ (advanced fringe field switching), a technology somewhat similar to the in-plane switching (IPS) technology used on the Kindle Fire and iPad.
Like IPS, AFFS+ is similarly touted for superior color range and high luminosity, as well as outdoor readability. The Kobo Vox offers anti-glare protection, and a +/- 89 degree viewing angle, claims Kobo.

The Kobo Vox is slightly thicker than the Kindle Fire,
at 0.53 inches

Other hardware features include 802.11b/g/n, as well as a micro-USB port, a built-in speaker, and a 3.5mm headphone jack, says Kobo. The 7.57 x 5.06 x 0.53-inch device weighs 14.2 ounces, and is available in hot pink, lime green, ice blue, and jet black, says the company.
The Kobo Vox is said to run for seven hours — but that's only with Wi-Fi turned off. It will be interesting to see how many consumers resist the color tablet craze and stick with monochrome E Ink readers, which offer far greater battery life and better outdoors readability along with bargain prices.
Focused on ebooks
Like Amazon, Barnes & Noble, and most other e-reader vendors, Kobo decided to forego the "Google tax" of paying for Google's popular Android apps and services. In fact, there's no mention of Android Market here — one can, however, use Kobo's app store, which features some 15,000 free apps, according to the company.
The focus here in on reading and Kobo's eBook Store. E-reader features are said to include multitouch navigation, including tap or swipe page turns. In addition, the Vox offers ePUB support, highlights, annotations, and seven adjustable fonts, says the company. Other e-reader-oriented services are said to include 12 free Zinio magazines, as well as newspapers from PressReader.
A Reading Life social networking service enables online book clubs, letting users discuss books on Facebook, track their reading statistics, and unlock awards, says the company. This is augmented with a new Kobo Pulse offering that lets users start conversations, share comments, recommend books, and leave reviews.
Kobo Vox also lets users browse the web, check email, listen to music, watch movies, play games, and store photos, says the company. Additional apps include music from RDIO, Twitter and Facebook, games, as well as MicrosoftActiveSync, Yahoo, and Gmail, says Kobo.
Availability
The Kobo Vox has begun rolling out internationally this week, starting in the U.S. and Canada. In the U.S., the Kobo Vox is available for pre-order at Best Buy, Fry's Electronics, and at Kobo.com for a MSRP of $200. In Canada, Kobo Vox is available for pre-order online at Kobo retail partners including Indigo Books & Music, Future Shop, Best Buy, and Kobo.com for the same price.
More information, including video demos, are available at the Kobo Vox eReader product page.
---
This article was originally published on LinuxDevices.com and has been donated to the open source community by QuinStreet Inc. Please visit LinuxToday.com for up-to-date news and articles about Linux and open source.