Feb 16, 2011 — by Eric Brown — from the LinuxDevices Archive — 2 views
The LiMo Foundation announced the imminent launch of LiMo 4, giving its mobile Linux stack new components such as widget libraries, social networking support, and support for multitouch and larger screen sizes. Meanwhile, LiMo's Morgan Gillis told Reuters that Nokia's move to Windows Phone 7 should open more opportunities for the increasingly marginalized consortium.
The non-profit LiMo Foundation will "shortly finalize" a set of LiMo 4 device class specifications for release to its members, says the consortium. LiMo 4 will be available for public download in July, and devices based on the spec should be available later this year, says the industry group.
Following up on a LiMo 3 version (or R3, as it was called) released early last year, LiMo 4 now offers complete middleware and base application functionality for Linux phones, as well as a "flexible and powerful user interface," says the foundation. New features appear to primarily address upper-level application and UI layers. LiMo's relative lack of support in these areas has been said to have slowed LiMo's progress while the more UI-specific Android in particular has surged ahead.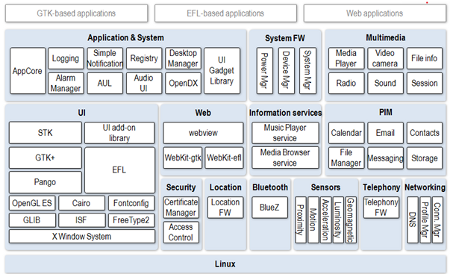 LiMo 4 architecture


(Click to enlarge)
LiMo 4 offers extended widget libraries, 3D window effects, and new multimedia features, as well as social networking and location based service (LBS) frameworks, says the LiMo Foundation. Additional features are said to include sensor frameworks, and support for multitasking and multitouch capabilities.
In addition, the spec adds support for "scalable screen resolution and consistent APIs" for delivering "a consistent user experience across a broad range of device types and form factors." This would seem to suggest LiMo may be heading for tablets, as well.

The LiMo Foundation is an industry group of mobile carriers and technology firms that was formed in 2007 with the aim of providing a common middleware stack for Linux mobile phones. (Heavyweight board members include Access, Panasonic, NEC, NTT DoCoMo, Samsung, SKT Telecom, Telefonica, and Vodafone. )
Two years ago at Mobile World Congress, LiMo was still riding high with the announcement of the R2 release and promises from six mobile carrier LiMo members that they would offer LiMo phones in 2009. Although LiMo continued to add new members, and develop the LiMo stack — for example, releasing the LiMo-sponsored BONDI Web SDK for interoperable web widgets — the Android phenomenon appears to have stifled the group's momentum.

Vodafone offers the Samsung-manufactured Vodafone 360 H1 (pictured at left) and 360 M1, and NTT DoCoMo offers dozens of LiMo-compliant feature-phones from NEC and Panasonic in Japan. But in general, the very carriers who launched the spec have yet to follow through on promises to support it.
LiMo was hit especially hard when Motorola abandoned the spec in favor of Android. Meanwhile, one of the most promising of the newer LiMo-compliant phones, the First Else smartphone (pictured above at right) from Else Mobile, was canceled.
Not much has been heard from the group since, although the GNOME Foundation promised support for LiMo last July. The partnership builds upon "the significant use of GNOME Mobile software components within Release 2 and Release 3 of the LiMo Platform," said the partners at the time. The LiMo Platform already incorporates open source Linux components from GNOME Mobile projects including Glib, GTK+, D-Bus, GStreamer, and BlueZ.
In December, the LiMo Foundation joined the Linaro Technical Steering Committee (TSC) as an Advisor Partner. Linaro was established last June as a not-for-profit engineering firm to develop standardized, open source Linux tools, kernel, and middleware software for consumer electronics using ARM Cortex processors. The company is jointly owned by ARM Holdings, Freescale, IBM, Samsung, ST-Ericsson, and Texas Instruments.
Nokia move gives LiMo an opening?
The LiMo Foundation has long touted its platform for giving greater say over software development to mobile operators. A Reuters interview with LiMo executive director Morgan Gillis this week suggests the group wants handset vendors to find LiMo an equal source of freedom.
In particular, Gillis told Reuters that Nokia's announced adoption of Windows Phone 7 last week could turn smaller Windows Phone 7 handset manufacturers away from Microsoft and toward LiMo.
"With Microsoft and Nokia now in lockstep and the Android arena rapidly becoming commoditized, other handset vendors must look elsewhere to avoid the irreversible margin collapse that befell PC manufacturers," Gillis was quoted as saying. "The new tie-up has great upside for Microsoft, although there is also a major risk that the existing Windows Phone vendors will now feel alienated."
Availability
The LiMo 4 spec will "shortly" be released to members and will be published in July, with LiMo 4 devices expected during the second half of the year, says the LiMo Foundation. More information may be found at the LiMo Foundation's LiMo 4 page.
---
This article was originally published on LinuxDevices.com and has been donated to the open source community by QuinStreet Inc. Please visit LinuxToday.com for up-to-date news and articles about Linux and open source.