Nov 24, 2009 — by Eric Brown — from the LinuxDevices Archive — 35 views
Emblaze Mobile offered new details on its "First Else" phone and Else Intuition stack, which is based on Access' ALP 3.0 stack and the LiMo (Linux Mobile) spec. The First Else offers unified messaging, geo-tagging, multimedia, an RSS live-updated "newspaper," and a thumb-oriented, fan-like touch interface called sPlay.
Israel-based Emblaze Mobile also announced it has changed its named to Else Ltd., and will remain under the U.K.-based Emblaze Ltd. umbrella corporation. The company first showed off the Else phone last month with Japanese software firm Access at the latter's Access Day event in Japan.
The phone has a new name, expanding from "Else" to "First Else," presumably because a Second Else is in the works. As far as we can see, no new hardware details have emerged since the initial announcement, and the company offered no details on the manufacturer, potential carriers, or even its intended geographic region.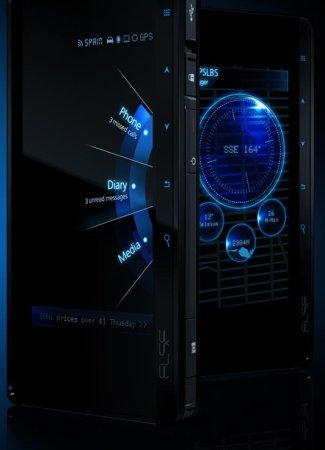 Two views of First Else phone
(Click to enlarge)

Else has, however, posted a Flash-based website showing off the phone's impressive looking Else Intuition UI and related services. These include an innovative "sPlay" interface that is operated entirely with one's thumb, with menus splayed out in a fan- or dial-like motif.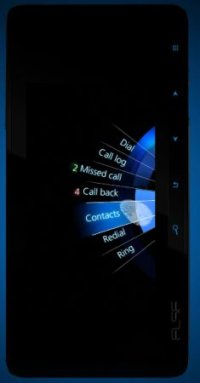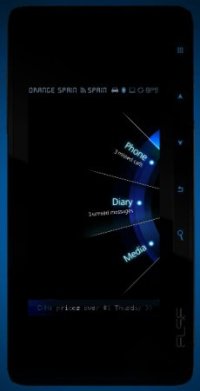 Else Intuition's main "sPlay" menus


(Click on either to enlarge)
As we reported earlier, the First Else is based on the Texas Instruments (TI) OMAP3430 system-on-chip (SoC), and offers 256MB of RAM and 16GB internal flash. The Else is equipped with a 3.5-inch, 854 x 480 pixel capacitive touchscreen, as well as WiFi, 3G, Bluetooth, GPS, accelerometers, and a five-megapixel camera, says Access. (For the full spec list, plus more background on Emblaze/Else, Access, ALP, and LiMo, please see our earlier coverage,
here
).
The Edge Intuition stack, meanwhile builds upon the LiMo specification with Access' ALP 3.0, one of the principal stacks compatible with the open source LiMo (Linux Mobile) specification. Aimed primarily at ARM Cortex devices, ALP 3.0 includes Access' NetFront Browser, as well as OpenGL-ES 2.0 support for 3D acceleration. Edge Intuition also incorporates a jointly developed user interface (UI) engine, as well as a suite of services provided by Edge Ltd, which also designed the Edge phone.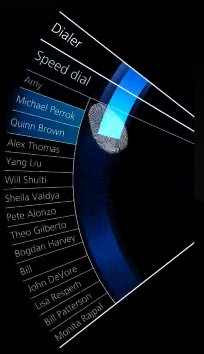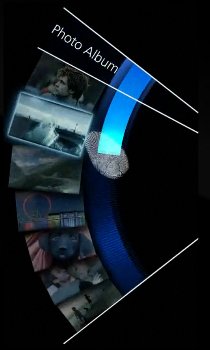 sPlay menus for dialing and photos
Edge Intuition most likely supports the next-generation LiMo R2 specification, which underlies the only other high-end LiMo smartphones available, Vodafone's 360 H1 and the slightly scaled down 360 M1, both manufactured by Samsung.
sPlay: All thumbs
Edge Intuition enables users to switch between multiple, simultaneously running applications. In addition, all data and content, including contacts, appointments, videos, and photos, can be rendered anywhere, not only within a single dedicated application, says Else.
The UI stack offers an "sPlay" interface that immediately stands out with its novel menus, which are arranged like a Japanese fan that rolls and unrolls depending on touch movement and selections. The sPlay interface is entirely controlled by one's thumb, presumably making it easier to operate one handed. The interface supports several thumb gestures, and includes an onscreen QWERTY touchscreen with a text prediction and correction feature called EZkeys. This convenience appears to help make up for the lack of a slide out keyboard.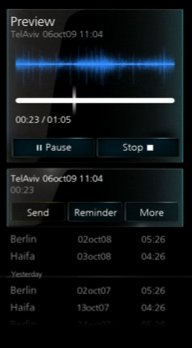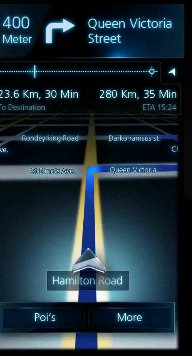 Quirecorder voice recording function (left) and mapping function
Like most other smartphones, the Else provides tilt sensors, and like some, it also offers automated, tilt-related features. These include converting the camera button into a voice recording button for the slick-looking "Quicorder" recording app by placing the phone face down. In addition, proximity sensors can auto-lock the phone when it's placed close to one's face in order to prevent unwanted selections when talking on the phone.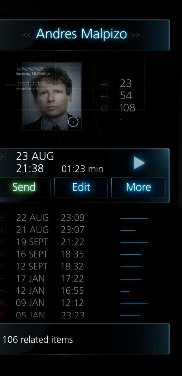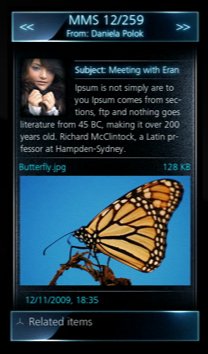 Unified messaging features including a call log (left) and multimedia messaging features
Else Intuition is said to offer a single central database that provides an integrated, unified messaging view of calls, emails, text messages, contact, and contextual calendar reminders. In some ways this appears to be similar to unified messaging functionality provided in UI stacks such as HTC's Android-based Sense UI, Motorola's MotoBlur, or Vodafone's "360." Unlike those and several other recent smartphone stacks, however, Else does not have much to say about social networking sites like Facebook or Twitter, perhaps because it is aimed at an international audience where such sites are less popular than in the U.S.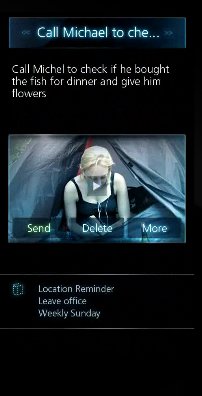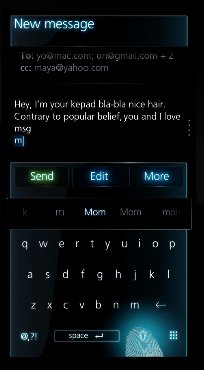 Else Intuition's contextual reminders (left) and EZkeys feature (right)
Other intriguing unified communications features include a SilenTalker function, which enables users who are otherwise occupied to present incoming callers with a menu, asking them about the urgency of their call, for example, or instructing them when they might be able to call back. The Else also includes a music player, a video player, and a customizable, live RSS-feed digital "newspaper," says the company.
The photo album interface, meanwhile, supports geo-tagging, and the mapping app provides turn by turn directions, and offers a 3D interface that integrates pop-up, geo-tagged images. Even the web browser interface is markedly different from those of other smartphones, providing its own frame-like interface for frequently visited sites.
Flash demos are no replacement for real-world testing, but assuming all the functions operate as hyped, the Else could indeed be the next killer smartphone. Let's hope the next announcement - third time's a charm? - will be about availability, so we can get our hands on a device and see whether it will receive the thumbs up that it appears to deserve.
Stated Amir Kupervas, CEO of Emblaze Mobile, "Great technology is the kind that disappears when we use it — it's so elegant and seamless; we don't even know it's there. It works its magic quietly, in the background — the First Else was conceived from the start to challenge this standard."
Stated Tomihisa Kamada, president, CEO, and co-founder of Access, "The First Else, powered by Else Intuition, combines the elegance and simplicity of design that make mobile technology more accessible to users."
Availability
According to Else Ltd., the First Else is expected to be commercially available in 2010. More information is available here.
---
This article was originally published on LinuxDevices.com and has been donated to the open source community by QuinStreet Inc. Please visit LinuxToday.com for up-to-date news and articles about Linux and open source.