Jan 24, 2011 — by Eric Brown — from the LinuxDevices Archive — views
The ninth annual Southern California Linux Expo (SCALE 8x) has posted a schedule for the conference it will hold on Feb. 25-27 in Los Angeles. Meanwhile, the multi-platform Embedded World conference has published a schedule for its 2011 event, to be held Mar. 1-3 in Nuremberg, Germany.
Starting with the Mobile World Congress conference in Barcelona, Spain on Feb. 14-17, we are entering a busy season of conferences related to Linux and/or embedded technology.
Already, the Linux.conf.au conference kicked off today in Brisbane, Australia, despite having endured an unintended co-location with massive floods that have deluged the city. According to ZDNet Australia, the show organizers moved to a backup site some five kilometers away from the original riverfront venue, and there have been only about two delegate cancellations.
SCALE 9x gets bigger, moves venue
As with previous incarnations of SCALE (Southern California Linux Expo), the ninth annual (9x) edition primarily focuses on desktop and server Linux issues, especially those related to system administrators. However, it also touches on some embedded and general open source topics. To accommodate growth, the Feb. 25-27 event has moved to the Hilton Los Angeles Airport hotel.
There will be two keynotes, only one of which has been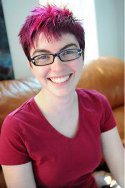 publicized. Leigh Honeywell (pictured), co-founder and current president of HackLab.TO, a hackerspace in downtown Toronto, will deliver a keynote on the topic of "Hackerspaces and Free Software."
Honeywell serves on the board of advisors of the SECtor security conference, has served as a Google Summer of Code mentor, and is one of the "Tres Chix" leading the Ubuntu Women project.
The SCALE 9x conference features 80 booths, as well as a choice of several conference tracks. These include a developer track, a beginners track, a new sysadmin track, and two general interest tracks, say the organizers.
Embedded topics include a Quim Gil session on the MeeGo project, plus Ira Emus on Asterisk-based open source IP phones, Caryl Bigenho on OLPC and Sugar, Rob Spectre on open source television, and Hunyue Yau on mobile Linux.
Other topics include OpenSUSE, OpenStack, open source cloud computing, Linux appliances, iPv6 for sysadmins, Perl programming, and Linux education initiatives in Brazil. In addition, Michael Larabel will talk about Phoronix Test Suite 3.0 benchmarking.
Co-hosted events include a number of mini conferences to be held on Feb. 25, including Build an Open Source Cloud Day, FOSS Mentoring, DevOps Day Los Angeles, Los Angeles PostgreSQL Day, SCALE University, and Fedora Activity Day. On Feb. 26 there is also a co-hosted Open Source Software In Education event, and on Feb. 27 there will be a Linux Professional Institute Certification (LPIC) event.
Embedded World 2011
Billed as "the world's biggest event around embedded technologies," Embedded World returns to Nuremberg (Nurnberg) Germany, this time spanning Mar. 1-3. As usual, the event overlaps with the huge CeBIT technology show in Hannover, Germany, being held Mar. 1-5.

This year's Embedded World keynote will be given on Mar. 1 by Prof. Yrio Neuvo (pictured) of Helsinki University of Technology, on the topic of "Expanding Embedded World." Other highlights include a panel discussion on Mar. 2 on "The Battle: ARM vs. Atom — which architecture will dominate the embedded world?"
The conference features 20 session tracks, as well as 13 classes, say the organizers. The tracks include Embedded Linux I and II tracks, as well as tracks on testing and verification, networking, automotive, RTOS, metering, embedded project management, ESI, and ARM Cortex cores.
Meanwhile, classes are said to include tutorials on multicore software design, cryptography and embedded security, as well as developing USB applications on an ARM Cortex processor.
The two embedded Linux tracks offer topics including Linux-based fire-safety and security systems, fast-boot Linux schemes, bug-tracking the Linux kernel, and "Targeting Vertical Markets Using Android, MeeGo or Linux," by Vlad Buzov of Mentor Graphics.
Android-specific presentations include "Android(s) for Industrial Applications," by Wind River's Jonas Dietsche, as well as "Bringing Security to Android-based Embedded and Mobile Devices," by Green Hills Software's David Kleidermacher.
Availability
SCALE 9x will be held at the Hilton Los Angeles Airport in Los Angeles on Feb. 25-27. Registration costs $70 for a full access pass on all three days, or $10 for an exhibition only ticket. More information may be found at this SCALE 9x registration page.
Embedded World 2011 will be held March 1-3 at NurnbergMesse in Nuremberg, Germany. An early bird registration rate will hold until Feb. 1, starting at 235 Euros ($319) for one conference block. More information may be found at Embedded World's registration page.
---
This article was originally published on LinuxDevices.com and has been donated to the open source community by QuinStreet Inc. Please visit LinuxToday.com for up-to-date news and articles about Linux and open source.