Oct 14, 2010 — by Eric Brown — from the LinuxDevices Archive — 3 views
The MeeGo project says MeeGo 1.1 will be available soon for the Nokia N900 smartphone, which will be able to boot into either the MeeGo or Maemo flavors of Linux. Meanwhile, Aava Mobile, which is porting MeeGo to its Intel Atom N6xx based Aava Mobile smartphone reference design, joined MeeGo's overseer, the Linux Foundation.
The MeeGo 1.1 update report comes several days after Intel vice president Doug Fisher revealed that the first MeeGo smartphones won't arrive until the first half of 2011, despite Nokia's previous assertion they would be available by the end of the year. The post by Harri Hakulinen, a Nokia developer and spokesman for the MeeGo project, seems intended to reassure the N900 and MeeGo communities that the MeeGo 1.1 update is still on target.
MeeGo 1.1 principally focuses on touchscreen and telephony support for MeeGo's handset and tablet "user experiences." (See farther below for MeeGo background.) A new MeeGo 1.1 image for the ARM Cortex-A8-based Nokia N900 device is now available, although with the caveat that "you do it completely at your own risk."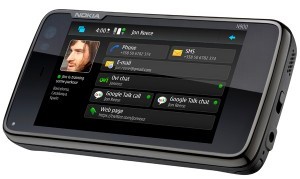 Nokia N900
Back in March, the MeeGo project announced that the
N900 would receive a MeeGo for Handsets port
. It was soon revealed that the Intel Atom N6xx ("Moorestown") based Aava Mobile smartphone reference design would also be an early target (see farther below.)
Hakulinen reports on recent updates to Meego 1.1, including work done on the Linux kernel, X Server, GCC compiler, and the Firefox for Mobile ("Fennec") browser.
"After many busy months of MeeGo development, we have finally come to a stage that justifies proud blogging around our MeeGo for N900 adaptation project," he writes.
Hakulinen adds that the project had begun the "last phase of MeeGo 1.1 finalization," hinting that a beta release might be available for the MeeGo user conference to be held Nov. 15-17 in Dublin, Ireland. Meanwhile, the project has already begun work on MeeGo 1.2, writes Hakulinen.
One key recent breakthrough was said to be the implementation of 3G audio call functionality "with proper ofono signaling and pulse audio stack" working on the N900. The release debuts the project's "brand new open source modem adaptation for N900!" enthuses Hakulinen.
oFono and Fennec integration
The calling stack is built around the oFono open source telephony technology, which was the first publicly disclosed collaboration between Intel and its Moblin project and Nokia and its Maemo project. Based on D-Bus interconnect technology, oFono was one of the cornerstones of the resulting partnership between Intel and Nokia and the subsequent MeeGo merger between Moblin and Maemo.
One difficult challenge has been adapting Fennec to the N900. "The ARM compilation of it proved to be especially tricky with the version of GCC compiler that we are using in MeeGo," writes Hakulinen. Firefox for Mobile, which was recently released for Maemo and Android, "now somewhat works," but has a way to go, he says.
MeeGo to dual boot with Maemo on N900
While the Intel Atom-oriented Moblin development activity now seems to have almost entirely shifted over to the Moblin- and Maemo-based MeeGo platform, the ARM-oriented Maemo apparently will continue on at least for awhile, suggests the post.
Hakulinen reports that a PR 1.3 update for Maemo "is quite close now." The update would enable easy dual booting between Maemo and Meego on a N900, he adds.
"There is also a possibility of developing applications supporting both operating systems, based on Qt [link] and Qt Mobility APIs on the Maemo side," writes Hakulinen. "It means that you can develop once in PC with Qt Creator, and test your applications on both Maemo and MeeGo, directly on your N900 device!"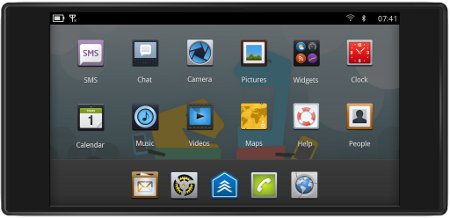 MeeGo for Handsets
The MeeGo project, which is run by the Linux Foundation, announced an alpha version of the
MeeGo 1.0 Handset UX
in July, a little over a month after the
netbook version
was released in a more polished form. The Atom-based version of the handset UX code was more advanced than the ARM version, suggesting that the first MeeGo phone might use the Aava Mobile reference design as opposed to the N900.
A number of MeeGo-based netbooks are expected to ship this fall, as well as potentially some web-connected televisions and set-top boxes, such as the Amino Freedom. Tthere is also an automotive infotainment user experience (UX).
Aava Mobile joins Linux Foundation
The non-profit Linux Foundation, which oversees MeeGo, announced that Aava Mobile has joined the Linux advocacy organization. The Finland-based company "will participate in the MeeGo project with specific emphasis around x86-based devices and the mobile user interface," says the Linux Foundation.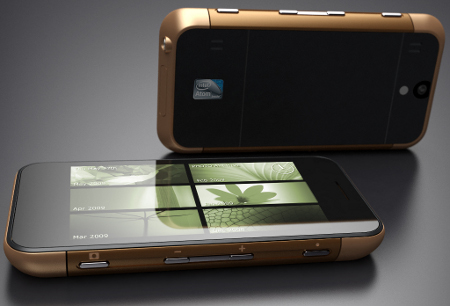 Aava phone reference design
As noted above, Aava Mobile has shown a Moblin-based reference design for an
Aava phone
that runs on Intel's energy-efficient N6xx ("Moorestown") version of the Atom processor. This spring, the design was listed as an early target for MeeGo handsets and tablets. In June, Aava Mobile announced an
Android SDK
that targets the same design.
Stated Amanda McPherson, vice president of marketing and developer programs, the Linux Foundation, "It is important to the advancement of Linux in the mobile and embedded space that companies like Aava Mobile are involved in community projects like MeeGo."
Stated Tero Nygard, chief technology officer, Aava Mobile, ""Linux is playing a significant role in the future of computing and is a critical element of our business and technology strategy. We have been contributing to the MeeGo project and other efforts for some time, so our Linux Foundation membership is an evolution of that commitment to the community."
Availability
The MeeGo blog post on MeeGo 1.1 developments here. A story in The Inquirer, that alerted us to the MeeGo blog post may be found here.
More information on the Linux Foundation should be here.
---
This article was originally published on LinuxDevices.com and has been donated to the open source community by QuinStreet Inc. Please visit LinuxToday.com for up-to-date news and articles about Linux and open source.