Feb 1, 2011 — by Eric Brown — from the LinuxDevices Archive — 1 views
MeeGo-based tablets and netbooks will start shipping in the second quarter, shortly after the release of MeeGo 1.2, says an industry report. Meanwhile, the Linux Foundation (LF) announced three new MeeGo training courses, along with three Android related courses — the first LF courses offered for either mobile Linux operating system.
Intel has been talking up Atom-based tablets for months now, and the chipmaker is now about to oversee a major push of both MeeGo tablets and netbooks running on Intel Atom processors, according to a report by IDG News' Agam Shah.
A "source familiar with Intel's plans" told Shah that tablets and netbooks based on Meego are expected to start shipping in the second quarter this year. This would appear to coincide with MeeGo version 1.2, which is expected sometime between Apr. 21 and Apr. 27, according to the story.
In late October when the LF's MeeGo project announced the release of MeeGo 1.1, it was suggested that tablets would not receive a "User Experience" (UX) stack of their own, but will use a version of the Handset UX. However, the project did note that the version 1.2 Handset UX release would offer "a complete set of applications, and support for other device usage models."
This would suggest a Honeycomb-like optimization for larger screen sizes, as well as improved multitouch, a feature that debuted in version 1.1.
Despite the lack of a optimized support, at least tw

o MeeGo-based tablets have already shipped, according to their vendors. The Atom-based WeTab, offered by a German company of the same name, is a MeeGo-based color e-reader tablet. Trinity Audio Group is offering an Atom/MeeGo based Indamixx 2 version of is musician and audio engineering tablet (pictured at right).
The Netbook UX was the first UX to be released, having shipped in a 1.0 version last May. The 1.1 release in October featured an updated Netbook 1.1 UX with Google's Chrome browser, new touch support, improved social networking aggregation, and power and performance optimizations.
Still, as far as we know, no MeeGo netbook has yet appeared, although as IDG News notes, Asus and Acer have both said they would offer MeeGo models. Originally, these were expected to ship by the end of last year.
Fortunately for the MeeGo project, Android has still yet to make much of a push in netbooks, and Google's Chrome OS netbooks have been delayed until later this year. The fact that Chrome OS appears to have shifted to Google's back burner is due in part to the fact that the whole market has pivoted away from netbooks to tablets.
While Intel would prefer MeeGo, it really does not matter to the chipmaker which OS a netbook or tablet runs, including the current runaway netbook OS leader, Windows 7, as long as it runs on an Intel processor.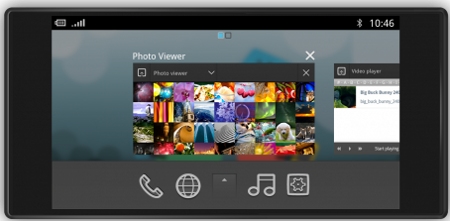 MeeGo Handset UX 1.1 in landscape mode on a Nokia N900

Meanwhile, whether or not MeeGo makes it in the smartphone world is largely up to Intel's MeeGo partner Nokia. The Finnish phone giant is likely to either make a major push behind the ARM version of MeeGo as a replacement for Symbian this year, or — as some suggest — jump to Android.
So far, the year-old, open source MeeGo is available only on one phone, the Nokia N900 (pictured above). MeeGo's best early success may well occur instead in the in-car infotainment market where it has been adopted by an industry consortium called the Genivi Alliance.
Linux Foundation launches MeeGo, Android training
The non-profit Linux Foundation (LF), which promotes the spread of Linux in all its forms, from embedded to server versions, has been steadily building its training programs in recent years. A year ago, for example, the LF announced a free webinar series on topics ranging from Linux administration to performance tuning.
The group also offers a formal, not so free, Training Program, and for the first time, is introducing courses tied to two mobile embedded flavors of Linux: the Google-backed Android, as well as the Intel/Nokia-backed MeeGo operating system, which the LF officially maintains (see list farther below).
The new courses meet the growing demand for both Android and MeeGo developers, says the LF. For example, Google is boosting recruitment of Android developers and product managers, according to a Jan. 31 story in the Wall Street Journal. Meanwhile, the LF notes that Nokia has posted 19 MeeGo-related jobs in the last 30 days.
While MeeGo is an early work in progress, Android's meteoric rise has been well documented. New Canalys data released this week has Android surpassing Symbian for the worldwide lead in smartphones sales in the fourth quarter, representing 33.3 million units, or roughly one-third of the 101.2 million smartphones that shipped globally.
A new Strategy Analytics report, meanwhile, has Android soaring to a 22 percent global tablet market share in the fourth quarter, up from under five percent the previous quarter. A subsequent Wall Street Journal story suggests that Strategy Analytics' numbers, which appear to be based largely on misinterpreted Samsung Galaxy Tab estimates, were considerably overblown. Still, few doubt that with the coming roll-out of Android 3.0 tablets, Android will see further increases in tablet market share this year.
MeeGo course to debut at Collaboration Summit
The Linux Foundation is offering one of its MeeGo-specific courses, on "MeeGo Internals and the OBS Build System," at its Annual Collaboration Summit to be held Apr. 6-8 in San Francisco. The first 20 people to register for the class by Mar. 1 will receive an invitation to also attend all three days of the invitation-only Collaboration Summit, says the LF.
The Summit also features several Linux performance tuning classes as well as "Embedded Linux Development: A Crash Course," each costing between $1,200 and $1,300 (see link at end of the article).
The other Android and MeeGo courses will be held at the LF's various training venues in locations including Boston, London, Ottawa, San Francisco, Sydney, Tokyo, and Washington, D.C.
These include the following courses, the titles of which link to course descriptions:
The LF's Training Program is billed as offering a "vendor-neutral, technically advanced learning opportunity." The program consists of corporate, custom, compliance, virtual, and in-person courses, and includes a free training webinar series. The course draws on expertise from the LF's Technical Advisory Board (TAB), which comprises leading maintainers from the Linux community, says the LF.
Stated Jim Zemlin, executive director at The Linux Foundation, "We continue to see unprecedented demand for Linux expertise from our members and the industry at large. The Linux Foundation Training Program gives professionals a unique learning opportunity to build their resume with the most sought-after skills."
Availability
More information on the LF's Android, MeeGo, and other Linux training courses may be found at the Linux Foundation's Training Program site. More on the courses available at the LF's Collaboration Summit may be found at the Collaboration Summit training page.
---
This article was originally published on LinuxDevices.com and has been donated to the open source community by QuinStreet Inc. Please visit LinuxToday.com for up-to-date news and articles about Linux and open source.