Nov 12, 2010 — by LinuxDevices Staff — from the LinuxDevices Archive — 12 views
Xi3 Corporation announced a compact PC it claims will be readily upgradeable, thanks to the use of one board containing the processor and memory, along with two separate I/O boards. The Xi3 Modular Computer offers a choice of AMD processors, SSD (solid state disk) storage, 1080p video output, two eSATA ports, and an "Xm3dia" expansion port, the company says.
According to Xi3, its Modular Computer uses a design protected by six different U.S. patents, three of which were only recently issued. The patents are said to have been licensed to Xi3 by the holding company Isys Technologies, which has been working on the computer's design since at least 2008 (as various YouTube videos demonstrate).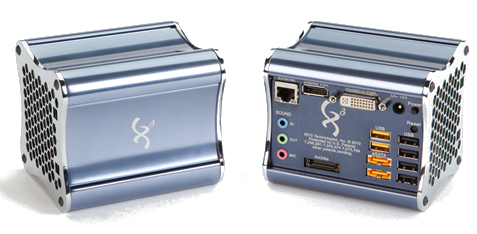 The Xi3 Modular Computer
Jason Sullivan, identified as both founder and CEO of Isys Technologies and president and CEO of Xi3 Corporation, stated, "We reject the concept that computers should have a useful life of only two to four years. Instead we believe that computers should be upgradeable and updateable over and over and over again, and that's how we've designed the Xi3 Modular Computer, making it (potentially) the last computer you ever need to buy."
It's claimed that the Modular Computer will resist obsolescence because instead of using a single motherboard, it employs three boards (below). One of these houses the processor and RAM, while two additional boards handle connectivity and I/O.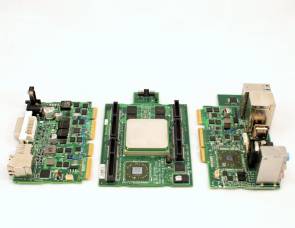 The boards inside Xi3's Modular Computer
Presumably, then, Modular Computers will be able to gain faster CPUs in the future by snapping in an upgraded processor board, though Xi3 made no specific promise to offer these. (Having encountered such schemes in the past, we're bound to point out that they all foundered for one of two reasons: Either the vendor failed to provide the upgrade boards that were promised, or technology simply outstripped whatever interconnect was being used.)
Xi3 provided few technological details but does say that the interconnect between the Modular Computer's boards carries PCI Express signals, among others. The device is said to offer both a "Xi3 port" and an "Xm3dia" port for expansion, though the company's data sheet and photos do not make clear whether the former is internal or external.
According to Xi3, the Xi3 port supports external PCI Express, two SATA ports, and a USB 2.0 port. The Xm3dia port, meanwhile, provides access to an expansion bus that also carries USB signals, as well as other functionality that was not explained.
While its Xi3 port and Xm3dia expansion capabilities remain vague, the Modular Computer also has a wealth of standard, PC-style ports, as can be seen in the picture earlier in this story. For example, it features a dual-link DVI-I port that is said (with the aid of external adapters) to support HDMI, DVI, or DisplayPort displays.
Xi3 says the Modular Computer has six USB 2.0 ports with Type A connectors, along with two eSATA connectors. The device's rear (or should that be "side"?) panel also includes a gigabit Ethernet port and 3.5mm audio jacks (headphones, mic in, and line in), according to the company.
The Modular Computer is said to use AMD's 780E northbridge and SB710 southbridge, the latter mounted on a separate board from the processor so as to ease I/O upgrades. Processor choices, meanwhile, can be one of the following:
A single-core Athlon processor clocked at 1GHz, with a eight-Watt TDP
A dual-core Athlon processor clocked at 1.8GHz, with a 22-Watt TDP
A dual-core Athlon clocked at 2.2GHz, with a 35-Watt TDP
According to Xi3, cooling of the Modular Computer is aided by its aluminum case and flow-through design. However, the device is apparently not fanless, Xi3 making reference to an internal fan connector.
Noting that the Modular Computer will come with 1GB, 2GB, or 4GB of RAM, Xi3 makes no reference to the device's fixed storage, except for a passing mention of an SSD which may be equipped with either Windows or Linux.
Features and specifications listed by Xi3 for the Modular Computer include:
Processor — 1GHz Athlon 64, or Athlon X2 at 1.8GHz or 2.2GHz
Chipset — 780E northbridge and SB710 southbridge
Memory — 1GB, 2GB, or 4GB of RAM
Storage — SSD; sizes n/s
Networking — gigabit Ethernet
Expansion — Xi3 port; Xm3dia
Other I/O:

1 x dual-link DVI-I (supports HDMI, VGA, DisplayPort via adapters)
6 x USB 2.0
2 x eSATA
audio — mic in, line in, headphone out

Power requirements — 19VDC via external AC adapter
Dimensions — 4 x 3.66 x 3.66 inches
Weight — n/s
Further information
According to Xi3, the Modular Computer is sampling now for evaluation and proof-of-concept purposes, priced at approximately $850. Mass market availability is slated for early 2011, the company adds.
More information on the Modular Computer can be found on the company's website, here.
---
This article was originally published on LinuxDevices.com and has been donated to the open source community by QuinStreet Inc. Please visit LinuxToday.com for up-to-date news and articles about Linux and open source.