Dec 6, 2011 — by LinuxDevices Staff — from the LinuxDevices Archive — views
The mobile and low-voltage versions of Intel's upcoming "Ivy Bridge" processors have been leaked by the website VR-Zone. The eight Core i5-3xxx and i7-3xxx devices include two dual-core models with low, 17-Watt TDPs — the Core i5-3427U (2.8GHz) and the Core i7-3667U (3.2GHz) — that are ripe for adoption in next-generation Ultrabooks and embedded devices.
As we reported Dec. 5, names, specifications, and performance comparisons for the desktop Ivy Bridge devices were shared last week by XBit Labs writer Anton Shilov. Eighteen Core i5-3xxx and i7-3xxx parts were listed, all but one of them quad-core, and with TDPs ranging from 35 to 77 Watts.
Shilov noted that the expected Ivy Bridge launch appears to have slipped from the expected January (to coincide with the Consumer Electronics Show) to April. He also relayed Intel's claims that compared to their Sandy Bridge predecessors, the 22nm Ivy Bridge CPUs will offer up to a 25 percent improvement in general computing performance, and up to a 200 percent improvement in graphics.
What we were waiting for, however, is information on the lower-power Ivy Bridge chips that, as well as featuring in notebook and Ultrabook portable computers, will be headed for the 2012 crop of embedded devices. Now, those details have emerged from somewhere in China, via an apparently exclusive Dec. 6 story by VR-Zone writer L.G. Nilsson.
According to what appear to be official Intel slides, Intel is killing off its low-voltage (LV) Core processors that had 25-Watt TDPs, and will now offer the following:
standard-voltage M-series processors with 35-, 45-, or 55-Watt TDPs
ultra-low-voltage U-series processors with 17-Watt TDPs
For example, one slide reproduced by Nilsson shows six M-series CPUs, where the top model is the i7-3920XM, with four cores and a base clock speed of 2.9GHz. As pictured below, the bottom of that same range is the i5-3320M, with dual cores and a 2.6GHz base frequency. There are four other choices in between, all with Intel's "HD 4000" integrated graphics.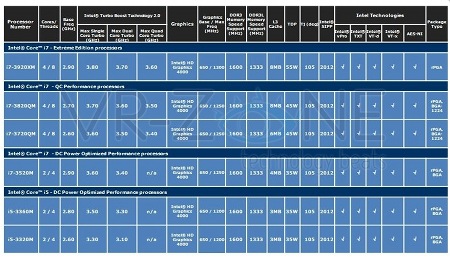 Intel's upcoming mobile Ivy Bridge Cores
Source: VR Zone
(Click to enlarge)
The slide also shows that the processors will feature a 2.0 version of Intel's TurboBoost technology, expected ever since another set of slides leaked last April. Three different specs are provided for each CPUs potential TurboBoost speed: For example, the i7-3920XM is said to push a single core as high as 3.8GHz, a dual core as high as 3.7GHz, and four cores at up to 3.6GHz.
The two U-series processors, are likely to show up in next-gen Ultrabook and embedded devices. They're tipped to be:
the i5-3427U, with dual cores, a 1.8GHz clock speed, and a 2.8GHz or 2.6GHz TurboBoost speed
the i7-3667U, with dual cores, a 2.0GHz base frequency, and a 3.2GHz or 3.00GHz clock speed
According to VR Zone, the mobile Ivy Bridges will allow portable devices to support two external displays in addition to whatever screen they already possess. The CPUs will be supported by the HM75, HM76 (adds USB 3.0), HM77 (adds RAID) and UM77 (low-power) chipsets, the story adds.


Intel's 17-Watt Ivy Bridge Cores
Source: VR Zone
(Click to enlarge)
Neither VR Zone's story nor the Xbit Labs item last week brought word of any new Core i3 processors. Given that Intel marketers almost never give up on a brand, as the continuing life of Pentium and Celeron shows, we suspect this isn't yet the full story.
Still, we can't recall seeing detailed disclosure of a range of Intel processors so far in advance of its release. (VR-Zone's Nilsson cites the leaked slides as indicating that most of the new CPUs will come out in May, with some quad-core models appearing in April.)
Perhaps Intel has been deliberately lax with its roadmap in order to signal to customers that they might as well go ahead and purchase devices using present-day, 32nm Sandy Bridge Cores instead of waiting for their 22nm successors. The Ivy Bridge devices seem to offer solid increases in performance and power savings, but it's all a little more incremental than the chipmaker made it seem when it announced the underlying 3-D Tri-Gate technology — touted last May as "a signficant breakthrough in the evolution of the transistor."
One possible new feature not discussed in the VR Zone story is configurable TDP. According to a September report by AnandTech, the M- and U-series Ivy Bridge CPUs may be capable of operating at higher frequencies than listed earlier when, for example, the devices using them are placed in docking stations that add supplemental cooling capabilities.
"This goes beyond simple turbo as it exceeds the CPU's nominal TDP, whereas turbo mode is mostly bound by TDP," author Anand Lal Shimpi wrote. The parts listed as having 55 Watt TDPs will actually be able to go up to 65 Watts and down to 45 Watts, he added.
Jonathan Angel can be reached at [email protected] and followed at www.twitter.com/gadgetsense.
---
This article was originally published on LinuxDevices.com and has been donated to the open source community by QuinStreet Inc. Please visit LinuxToday.com for up-to-date news and articles about Linux and open source.