Feb 13, 2009 — by Eric Brown — from the LinuxDevices Archive — 4 views

Esmertec, a Swiss firm specializing in Android and Java virtual machines, is acquiring Purple Labs, a French vendor of mobile stacks compatible with the LiMo Platform. In a stock deal worth about 19.7 million shares, the two European companies will be renamed as "Myriad Group AG."
The new… Myriad Group would combine two major platforms and development teams for mobile Linux with combined, estimated 2009 revenue of about $125 million, and about 800 software engineers in Europe, Asia, and America. While linking Android and LiMo development teams, Myriad also integrates Esmertec's more fundamental Java middleware technology with Purple Labs's expertise in mobile browsers and UI components.
Zurich, Switzerland-based Esmertec, which is known for its Jbed Java Phone Engine, was a founding member of the Open Handset Alliance (OHA), which oversees the Google-sponsored, Linux/Java Android stack. Esmertec also joined the rival LiMo Foundation in August as one of the refugees from the now defunct Linux Phone Standards (LiPS) Forum.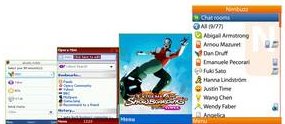 Esmertec is primarily known for its Android-ready Jbed Java Phone Engine
Known for its mobile browser technology, acquired via its recent purchase of OpenWave, Chambery-France-based Purple Labs is a Core member of the LiMo Foundation. It developed the first LiMo reference design in the Purple Magic feature phone (pictured at top). Purple Labs is also providing one of five reference designs for the upcoming LiMo R2 release of the Linux Mobile spec. The company recently reported positive revenues and another funding round. (For more background on Purple Labs and Esmertec, see farther below.)
Myriad deal touted for $13 million in savings
In the Myriad stock deal, Esmertec is purchasing all of Purple Labs's stock shares in exchange for 19,681,842 Esmertec shares, say the companies. Subject to shareholder approval, the acquisition also includes an earn-out clause that would provide Purple Labs shareholders with an additional 4.4 million Esmertec shares if specified targets are met. Meanwhile, a Purple Labs management options scheme is being converted to about 1.4 million Esmertec options, which could grow by over 300K Esmertec options, contingent on the earn-out, say the firms.
Once the companies are fully integrated in 2010, the merger is expected to yield annual operating cost savings of about $13 million. Savings will be found especially in research and development, sales and marketing, information systems, and administrative functions, say the companies.
Purple Labs CEO Simon Wilkinson will become CEO of Myriad, and Esmertec CEO Thomas Hornung, will move to an advisor role, say the companies. Esmertec chairman Hans Peter Baumgartner and other Esmertec board members will retain their positions in Myriad, and subject to shareholder approval, Purple Labs's Wilkinson, Roland Manger, and Loek van den Boog will join the board of directors of Myriad.
The acquisition has been approved by the boards from both companies, and was "reviewed favourably" by the Swiss Takeover Board, say the firms. Shareholder approval is expected by the end of March.
Esmertec: a Java success story
Esmertec specializes in Java engines, Android platforms, and USSD (Unstructured Supplementary Service Data) mobile services, says the company. It is known primarily for its Jbed Java Phone Engine (pictured above), which is compatible with all major mobile operating systems, including Linux, as well as processor platforms including ARM, x86, and XScale.
The key component of Jbed is its CLDC (connected limited device configuration), which includes a Java compilation engine, and supports "a large variety of Java 2 Platforms, Micro Edition (Java ME) specifications, and operators's extensions," says the company. The Jbed Java Phone Engine supports both CLDC 1.1 and MIDP 2.0/2.1 (Mobile Information Device Profile), as well as the next generation JTWI (Java Technology for the Wireless Industry), says the company.
Esmertec also fields a Jbed Java Multimedia Engine, based on a Jbed Advanced CDC stack aimed at consumer electronics devices, including set-top boxes (STBs), Blu-ray players, automotive infotainment devices, home gateways, and personal digital assistants (PDAs), says Esmertec. In addition, the company provides mobile services, including its Cellicium USSD Browsing service, which is said to offer menu-based on-line mobile messaging services to nearly all GSM/UMTS mobile subscribers. It also offers a new MAX (Mobile Application eXplorer) service for designing, promoting, and deploying services including self-care, news, mobile banking, music, games, and instant messaging applications, says the company.
In December, Esmertec announced that it expected double digit revenue growth for 2008. It also reported 3Q shipments of 28.2 million Jbed units, and said that 157 million mobile subscribers had access to its Cellicium USSD services via 28 mobile operators. In addition, the company reported that its Android involvement was "bearing fruits," accelerated with the launch of the HTC G1 by T-Mobile, as well as engineering contracts for the OHA. It also reported that it was in advanced discussions with Tier One mobile manufactuers on the development of "Jbed empowered Google-phones."
Later in December, Esmertec reported shareholder approval of its previously announced acquisition of Sagem Mobiles's software platform activities. This appears to be a separate unit from the Sagem Wireless technology and staff acquired recently by Purple Labs (see below).
Purple Labs: Bringing LiMo to feature phones
French mobile stack developer and LiMo (Linux Mobile) Foundation member Purple Labs company recently announced 2H 2008 revenues of 11 million Euros (~$14.1M), quadruple its revenue in the first half of 2008. The company also said it raised series-B funding of 22 million Euros (~$22.8M) during the half. In its first funding round in 2007, Purple Labs raised $14.7 million. Purple Labs is privately held, funded by three European venture capital firms: Sofinnova Partners, Earlybird Venture Capital and Partners Group.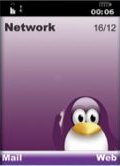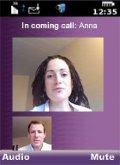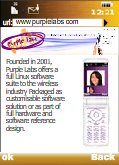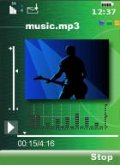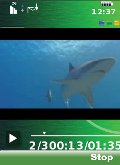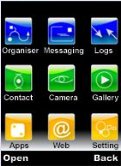 The Purple Labs feature-phone stack includes multimedia players, videoconferencing, and an HTML browser
Purple Labs was originally known for its Linux phone stack, which was used in several
iMode-compatible Grundig phones
distributed by French carrier Bouygues (pronounced "Bweeg"). The company later offered an interesting
Purple Magic
design (pictured at top), which used NXP's "Nexperia" hardware reference design and VirtualLogix VLX to reduce component count, targeting sub-$100 end-user pricing. As far as we know, however, the phone was never widely distributed.
Purple Labs pegged its second-half revenue increase to its acquisition and relaunch of Openwave's mobile browser business. Purple Labs acquired Openwave's mobile phone software business for $32 million last June, gaining Openwave's cross-platform browser and messaging client technologies, which enjoyed huge marketshare during the WAP era. Purple Labs had previously committed to upgrading Openwave's high-end Surfer Browser, as well as its Mobile Integrated Dynamic Application System (MIDAS) mobile development kit and function library, which was also part of the deal.
Purple Labs announced order intake during 2H 2008 of over 70 million Euros, and says it expects to earn 50 million Euros in revenue in 2009. Cumulative shipments of Purple Labs browser and messaging applications surpassed 1.8 billion units, claims the company, and the staff has grown to 425, up from 80 at end of 2007.
In August, Purple Labs announced a joint testing agreement with Openwave, and also announced it would acquire the mobile applications suite and software engineering team of French phone manufacturer Sagem Mobiles. Purple Labs now says that it has closed a 52.5 million Euro contract to provide software and services to Sagem over three years.
Purple Labs will be exhibiting on "The Avenue" (Stand AV97) at the Mobile World Congress, Feb. 16-19 in Barcelona. The company will also sponsor the GSMA "Best mobile phone / device" award, says the company.
Stated Hans Peter Baumgartner, chairman of Esmertec, "This acquisition creates a powerhouse in the mobile industry. Myriad will be a valued partner for phone manufacturers and mobile network operators that aim to create innovative user experiences for the mass market."
---

This article was originally published on LinuxDevices.com and has been donated to the open source community by QuinStreet Inc. Please visit LinuxToday.com for up-to-date news and articles about Linux and open source.