Nov 8, 2011 — by Eric Brown — from the LinuxDevices Archive — 2 views
Mozilla announced more details and a project roadmap for its Android-based, web-centric Boot to Gecko (BTG) mobile operating system, including plans to release a version in the second quarter of 2012. It also announced an updated Firefox 8 web browser for desktop and mobile devices, featuring improved HTML5 support, Twitter integration, and an enhanced password function for Android.
Mozilla has posted more details on its Boot to Gecko (BTG) mobile operating system, which was announced in July. At the time, it seemed that the open source BTG, which is based in large part on Android, was early in the concept stage and would take years.
Either Mozilla was farther along than it let on, or its has brewed up some pretty high-powered coffee for the BTG developers: Mozilla now says a product demo is now on target for Q1 2012. Even more surprising, the first products are said to be due as earlier as the second quarter of 2012.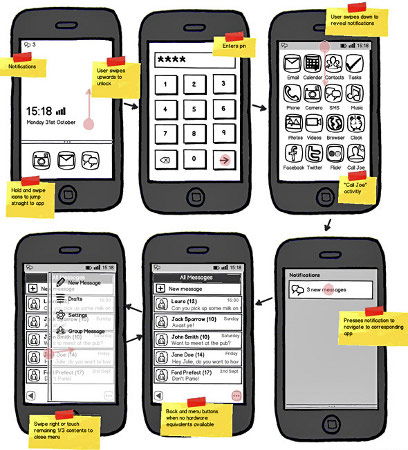 Mockups of BTG interface, showing how notifications function
Source: Mozilla
(Click to enlarge)
As first
reported by Hot Hardware
, a BTG developer phone is being released this quarter, presumably in a limited release. In addition, Mozilla has released some mockups showing the basic functionality of the "Gaia" interface (see above).
Meanwhile, BTG sub-projects such as messaging, telephony, battery, and contacts are already underway, and being tested, says Mozilla. Additional core features, including screen/power management and settings functions, have already been scheduled.
Once the developer phone has been released, the project will prepare for the first quarter product demo with sub-projects that are already on track, including web apps and apps store, as well as vibrator and sensor functions. These will be followed by network status and management functions, and support for Bluetooth, USB, NFC (near field communication) radios, and "lights."
Later, the project will move to the Gaia user interface, which includes a Gecko-based web browser, as well as a settings manager, media player, Gallery function, and apps store, says Mozilla. Other features underway include camera and e-reader functionality.
Boot to Gecko background
Intended to be a web-centric OS, BTG is in many ways similar to Google's Chrome OS, but it is focused on smartphones and tablets rather than laptops. The operating system is intended as a more open source alternative to Android, and will in fact use Android's kernel and drivers, as well as some libraries. However, it may be out of reach of patent litigators such as Oracle and Microsoft, because it removes the Dalvik virtual machine and does not require Java.
The project is developing new web-oriented APIs and a new privilege model intended for use with standardized, portable content languages. The APIs are based in part on Google's open source NaCl (Native Client), including the PNaCl sub-project. (More information may be found in our earlier Boot to Gecko coverage.)
Despite the apparent failure of Linux-based mobile operating systems such as the open source MeeGo and LiMo's Linux Mobile spec, as well as HP's proprietary WebOS, new Android competitors keep popping up out of the Linux kernel. Others include a planned Tizen OS that combines major portions of MeeGo and LiMo, wrapped up in a web-centric HTML5 cocoon. There is also an upcoming mobile version of Ubuntu that Canonical plans to aim at smartphones, tablets, and other embedded devices.
Firefox 8 ships with Twitter integration
Mozilla released Firefox 8, an update to its popular open source web browser, available for Linux, Mac, and Windows desktops as well as for Firefox for Android. The main new feature — a new Twitter search option — is available only on the desktop versions, however.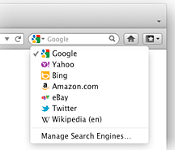 The Twitter function is designed to make it easier to discover new Twitter topics, #hashtags, and @usernames, says Mozilla. The Twitter search function (pictured) is said to be currently available in the English, Portuguese, Slovenian, and Japanese versions of Firefox 8.
Other desktop-only features include improved HTML5 support and the ability to load tabs on demand, says Mozilla. In addition, users can now disable add-ons that have been installed by third-parties without their permission.
Firefox 8 also improves its support for Mozilla's WebGL standard, which allows websites and web apps to display hardware-accelerated 3D graphics without third-party software. Firefox 8 adds support for Cross-Origin Resource Sharing (CORS), which enables developers to load WebGL textures from other domains in a secure way, says Mozilla.
Version 8 of Firefox for Android, meanwhile, has been updated with Firefox Master Password, which is said to let users protect all saved usernames and passwords. In addition, Firefox lets Android users add icons for any bookmarked HTML5 website or web app to the home screen for one-click launch, says Mozilla.
Availability
A demo of Boot to Gecko (BTG) is due in the first quarter of 2011, with "productization" due in the second quarter, says Mozilla. More information, including a product roadmap, may be found at the BTG wiki.
Firefox 8 is available now for Linux, Mac, and Windows desktops, as well as for Firefox for Android, says Mozilla. More information may be found at the Mozilla blog.
---
This article was originally published on LinuxDevices.com and has been donated to the open source community by QuinStreet Inc. Please visit LinuxToday.com for up-to-date news and articles about Linux and open source.