Aug 22, 2011 — by LinuxDevices Staff — from the LinuxDevices Archive — 1 views
AMD announced three additions to its E- and C-Series "Fusion" APUs: the 1GHz C-60, the 1.3GHz E-300, and the 1.65GHz E-450. All offer "all-day battery life," DisplayPort++ and HDMI 1.4a support, and the ability to use 1333MHz DDR3 memory, while the C-60 and E-450 add a new Turbo mode.
AMD said in an Aug. 22 press release that it has shipped more than 12 million of the "Fusion" APUs (accelerated processing units) it announced last January. Shipments of the popular C-Series and E-Series versions amounted to 5 million in the second quarter of this year along, the chipmaker added.
The company added that it is updating the E- and C-Series product lines to deliver 1333MHz DDR3 memory support, HDMI 1.4a and DisplayPort++ compatibility (for 3D-enabled TVs), and extended battery life. The E-Series can now offer up to 10.5 hours of resting battery life, while the C-Series can offer up to 12 hours, the company says.
As AMD's brief press release failed to make clear, however, the "updates" do not involve running changes to any of the 40nm APUs that have already shipped (such as the popular, 1.6GHz E-350). Nor is the company referring to the 28nm, quad-core "Deccan" followups that have already been leaked (see later in this story for complete background).
Rather, according to sources including DailyTech and Hardware Secrets, what we have here are two additions to the E-Series and one to the C-Series. They're not a major surprise, since the new E-Series offerings were first revealed in March by Xbitlabs writer Anton Shilov, and the new C-Series chip was leaked in April by Macles.
| | | | | | | |
| --- | --- | --- | --- | --- | --- | --- |
| Model | CPU Cores | Basic Clock speed | Turbo Core CPU speed | Radeon brand | GPU clock speed (normal/Turbo Core) | TDP |
| E450 | 2 | 1.65GHz | ?? | HD 6320 | 508/600MHz | 18W |
| E-350 | 2 | 1.6GHz | — | HD 6310 | 492MHz | 18W |
| E-300 | 2 | 1.3GHz | ?? | HD 6310 | ?? | 18W |
| E-240 | 1 | 1.5GHz | — | HD 6310 | 500MHz | 18W |
| C-60 | 2 | 1.0GHz | 1.33GHz | HD 6290 | 276/400MHz | 9W |
| C-50 | 2 | 1.0GHz | — | HD 6310 | 280MHz | 9W |
| C-30 | 1 | 1.2GHz | — | HD 6250 | 280MHz | 9W |
AMD's E-Series and C-Series APUs
Highlighted in red above, the new chips are exactly as previously described by Xbitlabs and Macles. We're led to believe that the E-300 does not have any Turbo features, whereas the high-end E-450 has a Turbo mode for graphics alone, and the C-60 can dynamically accelerate both its CPU and its GPU (graphics processing unit).
Chris Cloran, vice president and general manager of AMD's client division, stated, "Today's PC users want stunning HD graphics and accelerated performance with all-day battery life and that's what AMD Fusion APUs deliver. With these new APUs, we're bringing premium features to entry-level products that let users get a richer computing experience."

AMD's APU design
Source: AMD
(click to play)

Background
AMD announced its first "Fusion" APUs — which incorporate x86 CPUs and HD video-ready graphics processing units (GPUs) on a single die — in January with single- or dual- "Bobcat" cores on board. The company's "2011 low power platform," formerly codenamed "Brazos," combines an E-Series (formerly "Zacate") or C-Series (formerly "Ontario") processor with the A50M "Hudson" controller hub, a southbridge based on the previously released SB800.
Both the C-Series and E-Series have shown up in a plethora of portable computers (and tablets, too), including, to name just some, the Asus Eee PC 1015B and 1215B, the HP Pavilion dm1z, the Lenovo ThinkPad X120e, the MSI's U270, and Toshiba's Satellite C655D. (We reviewed the Pavilion dm1z in March, noting laudable battery life and decent performance, and have since discovered that the machine records HD TV programs capably, with the aid of Windows Media Center software and a USB tuner.)
In a July 21 conference call, AMD called the Brazos devices an "unqualified hit" and among the fastest-ramping devices it has ever released. Building on this success, the company now offers embedded-oriented G-Series and tablet-oriented Z-Series versions, which yet again provide dual cores and are fabbed using a 40nm process by TSMC (Taiwan Semiconductor Manufacturing Company).
2012 successors
Apart from the above, AMD has already revealed — first at a November 2010 analyst event and then again at a June press conference — its plans to replace the E-Series, C-Series (and presumably, Z-Series) with 28nm chips. These new versions will be released in 2012, providing even longer battery life, the chipmaker has said.
On Aug. 16, the Turkish website Donanimhaber chimed in with details of a "Deccan" platform packing Zacate and Ontario successors, code-named "Wichita" and "Krishna" respectively. Information was provided by what appear to be slides from an official AMD presentation.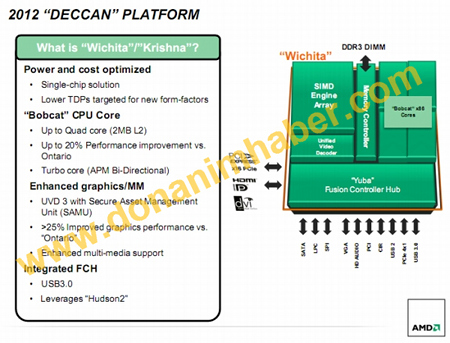 Wichita and Krishna will provide quad cores and enhanced performance
Source: Donanimhaber
(Click to enlarge)
According to the slides, the new parts will provide a 25-30 percent improvement in CPU performance, plus graphics performance that's at least 25 percent better. It's said they'll also come with quad cores, up to 2MN of L2 cache, a "bi-directional turbo" feature, and support for 1666MHz DDR3 memory.
The slides also suggested that Wichita and Krishna will sport new "secure asset management units," specifically designed to decrypt copy-protected video from DVD or Blu-ray sources. This is promoted as extending battery life when such material is being viewed.
Donanimhaber said the chips will be accompanied by a new I/O controller variously referred to as "Hudson2" or "Yuba." Among other enhancements, this will apparently provide devices using the chipset with USB 3.0 support.
Jonathan Angel can be reached at [email protected] and followed at www.twitter.com/gadgetsense.
---
This article was originally published on LinuxDevices.com and has been donated to the open source community by QuinStreet Inc. Please visit LinuxToday.com for up-to-date news and articles about Linux and open source.