Apr 1, 2009 — by Eric Brown — from the LinuxDevices Archive — 18 views

The Small Form Factor Special Interest Group (SFF-SIG) announced a rugged, form-factor-independent, COM (computer-on-module) interface standard called COMIT. The organization also announced an upgraded revision 1.3 of its SUMIT interface standard, adding more PCIe lanes, and announced the availability of its MiniBlade… 1.0 storage spec.
(Click for larger view of the Samtec SeaRay connector that forms the basis of COMIT)
The SFF-SIG was formed by 18 embedded suppliers last April, when it launched its flagship, PC/104-like SUMIT (Stackable Unified Module Interconnect Technology) specification. (See later in this story for more on SUMIT, the new revision 1.3, and the MiniBlade spec.)
The new Computer On Module Interconnect Technology (COMIT) spec is targeted at small processor modules, incorporating processors such as the Intel Atom or Via Nano, along with accompanying host baseboards, the SFF-SIG says. Designed to be processor-independent, and compatible with standard formats such as EBX, EPIC, PC/104, and Pico-ITX, COMIT is an electromechanical interface specification that focuses on bus interconnect and module manufacturing technology.
COMIT uses the "SeaRay" connector system from SFF-SIG member Samtec. Touted as low-cost and rugged enough for both commercial and industrial applications, this .050-inch connector is equipped with 240 pins. According to the group, thanks to the use of a single high-speed, high-pin-density connector, registration problems are eliminated. In addition, COMIT/SeaRay can handle differential signaling rates of 9GHz, enabling support for interfaces such as PCI Express (PCIe) Gen2 and USB3, yet at a very low cost, says Samtec.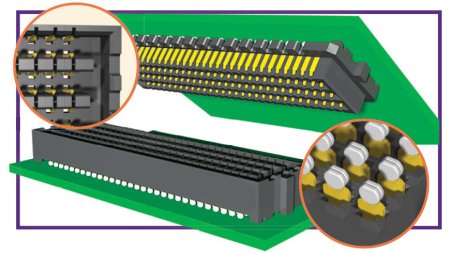 The Samtec SeaRay connector that forms the basis for COMIT
(Click to enlarge)
The SeaRay connector can be mapped as a single-ended application, a differential-pair application, or a combination of both, says Samtec. In single-ended mode, it is rated at 4GHz per pin. The "robust" contacts, which support up to 500 I/Os, enable "zippering" when mating and unmating and reduce insertion/extraction forces, Samtec says. Available in stack heights from 7mm to 17.5mm, SeaRay is said to be deployable in row options ranging from a four-row slim version up to 10 rows.
The COMIT spec based on SeaRay is said to support the following features:
3 x PCIe x1 lanes
1 x PCIe x4 lane
6 x high-speed USB 2.0 channels
VGA, SDVO, and dual LVDS video interfaces
2 x SATA channels
Ethernet
8-bit SDIO
HD audio
LPC (Low Pin Count) bus
SPI/uWire
SMBus/I2C bus
System clock and control signaling
"Ample" power and ground
Stated Paul Rosenfeld, SFF-SIG president, "With the advent of the latest low-power, high-integration Atom and Nano x86 processors and chipsets from Intel and VIA, plus the special manufacturing issues associated with high ball count micro BGAs and new high-speed serial interfaces, there are significant technology problems faced by SBC designers to integrate these technologies cost effectively. The COMIT Standard utilizes the latest connector technology and manufacturing techniques to address these complex issues."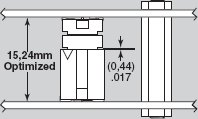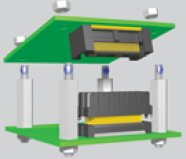 The SUMIT physical interface
(Source: Samtec)
SUMIT 1.3 adds PCIe lanes
SUMIT was billed as an improvement on PC/104, comprising two small surface-mount connectors that are usable singly or together. Between them, they support both legacy low-speed peripherals and modern high-speed interfaces like USB and x4 PCIe, and are designed for a variety of form factors.
Revision 1.3 adds four more PCIe x1 lanes, for a total of six, and also provides an additional USB 2.0 interface for a total of four. DMA support is now offered on the LPC bus to enable higher-speed data transfers, says the SFF-SIG. All the changes are said to be "upward-compatible." (Just this week, Via shipped a new HD module for its recently released SUMIT-compliant Epia-P710 Pico-ITXe board.)
Features of SUMIT 1.3 are said to include:
6 x PCIe x1 lanes or 2 x PCIe x1 lane and one PCIe x4 lane
4 x USB 2.0 interfaces
ExpressCard
LPC bus
SPI/uWire
SMBus/I2C bus
Around the same time that the original SUMIT spec was announced, the PC/Consortium responsible for the successful PC/104 standard announced its own competing stackable board standard, PCI/104 Express. This format moves up to three connectors and 156 pins, in order to support full x16 PCIe, while SUMIT sticks with 104 pins. Both rival interface standards are claimed to support next-generation PCIe 2.0 signaling.


SiliconDrive II
(Click for details)
MiniBlade 1.0 complete
Announced in October, the newly completed MiniBlade spec is based on SiliconSystems' SiliconDrive II Blade technology (pictured), and was jointly developed with fellow member Samtec. Designed for small, rugged subsystems incorporating mass storage and other I/O technologies including communications and GPS systems, the MiniBlade plug-in peripheral card is retained with latches in its socket. The spec is touted as providing superior protection against embedded environments, compared to consumer-grade dongles and thumb drives.
Availability
The MiniBlade 1.0 spec is available now, and the SUMIT 1.3 spec also appears to be available. Final availability of the COMIT spec was not listed. More information on the SeaRay connector that forms the basis of COMIT may be found in this PDF.
---

This article was originally published on LinuxDevices.com and has been donated to the open source community by QuinStreet Inc. Please visit LinuxToday.com for up-to-date news and articles about Linux and open source.