Jan 10, 2012 — by LinuxDevices Staff — from the LinuxDevices Archive — 1 views
Imagination Technologies — a key supplier of graphics processing unit (GPU) cores to most ARM licensees as well as to Intel — says its new Powervr Series 6 version will boost performance by a factor of at least 20. The "Rogue" architecture is initially licensable in G6200 and G6400 versions, which respectively feature two and four compute clusters, according to the company.
As we review later in this story, graphics IP from Imagination Technologies is a key element of processors from Apple, Freescale, Intel, NEC, Samsung, and TI. For example, the company's Powervr MBX core was incorporated into Apple's first iPhone as well as many of the company's subsequent products.
Imagination Technologies first revealed its Powervr Series6 IP in February 2011, promising that it would provide "unrivaled GFLOPS per mm2 and per mW for all APIs." The architecture will be upward-compatible with the current, widely used Series5, "ensuring a smooth migration path for developers upgrading applications optimized for Series5 to the new architecture," the company said at the time.
Imagination Technologies made no public perfomance promises last year, though ITProPortal and Pocket Gamer cited private claims that the Series6 IP would run 20 times faster than its previous Series5. Now, via a Jan. 10 announcement, the company has confirmed exactly this, adding that its Powervr G6200 and G6400 IP cores are now available for licensing.
According to Imagination Technologies, its "Rogue" architecture is based on a scalable number of compute clusters — arrays of programmable computing elements that can offer high performance and efficiency while minimizing power and bandwidth requirements. The first PowerVR Series6 cores, the G6200 and G6400, respectively have two and four compute clusters, the company adds.
PowerVR Series6 GPUs can deliver "20x or more of the performance of current generation GPU cores targeting comparable markets," Imagination Technologies stated. They can offer computing performance "exceeding 100 gigaflops and reaching the teraflops range, enabling high-level graphics performance from mobile through to high-end compute and graphics solutions," according to the company.
Other characteristics of Powervr Series6 graphics cited by Imagination Technologies include:
high efficiency compression technology including lossless image and parameter compression and PVRTC texture compression
enhanced scheduling architecture
dedicated housekeeping processors
next-generation tile-based deferred rendering architecture
support for OpenGL ES "Halti," OpenGL 3.x/4.x, OpenCL 1.x, and DirectX10 with "certain family members extending their capabilities to full WHQL-compliant DirectX11.1 functionality"
According to Imagination, PowerVR Series6 has already secured eight licensees, and been delivered to multiple lead partners. Among the PowerVR Series6 partners announced so far are ST-Ericsson, Texas Instruments, Renesas Electronics and MediaTek.
Hossein Yassaie, CEO of U.K.-based Imagination, stated, "We have been able to set a new standard in GPU architecture, particularly in the areas of power, bandwidth and efficiency — the key metrics by which GPUs are now judged. We are confident that with the Rogue architecture we have a very clear technology advantage and an exceptional roadmap for the PowerVR Series6 family which our partners can depend on."
Imagination calls its Powervr graphics technologies "the de facto standard for mobile and embedded graphics." With over 90 licenses by leading semiconductor companies, they have shipped in more than 600m devices to date, according to the company.
Background
In December 2010, Imagination announced a new SGX554 version of its Powervr SGX Series5XT IP (first announced in January 2010). Touted as "ideal for tablets, computing devices, and smartphones," the SGX554 IP can be implemented as a high-performance eight-pipe single core, or in multiprocessor (MP) configurations of between two and 16 cores (16 to 128 pipes), the company said at the time.
Imagination said SGX554 also provides "comprehensive market-proven support" for desktop OpenGL 2.1 (including X11 integration with DRI2, EXA and DRM support), OpenGL ES 1.1 & 2.0, OpenVG 1.1, and OpenCL 1.1 Embedded Profile. Essentially the same claims were made in June 2010 for a previous SGX544 release, but that version was said to support a four-pipe single core or multiprocessor configurations with up to 64 pipes.
Also announced in 2010 were the Powervr VXD392 decoder and Powervr VXE382 encoder, including support for H.264 MVC, WebM (VP8; decode), S3D (Stereoscopic 3D) and resolutions up to UltraHD. According to the company, these new codecs can integrate with various members of the Powervr SGX graphics IP family, enabling bitrate savings of approximately 2.5x compared to existing solutions.
Imagination Technologies' Series5XT SGX IP is based on a second-generation Universal Scalable Shader Engine (USSE2), delivering "significantly better throughput" than the earlier Series5 USSE shader engine. It's said the architecture scales from 100MHz to 400MHz "and beyond," delivering performance of 35 million polygons per second and a pixel fill rate of one gigapixel per second when running at a mid-range 200MHz.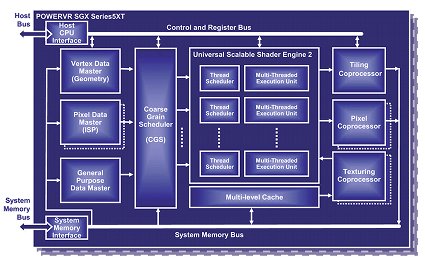 A block diagram of Imagination Technologies' Series5XT SGX IP
(Click to enlarge)
Along with its 2010 announcement, Imagine said more than 10 SoCs using the latest iteration of the Series5 IP were in silicon or in design. Those listed were:
TI's OMAP5430 and OMAP5432, which use multi-core Powervr SGX544MP graphics accelerators
Renesas' SH-Mobile APE5R, with Powervr SGX543MP graphics
Sony's next generation portable entertainment system (codenamed NGP), with SGX543MP4 graphics
Some of the many earlier ARM processors that include Powervr graphics are:
Apple's A4
Freescale's i.MX31
Marvell's PXA310/312
NEC's EMMA 3TL, EMMA Mobile/EV2
Renesas' SH-Mobile 3, 3A, G1, G2, G3, Navi1, Navi2G
Samsung's S3C2460, S5L8900, S5PC100, S5PC110, S5PC510
SiRF's SiRFprima
TI's AM3517, OMAP2420, OMAP2430, OMAP2530, OMAP3420, OMAP3430, OMAP3440, OMAP3450, OMAP3515, OMAP3530, OMAP3620, OMAP3621, OMAP3630, OMAP3640, OMAP4430, OMAP440
Intel, meanwhile, has used Powervr graphics IP in its Pentium-based SoCs, the CE3100, CE4100, CE4130, and CE4150. An Imagination Technologies core was also employed in the SCH US15W northbridge/southbridge, notable for accompanying the chipmaker's very first Atom processors (the Z5xx "Silverthorne" chips).
Further information
More information on Imagination Technologies PowerVR graphics IP — for the Series5 version, at least — can be found on the company's Powervr product page.
Jonathan Angel can be reached at [email protected] and followed at www.twitter.com/gadgetsense
---
This article was originally published on LinuxDevices.com and has been donated to the open source community by QuinStreet Inc. Please visit LinuxToday.com for up-to-date news and articles about Linux and open source.