May 9, 2011 — by Eric Brown — from the LinuxDevices Archive — 9 views
Freescale Semiconductor announced a faster, 1.5GHz version of its quad-core QorIQ P2040 processor called the QorIQ P2041, claimed to deliver up to 10Gbps performance and ship with a Linux BSP. The P2041 system-on-chip (SoC) is available in a newly announced, 1U MR-630 networking appliance from Lanner called the MR-630, equipped with 12 or 16 gigabit Ethernet ports and aimed at the unified threat management (UTM) market.
Freescale announced its QorIQ P2040 last August, featuring four e500mc PowerPC cores clocked to 1.2GHz. The new, almost identical P2041 boosts clock speed this to 1.5GHz, and enables faster DDR3/3L memory up to 1333MHz. The P2041 also adds 128KB L2 cache per core, says Freescale.
Otherwise, as indicated in the shared block diagram below, the two chips appear to be identical. With the faster performance, however, Freescale is showcasing the P2041 as a UTM security platform for small to medium businesses (SMBs) rather than as a general purpose networking appliance SoC like the P2040.
Other suitable applications are said to include LTE base station network interface cards (NICs), single-chip enterprise router solutions, multifunction printers, data centers, application delivery controllers, storage equipment, factory automation technology, and iSCSI and switch management controllers.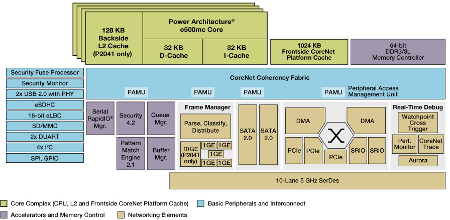 QorIQ P2040/P2041 block diagram


(Click to enlarge)
With its claimed 12 Watt typical power consumption, the device enables a superior high performance, price, and energy efficiency balance for 1U UTM networking devices, says Freescale. The company touts the QorIQ P2041 for its hardware virtualization, cryptography, and deep packet inspection technologies, although as far as we can see the device offers the same pattern matching and crypto acceleration security engines as the pin-compatible P2040, albeit delivered with higher performance.
Like the P2040, the device supports Freescale's Data Path Acceleration Architecture (DPAA) technology, which is said to accelerate packet parsing, classification, and distribution. Other common features include 32KB L1 cache per core, 1MB shared CoreNet platform cache, three PCI Express (PCIe) lanes, and dual Serial RapidIO 1.3/2.1 controllers.
In addition, the SoCs offer dual SATA 2.0 interfaces and five gigabit Ethernet controllers, says Freescale. (For more information, please see our earlier P2040 coverage.)
The P2041 is software-compatible with Freescale's other QorIQ SoCs, says the company. These range from the 800MHz, single-core P1010 and P1014 models to its eight-core, 1.5GHz P4080. Other quad-core QorIQ SoCs include the 1.5GHz P4040 and the 1.5GHz P3041, with the latter claimed to consume a P2041-like 12 Watts.
Like other QorIQ processors, the P2041 supports Linux. The P2041 will ship with a Linux board support package (BSP) when it starts sampling in mid-2011, says Freescale. A reference design board will also be available then, says the company.
Stated Danny Mulligan, director of marketing for Freescale's Networking Processor Division, "The P2041 integrates optimal processing performance with high-end features such as broad I/O scalability and advanced deep packet inspection functionality."
Lanner MR-630 UTM networking appliance
Lanner Electronics announced an MR-630 networking appliance that uses Freescale's new QorIQ P2041 or earlier P2040. The MR-630 offers 10Gbps processing power in a 1U chassis, and provides hardware accelerated encryption capabilities, deep packet inspection, and virtualization support for application consolidation and in-service upgrades, says the company.
No ship date was announced for the MR-630, but considering the lack of a photo or web page for the device, it's not out the door yet. The appliance offers 12 or 16 gigabit Ethernet ports, two gigabit Ethernet management ports, and "a variety of customizable options," says Lanner. The MR-630 provides 2MB NOR flash, mini-PCIe and PCI(x4) expansion, and SATA storage, says the company. Two USB 2.0 ports and one RJ-45 console port are also said to be available.
The MR-630 comes standard with 12 gigabit Ethernet ports using the Vitesse VSC7407 controller. However, the model with the P2041, which Lanner clocks to 1.5GHz, offers an optional module that adds four more gigabit Ethernet SFP (small form factor pluggable) ports for a total of 16, or else dual 10 gigabit Ethernet SFP+ ports, says the company.
An optional version of the P2040 version, meanwhile, offers 12 PoE (Power over Ethernet) port switch that meets the 802.1af standard, "which means that this switch will have up to 15.4W of power for each port," says Lanner.
In March, Lanner announced an MR-350 desktop network appliance available with a single-core QorIQ P1011 (533MHz) or dual-core QorIQ P1020 (800MHz).
Availability
The QorIQ P2041 is planned for sampling in mid-2011, says Freescale. More information may be found on Freescale's P2040/P2041 page.
No ship date was announced for the Lanner MR-630. More information on the MR-630 should eventually appear on Lanner's networking appliance page.
---
This article was originally published on LinuxDevices.com and has been donated to the open source community by QuinStreet Inc. Please visit LinuxToday.com for up-to-date news and articles about Linux and open source.