Jul 30, 2004 — by LinuxDevices Staff — from the LinuxDevices Archive — 12 views

US mobile phone customers will at last gain the option of a Linux-based handset later this year, when operators begin offering a high-end Motorola Linux/Java smartphone aimed at business professionals. The A780 will roll out globally in early Q4, reaching select US regions before 2005, according to Motorola.
"It sort of depends which operators get through the first testing cycle for launch," said Motorola's Jonathan Nattrass. "But we're expecting it'll reach market in the US in Q4." Nattrass is director of product management for Motorola's high-performance GSM products group.
Motorola has so far introduced three Linux phones outside the US, including the A760, A768, and E680, and the phones have been well received, says Nattrass. "We're very pleased with market reaction and takeup, and the operators are very pleased with performance."
The A780 will be the first Motorola Linux phone — and almost certainly the first Linux phone of any kind — to reach the US market, confirming statements in a March, 2004 interview with Motorola Linux phone GM Michael Sudol that the company would time the debut of Linux phones in the US with the holiday season, and "ramp up" its Linux strategy globally toward the end of 2004.
Meanwhile, interviews (see stories here and here) with mobile phone browser giant OpenWave suggest that Linux will hit its stride in the global phone market in 2006, possibly becoming a standard platform for smartphones that, much as DOS did for PCs, will spawn a rich third party software market.
For its part, Motorola will continue its strategic investments in Linux as a cell-phone platform, but will continue to offer phones with other OSes as well. "We're holding fast with [our multi-OS] strategy. Java is at the core of our mobile OS strategy, and Linux is the OS we've primarily paired with Java. But, we'll continue to work with MS, Symbian, and BREW, based on operator needs," said Sharen Santoski, senior manager of global partner and tech communications for Motorola's personal communications sector.
Concurrent with this week's announcement of the A780, Motorola also announced the Windows Mobile based MPx220, which boasts a 1.23 megapixel camera, Bluetooth, and quad-band wireless, as well as the CN620, which runs Windows CE 4.2 and offers seamless roaming between GSM/GPRS cellular and 802.11a Wi-Fi networks. Motorola offers Symbian and BREW based phones as well, but sold a 19 percent stake in Symbian in Sep., 2003.
Clearly, though, Motorola has high hopes for its Linux mobile phones. Says Nattrass, "You can see how we've gone from the traditional smartphone, the A760, and branched out into more focused areas, such as providing better consumer entertainment experiences [with the E680] and offering more for business professionals [with the A768 and A780], because we found that a lot of people are using camera phones for business purposes. Realtors and insurance agents, and so forth. I think we're only going to continue to build on that strength, and the key focus for us will be offering both the higher-tier functionality, and driving our Java/Linux technology down into mid-tier and mass market phones."
About the A780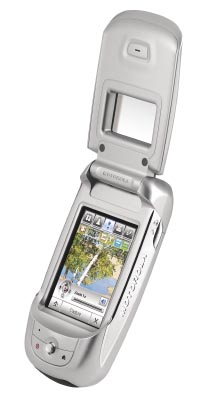 The A780 is a quad-band phone phone supporting the 800/850MHz and 1900MHz bands used in the Americas as well as the 900/1800MHz bands commonly used around the world. In addition to voice service, the phone will provide Internet access via normal GPRS or via "EDGE," or Enhanced Data Rate for Global Evolution technology.
GPRS, or General Packet Radio Service, provides theoretical data rates up to 171.2Kbps, and is widely available from "2.5G" carriers around the world. EDGE is theoretically capable of 240Kbps data rates, which puts it close to the broadband-like speeds (384Kbps and higher) offered by 3G networks. East European carriers with new equipment, and European carriers that do not have a 3G license are likely candidates to roll out EDGE services, according to Nattrass, who adds, "The A780 can fall back on GPRS if the EDGE service is not available."
According to 3G Americas, an industry association of operators and manufacturers in the GSM technology market, EDGE service is currently available from 44 operators in 26 countries in the Americas, and 49 operators in 37 countries outside the Americas. Nattrass cites Cingular and AWS among US-based carriers offering or planning to offer EDGE services and phones.
Hardware features
The A780 is among the first devices to use the PXA270, a member of Intel's XScale family of ARM-based system-on-chips. Intel launched the PXA27x chip family, formerly codenamed "Bulverde," in April of this year, touting the processor's ability to capture higher quality pictures, extend battery life, and deliver fast multimedia performance. The chips are part of Intel's Personal Internet Client Architecture for wireless devices that combine voice communications and Internet access capabilities. Initial PXA270s are expected to run at 312 MHz, with future chips reaching double that speed, but Motorola did not disclose what speed processor runs the A780.
The A780 includes about 48MB of built-in user storage space, and supports an additional 48MB of removable storage on a TransFlash card. It includes a USB device port that uses a standard USB cable to attach to a PC, where it appears as a USB mass storage device. Rather than IrDA, the device implements Bluetooth wireless, enabling users to transfer large files reasonably quickly (and over greater distances), a feature useful for printing photos directly to Bluetooth printers, according to Nattrass.
The phone utilizes the classic Motorola flip-phone form-factor, but the phone buttons are actually positioned on the outside of the flip-lid. Opening the phone reveals the full expanse of the PDA-like 240 x 320 color touchscreen.
Another enticing feature is the 1.3 megapixel digital camera.
Software features
Like Motorola's previous Linux-based phones, the A780 is based on MontaVista Linux. MontaVista first pledged to support Intel's new PXA27x chips in November of 2003.
The A780 also includes a Java J2ME MIDP 2.0 runtime engine with support for several advanced Java APIs, including 3D Java, also supported in Motorola's E680 phone. Motorola revealed some of its Java plans in October of last year, and Nattrass says the company will continue to improve and extend Java support in its Linux phones. "Our roadmap is to roll out as many APIs as possible for Java. We're really focusing on Java support to enable and broaden application support from Java development community."
At least one native application will also be available for the A780 — Motorola announced last week a deal with Certicom to offer its Movian VPN client for the device.
The A780's messaging client, like those in the A760 and A768, will continue to support POP3 and IMAP4 email protocols. However, the A780 will be Motorola's first phone to support "Motosync." Motosync is a Bluetooth-based synchronization feature that works initially with Microsoft's Mobile Enterprise Exchange 2003 servers, with agreements in place to add support for other commercial email servers in the future. Nattrass describes Motosync as follows: "There's a very simple, one-time setup and registration on the network with your corporate email system. Then you've got three possibilities for synchronizing your email: either manually, or a timed event such as every 10 minutes, or at a 'push' notification from the server. You can synchronize your inbox, calendar, and contacts."
Like the A768, the A780 will also include Picsel Technology's ePage document browser, which translates Microsoft Office, Flash, PDF, and HTML files, as well as common graphics file formats, to an internal "eFIF" format, enabling a single display application to display and edit many kinds of files without requiring native application support for the original file format.
Unlike the A768, which uses Picsel as its Web browser, Motorola opted for Opera 7, a full HTML browser, for the A780. Opera 7 supports small and medium size screens, as well as xHTML, DHTML, WAP, and, in its newest version, IRC (Internet Relay Chat).
The phone is also supplied with a fullscreen viewfinder for the camera, hands-free speaker phone, speaker-independent voice dialing, mp3 player, video recorder/player, 3D games, PIM, and a message client supporting MMS, SMS, IM (WV), and SMTP, in addition to POP3 and IMAP4.
---

This article was originally published on LinuxDevices.com and has been donated to the open source community by QuinStreet Inc. Please visit LinuxToday.com for up-to-date news and articles about Linux and open source.