Jun 21, 2011 — by Eric Brown — from the LinuxDevices Archive — views
Nokia announced its long-awaited MeeGo Linux-based follow-up to the N900 phone — but when this ships later this year it may well be the company's first and last MeeGo device. The Nokia N9 features an OMAP3630 processor, up to 64GB storage, a 3.9-inch AMOLED display, an eight-megapixel Carl Zeiss camera, NFC, and a "Harmattan" UI with swipe-gesture support, says the company.

Remember the Nokia N900, the first of what was expected to be a new line of high-end Maemo Linux based smartphones that would lead Nokia out of the Symbian swamps? When it shipped in November 2009, the N900 (pictured) was almost as advanced as the groundbreaking Motorola Droid that appeared at the same time.
Although fairly well reviewed, the N900 never sold that well in the iPhone-enamored U.S., and no other Maemo-based Nokia devices followed it. Interest soon faded as Andriod phones kept coming out one after the over, each with something new and different.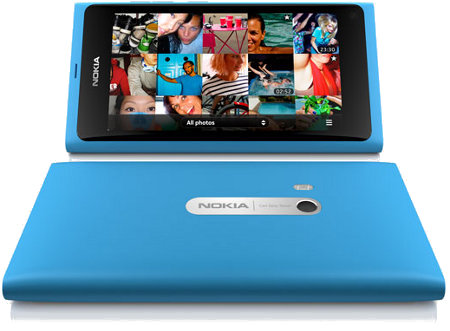 Nokia N9
The MeeGo phone dream died when Nokia, which had contributed Maemo Linux to be integrated with Intel's Moblin to
form MeeGo
in early 2010, announced in February of 2011 that it was
switching its smartphone strategy to Windows Phone
. One more MeeGo-based Nokia device was promised, and the N9 is it.
Although MeeGo may well survive and even thrive in other areas — ranging from tablets to in-vehicle infotainment devices to TVs — the MeeGo phone project has stalled, and Intel has apparently postponed MeeGo handset development until its more power-efficient Medfield Atom processor finally shows up next year. So the N9 will be a lonely ghost ship indeed.
Inside the N9
The Nokia N9 doesn't run on an Atom processor, but uses a Texas Instruments ARM Cortex-A8 OMAP3630, a slight upgrade to the N900's OMAP3430 that is also found on phones such as the 1GHz Motorola Droid X. The Nokia N9 is further equipped with 1GB RAM and either 16GB or 64GB of flash storage, says Nokia, which did not list the clock speed of the N9. There's no microSD port, however.
The phone runs the handset version of the new MeeGo 1.2 distribution, with a spruced-up version of Nokia's Harmattan UI skin layered on top. The cool new feature here is the ability to swipe one's finger in from the edge of the 3.9-inch AMOLED screen in order to bring up one's home screen.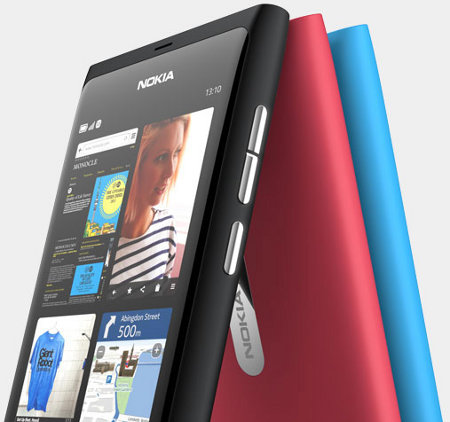 The N9's 3.9-inch AMOLED screen features curved Gorilla Glass in a unibody design
As Nicholas Kolakowski
explains
in our sister publication
eWEEK
, "This eliminates the need for a dedicated Home button, which in turn allows the N9 to preserve its sleek and streamlined look. Nokia has curved the scratch-resistant glass screen edges in order to facilitate this gesture control."
The home screen offers three different views. The events screen catalogs everything one's contacts are doing at that moment via a live feed composed of Tweets and notifications. There is also a view with a grid-like screen of apps, and a screen displaying open apps in miniature.
The streamlined look is reinforced by the fact that the N9 is engineered from a single piece of polycarbonate. According to Nokia, the tough plastic "enables superior antenna performance," resulting in better reception and voice quality, as well as fewer dropped calls. The 4.76-ounce (135-gram) phone is available in black, cyan, or magenta.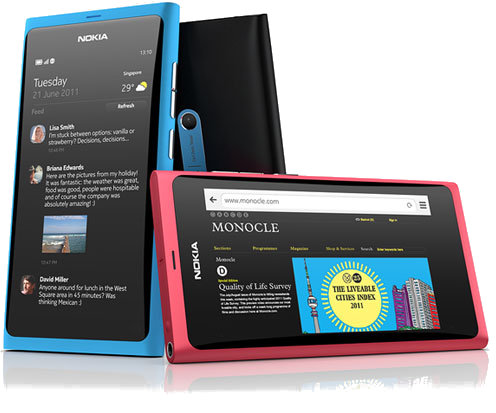 More views of the N9
Nokia appears to be using the N9 to try out design ideas for its future Windows Phone smartphones. Stated Marko Ahtisaari, Nokia's head of Design, "The details that make the Nokia N9 unique — the industrial design, the all-screen user experience, and the expressive Qt framework for developers — will evolve in future Nokia products."
According to several, mostly positive first-look reviewlets, including this one from Engadget, the 3.9-inch 854 x 480 screen (up from 3.5 inches on the N900) is a beaut. "The Clear Black AMOLED display is truly a sight to behold, with stunning viewing angles, a curved Gorilla Glass front, and some pretty excellent (for AMOLED) performance out in the sunlight," writes Vlad Savov in Engadget. "We compared it side by side with a Super LCD-equipped Incredible S and the N9 more than held its own."
The camera has been upgraded from the N900's five-megapixel model, and features an eight-megapixel Carl Zeiss autofocus sensor, wide-angle lens, and large lens aperture, according to Nokia. It's claimed to be the fastest camera phone on the market, from launch to capture.
There's no front-facing cam, but the eight-megapixel camera can record 720p video, says Nokia. The device can also play video in true 16:9 widescreen format, says Nokia. The company claims the N9 is the world's first smartphone to offer Dolby Digital Plus decoding and Dolby Headphone post-processing technology, for optimized surround sound using any set of headphones.
Dolby Digital Plus is cool, but the real gee-whiz feature here is the near field communication (NFC) radio, now found on a handful of Samsung Android phones, including the Samsung Nexus S 4G. No mobile payment service such as Google Wallet was announced to take advantage of the short-range wireless technology, but Nokia says users can share images and videos between devices by touching them together. NFC can also be used to easily pair the phone with Bluetooth accessories like the new NFC-enabled Nokia Play 360 wireless music speaker, says the company.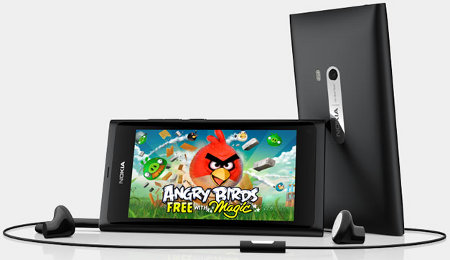 No one can escape from Angry Birds, not even MeeGo lovers
The Nokia N9 supports HSDPA (14.4Mbps) and HSUPA (5.7Mbps) 3G communications, and offers 802.11a/b/g/n, Bluetooth 2.1, and aGPS wireless communications, says Nokia. A Wi-Fi hotspot feature is also said to be available.
Other features are said to include an accelerometer, proximity sensor, 3.5mm headphone jack, and a microUSB 2.0 OTG port. The 1450mAh battery supports up to seven hours on 3G and 11 hours on 2G, says Nokia.
The Nokia N9 is said to feature free turn-by-turn drive and walk navigation with voice guidance in Maps. Other applications include Vimeo video, Twitter, Skype, Facebook, Angry Birds Magic, productivity and contacts apps, as further detailed in the link at the end of the story.
This being MeeGo, Nokia's Qt development environment is available for writing apps. The question is: who's going to write any? It's unclear how seamless it would be to port apps from the currently ARM-based MeeGo handset UX (user experience) to the other Atom-based MeeGo UXes.
Engadget's Savov raves about the phone, praising it for its "intuitive UI, responsiveness, and eye-catching industrial design." In fact, he wonders aloud why Nokia opted for Windows Phone over MeeGo.
"What we've seen today is a damn fine smartphone with some very neat ideas, one which certainly merits the title of being Nokia's flagship."
A similar sense of loss permeates Time's Jared Newman in his "The Tragedy of Nokia's N9 Smartphone". Writes Newman, "It's a slick-looking phone with slick-looking software, but the tragedy is that none of it really matters." Later he notes, "Because Nokia is more invested in Windows Phones, MeeGo will see limited support, and thus, limited interest from third-party developers."
True enough, so we'll just stop here before we get too intrigued with that cool UI layer.
Availability
The Nokia N9 is scheduled to be in stores later this year, with availability and local pricing to be announced closer to the sales start, says Nokia. More information can be found at the Nokia N9 page.
---
This article was originally published on LinuxDevices.com and has been donated to the open source community by QuinStreet Inc. Please visit LinuxToday.com for up-to-date news and articles about Linux and open source.