May 20, 2011 — by Eric Brown — from the LinuxDevices Archive — 11 views
The Linux Foundation's MeeGo project announced the final release of the open source Linux-based MeeGo 1.2, including the first finished version of its tablet UX (user experience), plus updated netbook and in-vehicle infotainment UXes. MeeGo 1.2 features new telephony and wireless communications features, as well as location and sensor/haptic capabilities, says the project.
As promised last October with the release of MeeGo 1.1, MeeGo 1.2 arrived in time for next week's MeeGo Conference. In October, it was expected that MeeGo 1.2 would primarily showcase a new and improved handset UX (user experience) ready for the commercial market, starting on several new Nokia smartphones.
Now, however, although one more Nokia MeeGo device may yet arrive, Nokia has turned its back on the project for phones, instead opting for a massive shift to Microsoft's Windows Phone platform.

That left the MeeGo project in a lurch, and pretty much postponed handset UX development until the Medfield Atom processor shows up in phones, something that won't occur until next year, Intel confirmed earlier this week at an investors conference. (At right, Intel's Dadi Perlmutter shows off a Medfield-based smartphone prototype at the conference.)
Since Nokia left it high and dry, however, MeeGo backer Intel now seems to be just as willing to wed Medfield with Android as it does to push MeeGo.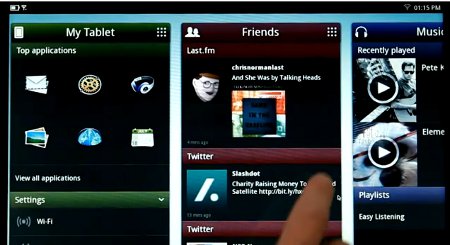 MeeGo Tablet UX prototype from April
(Click to enlarge)
Intel does
see a big future for MeeGo in tablets
, however, and a MeeGo 1.2 tablet UX is now available for manufacturers to dig into, along with updated 1.2 versions of the netbook and In-Vehicle Infotainment (IVI) UXes. The MeeGo project released a
pre-alpha version of the tablet UX
in early April. (See farther below for more on the new tablet UX.)
New connectivity features for MeeGo 1.2 Core and SDK
All three UXes are based on the MeeGo 1.2 Core OS, which is billed as offering a complete set of enabling technologies for mobile computing. MeeGo Reference Kernels are said to be available supporting a variety of Intel Atom and ARMv7 platforms. However, with the three updated UXes, all the reference platforms remain based on the Intel Atom processor.
MeeGo 1.2 offers a QML Application Framework and extended Qt-Mobility APIs, says the project. These are said to include additional location, system, connectivity, and sensor/haptic capabilities.
Although there is no UX update here for handsets, the enhanced telephony and connectivity capabilities that had been developed primarily for handsets are now being aimed at the tablet UX, with possible uses in netbook and IVI environments as well.
New telephony and communications features are said to include:
GSM, GPRS, and HSPA+ network support
SIM application toolkit
expanded Bluetooth profiles
expanded VPN and wireless authentication methods
USB, Wi-Fi, and BT-PAN data tethering capability
enhanced multimedia support, including RTSP streaming with progressive download
The MeeGo project also released a MeeGo 1.2 software development kit (SDK). Based on Nokia's Qt 4.7.2 and Qt Creator 2.1, the SDK offers integrated help, along with Qt Simulator 1,0 and a full virtual machine (QEMU), says the project. The SDK is said to enable developers "to create applications ready for submission to an app store, with or without target hardware."
Tablet UX 1.2
Most of the features listed for the new tablet user experience were also indicated in the pre-alpha version, but are no doubt considerably enhanced. The UX is now based on MeeGo 1.2 and the Linux 2.6.37 kernel. (See a pre-alpha tablet feature list in our previous coverage, here.)
Features include a web browser and email app, plus camera, photo viewer, video player, and music player apps. Other apps include calendar, contacts, clock, and notes, as well as a chat app supporting Jabber and Google Talk networks, says the project.
Meanwhile, MeeGo has supplied some new MeeGo UI Guidelines and a meego-ux-components component library for "rapid development of touch-optimized tablet apps," says the project.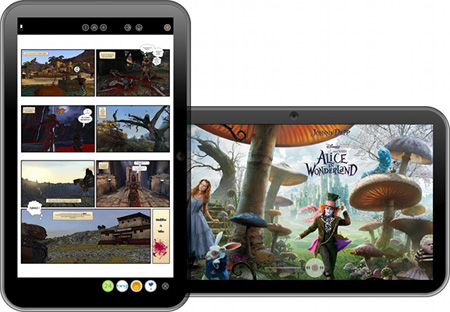 ExoPC Slate
Despite the MeeGo project's claims to support ARM, the only currently supported platform is an 8.9-inch, 1024 x 600 multitouch
ExoPC Slate
tablet from ExoPC. The tablet is currently available with Windows 7 and is based on a 1.66GHz Intel Atom N450 processor, backed up with a Broadcom BCM70015 video processor. The device was called "the best Windows 7 tablet to date" in a December
TechRadar.com
review, as
reported by our sister publication WindowsForDevices
.
The new Netbook UX 1.2 meanwhile appears to be more of an incremental upgrade. It's unclear what features are new here aside from the upgrade to the 1.2 MeeGo Core; however, the project makes note of features that provide aggregation of social networking content.
Once again, all the netbook reference platforms are Atom-based netbooks. Perhaps more will emerge — including, perhaps, even an actual MeeGo netbook — at next week's MeeGo Conference in San Francisco.
The newest 1.2 version of the automotive In-Vehicle Infotainment (IVI) UX includes a sample IVI homescreen, as well as new speech recognition capabilities enabled via an application launcher built with QML. The new release also features an expanded collection of commonly used applications, says the project. Yet again, the supported hardware list is limited to Intel Atom processors.
The development tree for MeeGo 1.3, due for release in October, is now open, says the project.
Availability
The MeeGo 1.2 Core and MeeGo 1.2 SDK are available now, along with 1.2-based versions of the tablet, netbook, and IVI UXes. Links to more details on all of these platforms are available from the MeeGo project's MeeGo 1.2 announcement page.
---
This article was originally published on LinuxDevices.com and has been donated to the open source community by QuinStreet Inc. Please visit LinuxToday.com for up-to-date news and articles about Linux and open source.