Jan 31, 2011 — by Eric Brown — from the LinuxDevices Archive — 3 views
At the Linux.conf.au conference, an Australian-based "Lunar Numbat" project presented its plan for a Linux-based flight control computer for a lunar spacecraft. The open source flight computer will be part of the "White Label Space" entry in Google's $20 million Lunar X-Prize, to be awarded to a team that can send a working rover to the Moon and transmit back images.
A group of Australian and New Zealander open source space enthusiasts collectively called Lunar Numbat is contributing Linux-based technology to the White Label Space team and its attempt to win Google's $20 million Lunar X-Prize.
Lunar Numbat, which was launched at the 2009 Linux.conf.au, gave a presentation at the 2011 event, offering new details on its open source space project, according to a Computerworld Australia report. One of the group's leaders, Melbourne-based physicist Luke Weston, showed off Lunar Numbat's rocket engine throttle controller, and also presented some plans for its upcoming Linux-based flight computer, says the story.
Linux.conf.au went off as planned after massive flooding in Brisbane forced a change of venue to higher ground in the Queensland, Australia city. The show featured a keynote from Internet pioneer and Google Chief Evangelist Vint Cerf, who was invited by the Lunar Numbat project, according to a blog on the White Label Space site.
Weston said Lunar Numbat is working with the Australian Space Research Institute (ASRI) to provide low cost open source technologies for local space projects, according to Computerworld Australia. Meanwhile, the Australia Defence Force is said to have donated a stockpile of rockets like the Zuni missile to ASRI for experiments. Some of the technology developed in collaboration with ASRI will be featured in the Lunar X-Prize entry.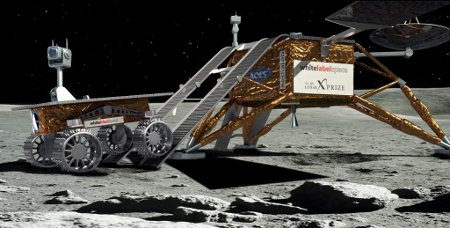 Artist rendering of White Space Label spacecraft and rover


(Click to enlarge)
For the White Label Space project (pictured above), Lunar Numbat is contributing a throttle controller designed to work with ASRI's AUSROC 2.5 rocket. According to specs listed on the
Lunar Numbat site
, the controller uses the Atmel ATmega328 processor, familiar to
Arduino
developers. (Lunar Numbat also ran the Arduino miniconf at Linux.conf.au.)
The throttle controller also incorporates a Microchip MCP2515 CAN transceiver. The controller is said to use software licensed under GPL and hardware licensed under the TAPR Open Hardware license.
Less well developed is the Linux-based flight computer. The White Label Space spacecraft will "require a fairly powerful Linux computer," Weston told Computerworld Australia. The group is said to be considering an Analog Devices Blackfin processor, and will need to be "thermally and radiation qualified."
Weston was said to have added, "The more powerful your hardware is, the more vulnerable it is to radiation." Apparently, the low power Blackfin presents a judicious compromise.
The team is also said to be working on video compression and MJPEG2000 technology to will be used to transmit HD video over the bandwidth limited space link. In addition, Lunar Numbat is in the early stages of developing a radar altimeter for White Label Space, which may incorporate software-defined radio technology, says Computerworld Australia.
Other White Label Space partners will handle additional components in the project, including a lunar rover. The rover is charged with traveling 500 meters and then sending HD pictures and video back to Earth, according to the Lunar X-Prize requirements.
The prize requires that teams must be at least 90 percent privately funded. The first X-Prize team to achieve this goal will receive a $20 million prize. An additional $10 million will be split between the second team to achieve the goal, and the winners of other special accomplishment awards.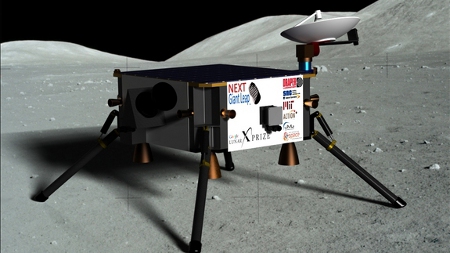 Artist rendering of Next Giant Leap's hopping rover
Lunar Numbat refers to its project as a "Linux-powered robotic Australian marsupial," but the rover part of the White Label Space team will be a fairly traditional four-wheeled device. A separate entry called
Next Giant Leap
, however, just received a $1 million grant from Charles Stark Draper Laboratory to help it build a lunar rover (pictured above) that hops, somewhat like a four-legged kangaroo. Neither the hopping rover nor the spacecraft it came on runs on Linux, as far as we know.
In addition to Lunar Numbat, the White Label Space partners include the Swiss Propulsion Laboratory, Tohoku University Space Robotics Lab, Airborne Composites BV, Emxys, Wroclaw University of Technology, TU Munich Satellite Technologies Group, and JAQAR.
---
This article was originally published on LinuxDevices.com and has been donated to the open source community by QuinStreet Inc. Please visit LinuxToday.com for up-to-date news and articles about Linux and open source.