May 21, 2010 — by Eric Brown — from the LinuxDevices Archive — 38 views
A startup called TheCorpora is readying an open source Linux robot based on a Mini-ITX board with an Intel Atom and an Nvidia Ion GPU. The foot-and-a-half tall Qbo lacks arms or legs, but is mobile, can be controlled via WiFi, and offers stereoscopic face, object, and gesture recognition, plus speech synthesis and voice recognition.
The Qbo project was first brought to light by Japanese robot site, GetRobo, and was then picked up by PlasticPals, finally breaking through to the general technosphere in SlashGear. Yesterday, TheCorpora itself released specs on the robot, and said the robot is "coming soon."
Primary developer Francisco Paz writes in his blog that the goals for the Qbo project were to develop a low-cost, hackable robot that could act as a platform for testing out the latest artificial vision, speech recognition, and speech synthesis research. It was also important that Qbo be attractive, fast-moving, and small, or as Paz puts it in his blog, "something similar to a cat or a dog."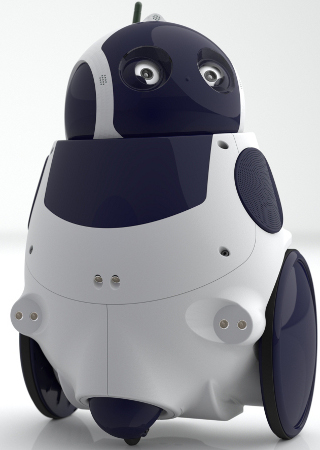 TheCorpora's Qbo
(Click to enlarge)
Although initially inspired by the design of a vacuum cleaner, the Qbo, unlike the Roomba, will not clean up after you. However, aside from its research potential, the undeniably cute (and let's face it, somewhat penguin-like) Linux robot can be programmed to act as a pet-like home companion. The device can recognize and react to events and capable of speech synthesis. Conceivably, home security could be programmed into the vigilant little bugger.
To reduce costs, Paz decided to forego arms or even more costly and problematic legs. Instead, as with most low-cost hobbyist robots, the Qbo putters around on wheels. Measuring 17.95 x 12.36 x 11.52 inches, the Qbo incorporates more than 30 plastic parts, says TheCorpora.
A Mini-ITX mainboard is equipped with an Intel Atom CPU (type undefined) and Nvidia Ion graphics processing unit (GPU), says TheCorpora. The user controls the device via WiFi using a handheld controller, and Bluetooth is also incorporated, presumably as an alternative or backup. The device can also be controlled via the web via web-panel software.
The Qbo offers stereoscopic vision via dual webcams, and includes three microphones and speakers, says TheCorpora. The robot is further equipped with four ultrasonic sensors "to avoid crashing and falling," as well as three infrared sensors, and a "sharp" sensor, says the company.
The robot rolls around on its three wheels at 170 rpm using two DC motors run by a rechargeable battery. A charging docking station is also said to be supplied. Other mechanical features include four servos, as well as two controllers (head and body), says TheCorpora.


Qbo design
(Click to enlarge)
Paz writes that one goal was to provide "some elements which could show some kind of emotion (the most difficult part)." The initial version sports LEDs around the mouth, as well as one on the nose, and "eyelids" over the webcam, which appear to be capable of movement along with the head itself.
So far, so simple, but with an Atom processor backed up by the Ion GPU, the robot should be capable of some fairly advanced visual processing. In this case, the Ion appears to be added not for its display capabilities, but rather for its ability to help the Atom process visual data.
Stereoscopic vision capabilities are said to include depth, face, object, gesture, and color recognition, as well as face and object tracking. The robot can identify people via proximity and "weight" (Paz's quotation marks).
The robot can be programmed to recognize speech as well as synthesize it via its speakers (English only at this point), says TheCorpora. As a backup to speech, there's always a small LCD display to fall back on.
Specifications listed for the Qbo include:
Processor — Intel Atom CPU with Nvdia Ion GPU on Mini-ITX mainboard
Wireless communications — 802.11g/n with antenna; Bluetooth
Display/LEDs — 20 × 4 LCD display; 20 x mouth LEDs; 1 x nose LED
Webcams — 2 x "HiDef" webcams with 2 x "eyelids"
Microphones — 2 x omnidirectional; 1 x unidirectional
Speakers — 2 x speakers
Sensors — 4 x ultrasonic, 1 x sharp; 3 x infrared
Hardware controller — QPR1 (body) and QPR2 (head) PCB controllers
Servos — 4 x servos (up-down, left-right)
Motors — 2 x DC motors with magnetic encoder (170 RPM)
Wheels — 2 x rear wheels; 1 x front "Free" wheel
Power — 7.5Ah battery; autocharging dock station
Dimensions — 17.95 x 12.36 x 11.52 inches (456 x 314 x 292.5mm)
Weight — Approx. 19.8 to 24.3 lbs (9 to 11 k)
Operating system — Linux
Paz did not say when a version of the Qbo might be available for sale, or whether some of the various enhancements he's planning will be ready in the initial, publicly available product. These are said to include a map generating function, as well as pattern recognition that will be based on a alphabet detection program designed for the dear.
In addition, writes Paz, "We will also show how to create grammars with the robot, how to change its voice and add new sentences as well as how the chatterbot works according to Markov's fourth law (still under development but very advanced)."
Other recent Linux-ready robots include Vstone's Intel Atom-based Robovie-PC, and Antti Seppanen's BeagleBot, a partially autonomous, WiFi-enabled robot running on a Texas Instruments BeagleBoard. On the high-end, meanwhile, Japan's National Institute of Advanced Industrial Science and Technology (AIST) has shown off a humanoid HRP-4C robot with female features that has been programmed to walk the runway like a fashion model.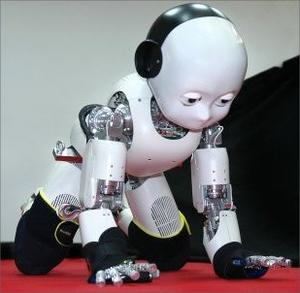 RobotCub's iCub
One model that had escaped our attention until we saw this
Ocstatic story
yesterday, is RobotCub.org's open source
iCub
(pictured above). The crawling iCub is intended to study cognition through the implementation of a humanoid robot the size of a 3.5 year old child.
Availability
TheCorpora says that the Qbo will be "coming soon," but did list pricing. The company has not yet determined which open source license will be used. More information may be found at TheCorpora, here, and the original GetRobo story on the robot may be found here.
---
This article was originally published on LinuxDevices.com and has been donated to the open source community by QuinStreet Inc. Please visit LinuxToday.com for up-to-date news and articles about Linux and open source.