Aug 4, 2011 — by Eric Brown — from the LinuxDevices Archive — 1 views
Just a few days after Pandigital began selling a $170 Nova and $180 Planet tablet at BestBuy and Amazon, respectively, it introduced a third seven-inch Android tablet called the Star, for $160. What's more, the company disclosed that all three tablets include ARM Cortex-A9 processors, representing a price breakthrough for products based on the technology.
The newly announced Star will sell for $159 when it goes on sale in mid-August, says Pandigital. The Star is essentially identical to the Planet except that its screen is vertically shorter, despite being a seven-inch display on the diagonal, and therefore offers a lower 800 x 480 resolution. It also lacks a rear-facing camera, although it sports the front-facing webcam of its siblings.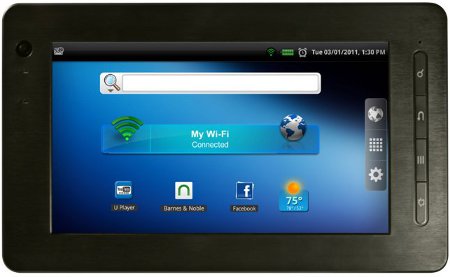 Pandigital Star
When you read statements like "We have included many of the features and functionality that consumers have come to expect from much higher priced devices," it's usually worth a yawn and the click of the mouse. Yet this quote from Pandigital founder and CEO Dean Finnegan may even be an understatement.
We thought the $170 Nova and $180 Planet looked like pretty good deals when we covered the tablets Aug. 2, after making unannounced appearances on BestBuy.com and Amazon.com respectively. Yet, now that Pandigital has formally announced both tablets, along with the slightly de-featured Star model, and revealed they are equipped with Cortex-A9 processors "with embedded hardware 3D graphics engines," we are even more impressed.
Previously, we speculated that at those prices, the tablets might have Cortex-A8 processors at best, or even an ARM11 chip. The most affordable Cortex-A9 Android tablet we've seen was the new Archos 80 G9 which has an eight-inch screen, Android 3.1, and runs on a faster dual-core, 1.5GHz Texas Instruments OMAP4 processor.
Pandigital does not list the Cortex-A9 processor in question, which makes us a little nervous. It's presumably one of the rare single-core models. Meanwhile, the Nova is still listed as having an 800MHz processor, which would put it on the low range of the Cortex-A9 core's clock speed.
We're also concerned that the spec sheets have changed slightly since earlier this week, with for example, the Planet now said to have an ActiveTouch display when before it was called resistive. This, along with other clues below, suggests that the Amazon model may be slightly different.
In addition, it should be noted that Pandigital had some firmware problems with is earlier Android-based Novel color e-reader.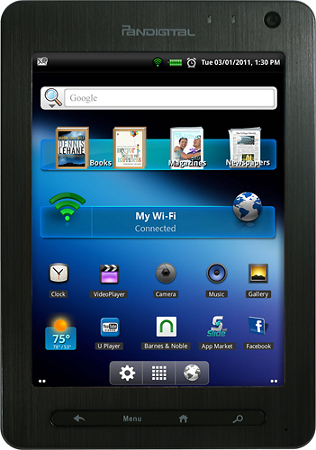 Pandigital Nova

The prices we listed for the Novel and Planet earlier this week were sale prices, it seems. According to Pandigital, the Nova has jumped from $170 to $189 and the $180 Planet is bumping up to $189, says the company. While the Nova and Planet are said to be available now at those prices, the BestBuy and Amazon prices remain the same.
As we reported earlier, the Nova and Planet offer seven-inch, 800 x 600-pixel touchscreens. These are now both listed, as is the Star, as having a multitouch-ready "ActiveTouch" display, which appears to refer to capacitive technology. The tablets are said to offer virtual keyboards and accelerometers.
The Android 2.3-based Nova weighs in at 13.8 ounces and the Planet at 12 ounces, perhaps explaining why the tablets will be priced the same despite the Planet's older Android 2.2 ("Froyo") firmware. All three tablets are said to measure 0.5 inches thick and offer about six hours of battery life under typical use. The Froyo-based Planet and Star will receive Android updates in the future, says the company.
While the Nova ships with 4GB flash memory, the Planet and Star each have 2GB. All three tablets have microSD slots, 802.11n Wi-Fi, and mini-USB 2.0 ports, says Pandigital. The latter is now said to be an On The Go (OTG) port for better peripheral support.
A micro-HDMI port is said to be available with an optional HDMI cable accessory for pushing video to an HDTV. Front- and rear-facing cameras are available on the Nova and Planet, although megapixels aren't listed, while the Star is limited to a front webcam. Microphones, speakers, and headphone jacks are also available, says the company.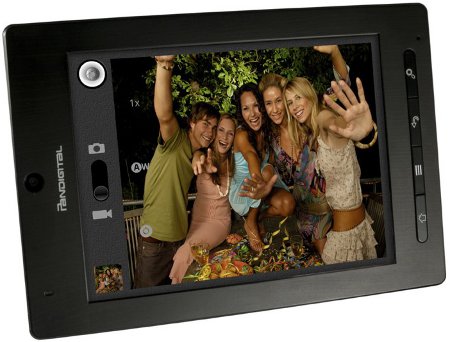 Pandigital Planet in landscape mode
(Click to enlarge)
Pandigital has now tipped more software details about the tablets. too. The version of the Planet still posted on Amazon is listed as having SlideMe access as a third-party alternative to Android Market. Yet now Pandigital says that all three models offer the GetJar app store instead.
Whereas' Amazon's Planet model is listed with Kindle for Android as an e-reader app, Pandigital now says that all three tablets offer Barnes & Noble eStore access to more than two million ebooks, newspapers, and magazines. As with the earlier Novel, this is said to include the 14-day lending feature.
The tablet trio also supplies pre-installed Pandigital apps like its Wi-Fi Connection Wizard and InTouch social networking aggregator. Widgets for Facebook Twitter, and RSS are also available.
Pandigital is clearly cutting costs by not offering Google apps here. For example, the U-Player is available for YouTube playback. Also, there's no word about GPS or navigation software — another apparent cost savings. Other apps are said to include a gallery, audio and video players, ES File Explorer, and OfficeSuite Viewer.
Finally, an update to the earlier Novel color e-reader will become available in September, says the company. This would appear to be the eight-inch SuperNova tablet that was recently blessed by the FCC.
Availability
The three Pandigital tablets will be available at leading retailers across the U.S., says the company. The Pandigital Planet (R70A200) is currently available for $189 MSRP, the Pandigital Nova (R70F400/ R70F452) will be available this week for $189 MSRP, and the Pandigital Star (R70B200) will be available mid-August for $159 MSRP.
More information, including links to each of the three tablets — under "Products" — may be found at the Pandigital website.
---
This article was originally published on LinuxDevices.com and has been donated to the open source community by QuinStreet Inc. Please visit LinuxToday.com for up-to-date news and articles about Linux and open source.