Jan 13, 2011 — by LinuxDevices Staff — from the LinuxDevices Archive — 3 views
Adlink announced a bevy of devices using Intel's embedded-specific "Sandy Bridge" processors — including two previously unknown low-voltage models. The Express-HR is a Type 6 COM Express module; the cPCI-3970 is a 3U CompactPCI board that comes in nine different versions; and the NuPro-E340 is a full-size PICMG 1.3 SHB (system host board), according to the company.
Adlink's new "Sandy Bridge" devices were announced without data sheets, so we won't be able to list many of their specs. But before we get into the product information the company did provide, let's review the key thing that came to light — two new embedded-specific, low-voltage Core processors that Intel hasn't yet announced.
Intel refers to its overall Sandy Bridge range as "second-generation Cores," citing a new microarchitecture, a 256-bit instruction set known as AVX (advanced vector extensions), enhanced GPUs (graphics processing units), and dedicated silicon for tasks such as transcoding video from one format to another. Our Jan. 3 coverage (and Intel's two-days-later press release) listed 15 new mobile offerings and 14 new desktop CPUs in the Sandy Bridge range, but nothing was initially said about embedded devices.
Subsequently, two Core i7-27xxQE devices and two i5-2715QE devices came to light thanks to vendor announcements. (Intel belatedly listed them on its website in this PDF document.) As we've previously noted, the "E" suffix stands for "embedded" and the "QE" suffix stands for "quad-core embedded."
Now, thanks to Adlink's announcement, we're learning of two more embedded-specific CPUs — the 2.2GHz i7-2655LE and the 1.5GHz i7-2610UE. The manufacturer doesn't cite TDPs, and neither of these processors is yet listed on Intel's website, but it's obvious that the "LE" and "UE" stand for "low voltage embedded" and "ultra low voltage embedded."
Last October, the SemiAccurate website claimed the Core i7-2655LE would have a 25-Watt TDP, while the Core i7-2610UE would have a TDP of just 17 Watts. Until we hear differently from Intel, we're assuming that this information is, in fact, fully accurate, and have used it to flesh out the chart below.
Processor
Cores
/threads
Base
frequency (Ghz)
1 core turbo (Ghz)
2 core turbo (Ghz)
Last-level
cache (MB)
TDP (W)
ECC
Core i7-2710QE
4/8
2.1
3.0
2.9
6
45
no
Core i7-2715QE
4/8
2.1
3.0
2.9
6
45
yes
Core i7-2655LE
n/s
2.2
n/s
n/s
4
25
n/s
Core i7-2610UE
n/s
1.5
n/s
n/s
4
17
n/s
Core i5-2510E
2/4
2.5
3.1
3.0
3
35
no
Core i5-2515E
2/4
2.5
3.1
3.0
3
35
yes
What we know about Intel's embedded-specific Sandy Bridge devices so far
According to Adlink, the i7-2655LE and i7-2610UE employ the same QM67 Express chipset as the other embedded-specific Sandy Bridge devices. The QM67 permits devices to offer up to fourteen USB 2.0 ports, two 6Gbps SATA ports, and four 3Gbps SATA ports, Intel says.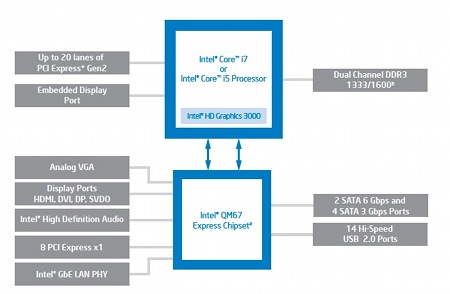 Intel's QM67 Express chipset
(Click to enlarge)
Adlink's Express-HR
Adlink's Express-HR becomes the fifth Sandy Bridge COM Express module we've covered, following Congatec's Conga-BM67, Eurotech's Adbc8034, Kontron's ETXexpress-SC, RadiSys' Procelerant-CEQM67. Like the RadiSys product and one version of the Kontron device, it features a Type 6 pinout, which means that PCI expansion is sacrificed but there's the potential for up to three DDIs (digital display interfaces).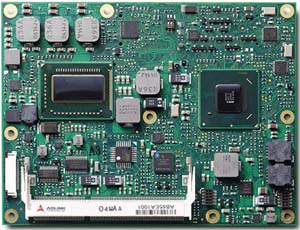 Adlink's Express-HR
According to Adlink, the Express-HR (above) provides all three DDIs, supporting DisplayPort, HDMI, or SDVO devices. Expansion takes the form of seven PCI Express x1 lanes and one PCI Express x16 Gen2 lane, while there are two 6Gb/sec. SATA ports and two 3Gb/sec. ones, the company adds.
Adlink says the Express-HR uses the QM67 Express chipset, accepts up to 8GB of DDR3 memory, and further includes a gigabit Ethernet port and eight USB 2.0 ports. Processor choices are said to include the Core i7-2715QE, the i7-2655LE, the i7-2610UE, and the i5-2515E.
Further product information should eventually appear at the Express-HR product page
Adlink cPCI-3970
Adlink's cPCI-3970 is a 3U CompactPCI board that's offered with the QM67 Express chipset and the Core i7-2655LE, i7-2610UE, or i5-2515E processors. In fact, there are nine different configurations of this device, according to the company: two-slot (8HP) versions are offered with 2GB or 4GB of RAM and all three CPU choices; one-slot versions include 1GB or 4GB of RAM and respectively include the i5-2515E and the i7-2655LE; and a three-slot version has the i7-2655LE along with 2GB of RAM.

Adlink cPCI-3970
Common features listed for all versions are dual gigabit Ethernet ports, a VGA port, four USB ports (except on the one-slot version, which only has two), audio, a serial port, and PS/2 ports for a keyboard and mouse. All cPCI-3970 configurations also include CompactFlash slots, according to Adlink.
Three of the two-slot configurations (the cPCI-3970G/655L/M4G, cPCI-3970G/610U/M2G, and cPCI-3971G/655L/M4G) add DisplayPort video outputs, which may be used with a bundled DisplayPort-to-DVI adapter cable, says Adlink. As for the three-slot version, known as the cPCI-3970P/655L/M2G, it provides PMC/XMC expansion, the company says.
Further product information should eventually appear at the cPCI-3970 product page.
Adlink NuPRO-E340
Adlink says its NuPRO-E340 is a full-size PICMG 1.3 SHB that supports an (unspecified) variety of i7, i5, and i3 Sandy Bridge CPUs though its LGA1155 socket. Employing the QM67 Express chipset, the device has six serial ports (including one RS232/422/485), USB 3.0 support, and 6.0Gb/sec. SATA, the company adds.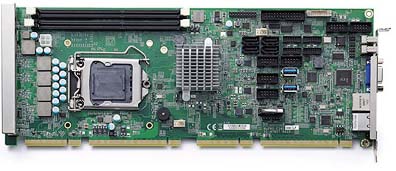 Adlink's NuPRO-E340
Other than to cite Intel Active Management Technology 7.0 support, Adlink did not provide further details. From the above image, however, the board would appear to have not only a variety of pin headers and dual DIMM slots, but also real-world ports including dual gigabit Ethernet, a VGA output, and audio I/O.
Further product information should eventually appear on the NuPro-E340 product page.
---
This article was originally published on LinuxDevices.com and has been donated to the open source community by QuinStreet Inc. Please visit LinuxToday.com for up-to-date news and articles about Linux and open source.