Sep 30, 2010 — by Eric Brown — from the LinuxDevices Archive — 1 views
MP4nation has opened preorders for a seven-inch, Android 1.5 "Rocktab" tablet from Nationite that costs approximately $130, featuring a 600MHz Rockchip RK2808 and GB of memory. Meanwhile, the retailer is also preparing to ship another batch of the 800MHz "Nationite MIDnite" seven-inch tablet, selling for $209 with Android 2.2 and an ARM Cortex-A8 CPU.
Despite the similarity in names, there does not appear to be a direct relationship between China-based Nationite and Hong Kong based MP4nation. The latter sells and distributes consumer devices from a variety of manufacturers, including Ainol, Bmom, Onda, Ramos, and SmartQ.
MP4nation announced Nationite's Rocktab, however, and also said the same manufacturer's MIDnite — an 800MHz Android 2.2 tablet — was close to availability again after being sold out last month (see farther below).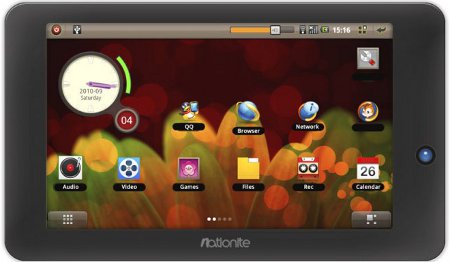 Nationite Rocktab


(Click to enlarge)
The MP4nation announcement of the lower-cost Rocktab, which was first published by
AndroidGuys
on Tuesday, is refreshingly modest, or at least seems that way. "The Rocktab is not probably going to blow you away, far from it," begins the press release.
Yet, the retailer appears to favor the tablet over other low-cost tablets it has carried, such as the aPad, a theme that is reinforced in the video demo farther below.
"The device uses the economical but efficient Rockchip RK2808 processor," according to the company. "This is a low end, but decent tablet, much better than the other generic iPad knock off tablets coming out of China."
Manufactured by China-based Rockchip, the ARM926-based 600MHz RK2808 started shipping late last year. It includes a CMOS sensor with both still-image and digital video functions, as well as support for touch input and GPS. Mobile-TV formats including CMMB and DVB-T are also said to be supported.
The Rockchip RK2808 was originally targeted at Android and Windows CE smartphones, but has already spilled over into larger formats. The processor popped up in an Acorp five-inch Android tablet in June. Priced at $88 in volume, the tablet was expected to be followed by a seven-inch model. The RK2808 also appeared in an under-$100, Android-ready HiVision PWS700CA netbook earlier this year.
Rocktab tech details
On the Rocktab, the 600MHz RK2808 is backed up by 128MB of RAM, and a choice of 2GB, 8GB, or internal 16GB flash allotments, with the latter bringing the presale price up to approximately $170. With the microSDHC slot, users can boost that by up to an additional 16GB, says MP4nation.
The seven-inch resistive touchscreen offers 800 × 480 resolution, and unlike many cut-rate tablets, accelerometers are said to be included. The tablet is further equipped with 802.11b/g, and a USB host port, which is said to support 3G dongles.
A 3.5mm audio jack, speakers, and a trackball are also available, says MP4nation. No camera is offered, however, let alone GPS, Bluetooth, or mobile TV receivers.
Measuring a slim 0.43 inches (11mm) thick, the Rocktab weighs 2.8 ounces (80 grams), says the company. Battery life is claimed to be six hours for audio (screen off), five hours for ebook reading (Wi-Fi off), or four hours with Wi-Fi on.
The Rocktab runs an "optimized" version of ye old Android 1.5 ("Cupcake"), which, according to the MP4nation video, results in performance as good as other Chinese tablets the company has tested running Android 2.1. Unlike many other cut-rate tablets, the Rocktab also offers full Android Marketplace access, says the company.
The Rocktab supports Chinese and English, says MP4nation. The software can be further modified by loading a custom ROM, says the company, which states, "We strongly encourage developers to play and modify the Android OS."
MP4nation's Rocktab demo on YouTube
Source: MP4nation
(Click to play)
Nationite MIDnite

Nationite's MIDnite is said to be a version of the Wits A81E, which appears to be one and the same as the Witstech A81E we covered in July. This 600MHz Cortex-A8-based device was offered for $200 by Merimobiles in a version that dual-boots Android 2.1 and Windows CE. It has been said to be essentially the same as the W1060 tablet, announced by Wirelession Electronics last December with only Windows CE support.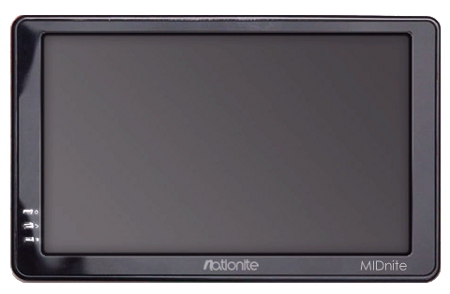 Nationite MIDnite
The Nationite version moves up to Android 2.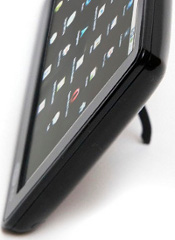 2 on the faster 720MHz version of the Cortex-A8-based Texas Instruments OMAP3530, said here to be overclocked to 800MHz . The MIDnite (pictured at right and above) is equipped with 256MB of DDR RAM and 2GB of internal flash, with a microSDHC slot that expands that up to an additional 16GB, says the company.
Like the Rocktab, the MIDnite offers a seven-inch resistive touchscreen, with 800 × 480 resolution, and does not offer multitouch support. The tablet moves up to 802.11b/g/n Wi-Fi, and offers a USB Host/On-the-Go port.
Unlike the Rocktab, the device offers built-in Bluetooth and GPS, with the latter optional. Apparently the initial batch of devices lacked working versions of these features, as the MP4nation page says "GPS and Bluetooth now work."
Accelerometers are not mentioned, nor is there any camera. The device does, however, provide a 3.5mm audio jack, speakers, a 3000mAh battery, a stand, and an optional case.
Multiple language support is available, as is the Android Marketplace, although the company notes that "users will manually have to install this on their own." This same caveat was not offered for the Rocktab.
Availability
Nationite's Rocktab tablet is now available on MP4 Nation, here. The Rocktab is priced at a pre-order sale price of $129.50 (2GB memory), $149.50 (8GB) or $169.50 (16GB). Pricing will bump up a bit when the device ships, which is expected to be at the end of October.
The MP4 Nation blog announcement on the Rocktab may be found here, and the more modest announcement quoted above may be found in the AndroidGuys report on the device, here.
The Nationite MIDnite was said to once again be available on MP4nation yesterday, although it appears that this may have slipped a bit. The device is still available at the preorder price of $209, but could soon bump up to the regular $219.50 price.
More information, including a video demo of the MIDnite, may be found at MP4nation, here. Nationite itself offers a page for the MIDnite, here, although it appears to have no information on the Rocktab.
---
This article was originally published on LinuxDevices.com and has been donated to the open source community by QuinStreet Inc. Please visit LinuxToday.com for up-to-date news and articles about Linux and open source.