Jan 31, 2012 — by Eric Brown — from the LinuxDevices Archive — 85 views
Tilera announced the general availability of its RISC-based 36-core Tile-Gx36 and 16-core Tile-Gx16 system on chips (SoCs), clocked up to 1.5GHz. The Tile-Gx36 delivers more than 40Gbps of L2/L3 packet forwarding performance while using 25 Watts, and both it and the Tile-Gx16 are supported with Linux-ready PCI Express evaluation systems, the company says.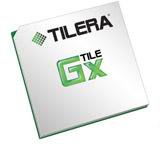 Tilera has been selling its Linux-ready Tile64 processors since 2007, following up with its 36- and 64-core TilePro processors. The company introduced its TileGx family in October 2009, and last May announced that the Tile-Gx 8000 series would be the first series in the Tile-Gx product family, available with 16, 36, 64 and 100 cores.
The first two models - the 36-core Tile-Gx8036 (Tile-Gx36) and 16-core Tile-Gx8036 (Tile-Gx16) were both sampling by September, but are only now in full production and generally available, according to Tilera.
The company also announced that Tilera's former CEO and Tilera co-founder Devesh Garg has returned as CEO.
Last year, Tilera announced the Tile-Gx 5000 series for multimedia applications and the Tile-Gx 3000 series or cloud server applications. All told, it now boasts more than 80 customer engagements with Tile-Gx processors, including 20 design wins, notably Harmonic and Mercury Computer Systems.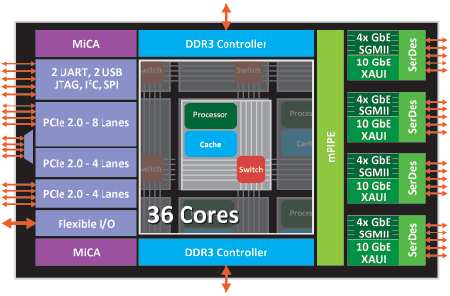 Tile-Gx 8036 block diagram
Like earlier Tilera processors, the Tile-Gx architecture is similar to MIPS64, but is a proprietary 64-bit RISC design developed at MIT in the 1990s. Like most MIPS64 SoCs, it is aimed primarily at high-end networking and telecom applications, as well as demanding industrial applications.
The Tile-GX 8000 processors feature cores with a virtual memory system and up to four integrated 72-bit DDR3 memory controllers that support up to 1TB total capacity, says Tilera. Moving to TSMC's 40-nanometer (nm) process, the Tile-Gx processors can be clocked from 1GHz to 1.5GHz. The SoCs offer power consumption ranging from 10 to 55 Watts, claims the company.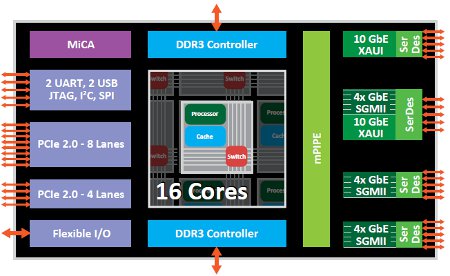 Tile-Gx16 block diagram
The Tile-Gx cores, which Tilera calls "tiles," are interconnected with Tilera's iMesh on-chip network. Each tile can act as a standalone processor, with its own L1 and L2 cache and a non-blocking switch that connects to the mesh. Multiple tiles can also be combined to run a multiprocessing OS like SMP Linux, says the company.
The Tile-Gx SoCs also offer "TileDirect" technology, said to provide coherent I/O directly into the tile caches to deliver low-latency packet processing. Tilera's DDC (Dynamic Distributed Cache) system offers fully coherent cache across the tile array, enabling scalable performance for threaded and shared memory applications, says Tilera.
Interfaces are said to include up to eight 10GbE (gigabit Ethernet) XAUI, two Interlaken, and 32 gigabit Ethernet interfaces. Three PCI Express interfaces are provided, as well as three StreamIO ports, each of which offer 20Gbps throughput for inter-tile or FPGA interconnects, says the company.
According to new Tilera benchmarks, the Tile-Gx36 can deliver more than 40Gbps of L2/L3 packet forwarding performance across small and large packet sizes using less than 25 watts of power. In cloud applications, meanwhile, a server based on the SoC can provide better performance than an Intel Xeon-based system at one-fifth the power and one-eighth the space, claims the company.
The Tile-Gx36 has also demonstrated "an industry leading" CoreMark score of over 165,000, while consuming a fraction of the power of the nearest competitor, claims Tilera.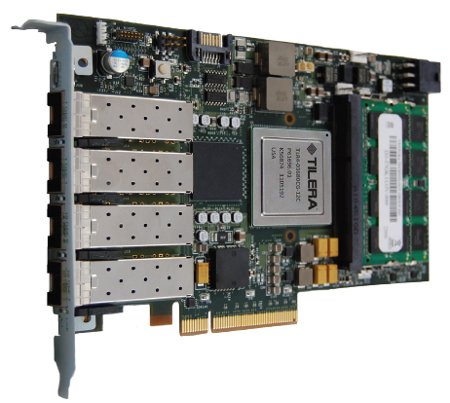 Tilencore-Gx36
Tile-Gx evaluation systems
Tilera evaluation systems are now available in multiple form-factors, says the company. These are said to include compact PCI Express ( PCIe) cards — including the industry's first 36-core PCIe half-size card — all the way up to a four-SoC, 1U "performance appliance" that includes a total of 144 cores.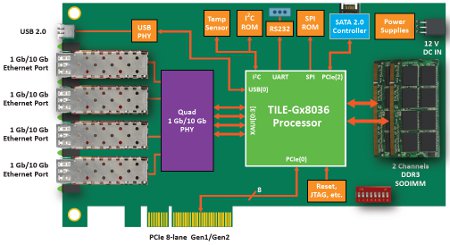 Tilencore-Gx36 block diagram
(Click to enlarge)
Tilera appears to be referring to the two development platforms listed on the Tile-Gx page: a Tilencore-Gx36 half-length PCIe development card and a Tilempower-Gx 1U rackmount evaluation system (see data sheet links at end). The Tilencore-Gx36 offers features including support for up to 8GB oif DDR3 RAM, an eight-lane PCIe interface, and a SATA 2 port. It also offers four SFP/SFP+ ports, each of which can be configured as gigabit Ethernet or 10-gigabit Ethernet (10GbE) ports, says Tilera.

Tilempower-Gx
(Click to enlarge)
The rackmount Tilempower-Gx is listed as a single-SoC system, but is apparently also available in a multi-processor version. This 1U system supports up to 64GB of DDR3 memory via four DIMM sockets and offers more USB, serial, and storage options, among other additional features.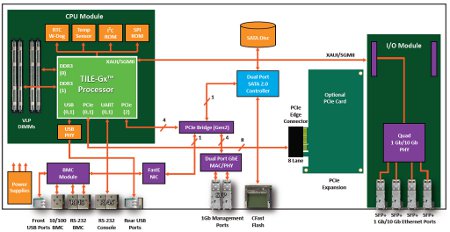 Tilempower-Gx block diagram
(Click to enlarge)
Both evaluation systems and the Tile-Gx SoC in general are supported with Wind River Linux development platforms, says Tilera.
Stated Steve Patterson, vice president of Product Management, Mercury Computer Systems, "In addition to the TILE-Gx's high speed I/O and built-in security features, the TILE development platform is based on Linux and uses the C/C++ development environment, combining the performance advantages of multicore processing with a familiar platform based on open standards."
Tilera's multicore competitors
The Tile-Gx SoCs compete with high-end x86 processors such as Intel's Xeon 7500 "Nehalem EX" processors and AMD's eight- to 12-core Opteron 6000 "Magny-Cours" chips, and also head to head in the networking/telecom arena against MIPS64-based contenders such as Netlogic's XLP processors. (The latter are heading for 20 quad-threaded cores in an XLP II design expected to begin sampling this year.) Another competitor is Cavium's currently shipping, 32-core Octeon II SoC.
Pushing up from the low end, meanwhile, is Freescale's PowerPC-based QorIQ line of SoCs, especially with the 28nm-fabbed, newly 64-bit Advanced Multiprocessing (AMP) QorIQ series. The SoCs will debut in early 2012 with the T4240, offering 12 cores dual-threaded to 24 virtual cores.
Meanwhile, ARM will begin to push beyond dual cores with its Cortex-A15 design, which can scale to four cores. Early models, however, like the Samsung Exynos 5250, due to sample this year, will be limited to two cores. ARM won't be taken seriously in the high-end multicore market until it goes 64-bit, which is not expected until 2014 with designs based on its new ARMv8 architecture.
A Jan. 30 story in our sister publication eWEEK quotes Bob Doud, Tilera's director of marketing as suggesting that cloud computing is a major new arena for the Tile-Gx chips. "For some people, like cloud providers, compute-per-watt is their biggest concern," Doud is quoted as saying. He also said that for some companies, the costs of porting their applications to a new architecture are far outweighed by the savings in power costs when using the Tilera technology.
Availability
The 36-core Tile-Gx8036 (Tile-Gx36) and 16-core Tile-Gx8016 (Tile-Gx16) are now generally available to customers, says Tilera, which did not reveal pricing. More information may be found on the Tilera Tile-Gx product page, which links to separate PDF data sheets for the 36-core Tile-Gx8036 and 16-core Tile-Gx8016.
More information on the Tile-Gx evaluation platforms may be found in the Tilencore-Gx36 and Tilempower-Gx data sheets [PDF], respectively.
Eric Brown can be reached at [email protected].
---
This article was originally published on LinuxDevices.com and has been donated to the open source community by QuinStreet Inc. Please visit LinuxToday.com for up-to-date news and articles about Linux and open source.