May 10, 2011 — by Eric Brown — from the LinuxDevices Archive — 2 views
[Updated: May 12] — Tilera unveiled a roadmap for its Linux-ready Tile-Gx multicore system on chips (SoCs): 16, 36, 64, and 100-core versions of a networking-focused Tile-Gx 8000 series; an upcoming, multimedia-focused Tile-Gx 5000 series; and a Tile-Gx 3000 series aimed at cloud server applications. Tilera also announced Wind River Linux support for its TilePro and Tile-Gx SoCs.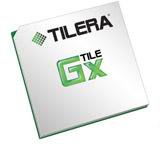 Tilera announced the Tile-Gx 8000 and two related processor series at the Interop 2011 show this week in Las Vegas yesterday, according to a number of sources, including our sister publication eWEEK. The company also posted some further details on the Tile-Gx 8000 and its first member, the Tile-Gx 8036, which is due in July.
Tilera has been selling its Linux-ready Tile64 processors since 2007. The company followed up with its 36- and 64-core TilePro processors, and then announced its TileGx family back in October 2009, saying the processors would scale from 16 to eventually 100 cores. The architecture is similar to that of MIPS64 processors, but is a proprietary design developed at MIT in the 1990s.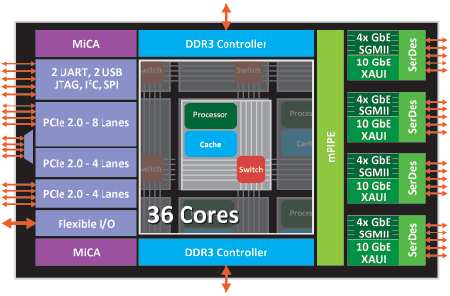 Tile-Gx 8036 block diagram
The Tile-GX 8000 series will be the first series in the Tile-Gx product family, and offer processors with 16, 36, 64 and 100 cores. The 36-core Tile-Gx8036 (see block diagram above) will begin sampling in July, and the 16-core model will follow in August, according to
eWEEK
.
The 64- and 100-core models are said to come later this year, says Tilera. The 100-core model was previously referred to as the Tile-Gx 100 (see 2009 block diagram below), but it will now likely be called the Tile-GX 8100.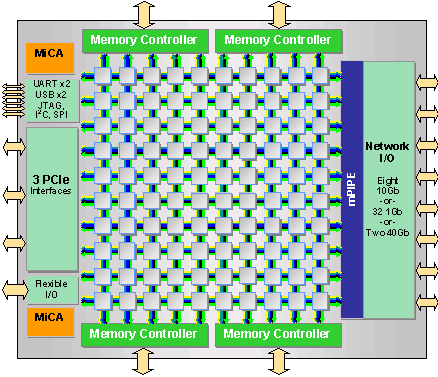 Tile-Gx 100 architecture
Details of two other Tile-GX series will apparently come out later this month. These are said to include the Tile-Gx 5000 series for multimedia applications and the Tile-Gx 3000 series or cloud server applications. Both are major departures for Tilera, which has previously focused on core networking, telecom, and industrial applications.
The Tile-GX 8000 processors feature cores with a virtual memory system and up to four integrated 72-bit DDR3 memory controllers that support up to 1TB total capacity, says Tilera. Moving to TSMC's 40-nanometer (nm) process, the Tile-Gx processors can be clocked from 1GHz to 1.5GHz, The SoCs offer power consumption ranging from 10 to 55 Watts, claims the company.
The Tile-Gx cores, which Tilera calls "tiles," are interconnected with Tilera's iMesh on-chip network. Each tile can act as a standalone processor, with its own L1 and L2 cache and a non-blocking switch that connects to the mesh. Multiple tiles can also be combined to run a multiprocessing OS like SMP Linux, says the company.
The Tile-Gx SoCs also offer "TileDirect" technology, said to provide coherent I/O directly into the tile caches to deliver low-latency packet processing. Tilera's DDC (Dynamic Distributed Cache) system offers fully coherent cache across the tile array, enabling scalable performance for threaded and shared memory applications, says Tilera.
Interfaces are said to include up to eight 10GbE (gigabit Ethernet) XAUI, two Interlaken, and 32 gigabit Ethernet interfaces. Three PCI Express interfaces are provided, as well as three StreamIO ports, each of which offer 20Gbps throughput for inter-tile or FPGA interconnects, says the company.
In January, Tilera announced it had raised $45 million in another round of funding, a move that brings the total investment in the six-year-old company to $109 million. At the time, the company said it would apply much of the money toward the development of a 200- to 225-core SoC code-named "Stratton," expected to show up in 2013.
For more background, see the links to Tilera's Tile-Gx site at the end of the story, as well as our initial Tile-Gx coverage, which appears to still apply to the Tile-GX 8000 series. For more on Tilera's competitive environment, see our January coverage of Tilera's funding round.
Tilera tips Wind River Linux support
Tilera also announced the addition of Wind River Linux support for its TilePro and Tile-Gx multicore processors. The support extends to the Wind River Workbench integrated development environment, says Tilera. Tilera previously offered support for Wind River's VxWorks real-time operating system (RTOS) and VxWorks version of Wind River Workbench.
In April, Tilera announced the availability of its Multicore Development Environment (MDE) 3.0, based on the Linux 2.6.36 kernel, which integrates Tilera's Tile architecture into the main Linux tree. MDE 3.0 includes cross compiling and native tool chains GCC 4.4, GDB 7.1, and GLIBC 2.11.2, says Tilera.
The development suit also provides a full Linux distribution with over 1,000 Linux packages based on Red Hat Enterprise Linux (RHEL) 6.0 sources. Now, it appears, the MDE also extends to Wind River Linux.
Stated Vijay Aggarwal, vice president of Business Development at Tilera, "Wind River support for the Tilera hardware enables customers to easily migrate existing designs to our platform and scale their product across multiple performance and price points."
Availability
More information on the Tile-Gx 8000 processors may be found at Tilera's Tile-Gx site.
Demonstrations of Wind River Linux and Wind River Workbench running on Tilera hardware will be available May 10-12 at Interop in Las Vegas at Tilera's booth #821.
---
This article was originally published on LinuxDevices.com and has been donated to the open source community by QuinStreet Inc. Please visit LinuxToday.com for up-to-date news and articles about Linux and open source.