Jan 25, 2012 — by Jonathan Angel — from the LinuxDevices Archive — 12 views
Xi3 Corporation announced a 4-inch, "eco-friendly" server it claims will be readily upgradeable, thanks to the use of one board containing the processor and memory and two separate boards containing I/O ports. The "microServ3r" apparently offers a choice of AMD processors, SSD (solid state disk) storage, two gigabit Ethernet ports, two eSATA ports, and a Fibre Channel port.
A Jan. 25 press release from Utah-based Xi3 relates how the company showed off its microServ3r — originally announced last November — at the Consumer Electronics Show (CES) earlier this month. We missed seeing this product in person, so it's well worth taking a look at it now.
In fact, the microServ3r isn't yet shipping, nor are details of the product yet available on the company's website. But a video posted by Xi3 makes clear that the device is an evolution of the Xi3 Modular Computer, a mini-PC that was first announced in Nov. 2010 and shipped in the second half of 2011. (See later in this story for background.)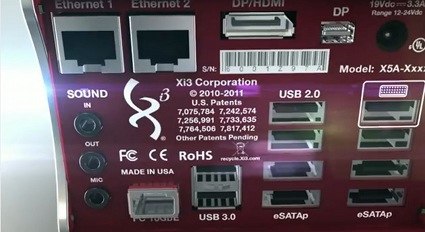 Xi3's microServ3r
(Click to enlarge)
Instead of the single Ethernet port on the standard Modular Computer, the microServ3r will apparently include two Ethernet ports and a Fibre Channel port. It will also sport HDMI and DisplayPort video outputs, four USB 2.0 ports, two USB 3.0 ports, and two eSATA ports, or so the video (embedded later below) suggests.
Xi3 hasn't said what CPU the microServ3r will employ, but a ZDNet UK report suggests it will be the same AMD Athlon X2 3400e (1.8GHz) that's already featured on the Modular Computer. Clearly, the device's metallic, 4.0 x 3.66 x 3.66-inch case will be identical as well.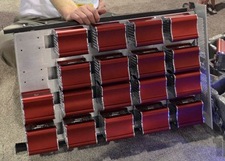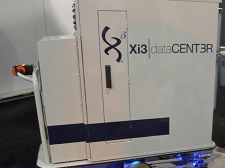 The microServ3rs can be grouped on shelves (left) and then placed inside the 224-unit Mobile dataCent3r (right)
Source: The Verge

According to Xi3, as many as 224 microServ3rs can be installed into the "motorized, sealed, and air-cooled" Mobile dataCent3r pictured above. Personal dataCent3rs "for in-wall home or office use will also be available, the company adds.

The microServ3r evolved from the earlier Modular Computer, according to this Xi3 video
(click to play)
Background
Xi3 announced in 2010 that its Modular Computer uses a design protected by six different U.S. patents, three of which had been only recently issued. The patents were said to have been licensed to Xi3 by the holding company Isys Technologies, which has been working on the computer's design since at least 2008 (as its various YouTube videos demonstrated).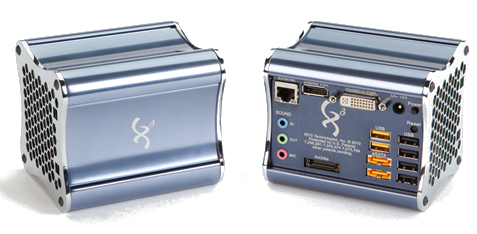 The Xi3 Modular Computer
Jason Sullivan, identified as both founder and CEO of Isys Technologies and president and CEO of Xi3 Corporation, stated at the time, "We reject the concept that computers should have a useful life of only two to four years. Instead we believe that computers should be upgradeable and updateable over and over and over again, and that's how we've designed the Xi3 Modular Computer, making it (potentially) the last computer you ever need to buy."
It was claimed that the Modular Computer will resist obsolescence because instead of using a single motherboard, it employs three boards. One of these (below middle) houses the processor and RAM, while two additional boards (below left and right) handle connectivity and I/O.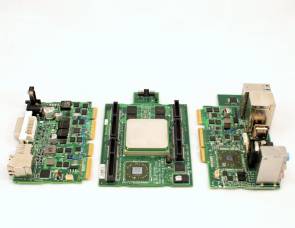 The secondary I/O (left), processor (middle), and primary I/O (right) modules inside Xi3's Modular Computer
Presumably, then, Modular Computers — and microServ3rs, too — will be able to gain faster CPUs in the future by snapping in an upgraded processor board, though Xi3 made no specific promise to offer these. (Having encountered such schemes in the past, we're bound to point out that they all foundered for one of two reasons: Either the vendor failed to provide the upgrade boards that were promised, or technology simply outstripped whatever interconnect was being used.)
Xi3 provided few details of its interconnect, but did say that it carries PCI Express signals, among others. The Modular Computer also has a wealth of standard, PC-style ports, as seen in the picture earlier in this story, including DVI-I and DisplayPort video outputs.
Xi3 says the Modular Computer has six USB 2.0 ports with Type A connectors, along with two eSATA connectors. The device's rear panel also includes a gigabit Ethernet port and 3.5mm audio jacks (headphones, mic in, and line in), according to the company.
The Modular Computer is said to use AMD's 780E northbridge and SB710 southbridge, the latter mounted on a separate board from the processor so as to ease I/O upgrades. Processor choices, meanwhile, can be either a dual-core, 1.8GHz AMD Athlon X2 3400e, or a single-core, 1GHz AMD Athlon XP 2000+, says Xi3.
According to Xi3, cooling of the Modular Computer is aided by its aluminum case and flow-through design. However, the device is apparently not fanless, Xi3 making reference to an internal fan connector.
Noting that the Modular Computer comes with 2GB or 4GB of RAM, Xi3 adds that the device employs SSD (solid state disk) storage, in capacities ranging from 16GB to 128GB. The system is compatible with both Linux and Windows, according to the company.
Features and specifications listed by Xi3 for the Modular Computer include:
Processor — 1GHz AMD Athlon XP 2000+ or 1.8GHz AMD Athlon X2 3400e
Chipset — 780E northbridge and SB710 southbridge
Memory — 2GB or 4GB of RAM
Storage — SSD ranging from 16GB to 128GB
Networking — gigabit Ethernet
Other I/O:

1 x dual-link DVI-I (supports HDMI, VGA, DisplayPort via adapters)
1 x DisplayPort
6 x USB 2.0
2 x eSATA
audio — mic in, line in, headphone out

Power requirements — 19VDC via external AC adapter
Dimensions — 4 x 3.66 x 3.66 inches
Weight — n/s
Further information
According to Xi3, the Modular Computer is shipping now for prices starting at $849. The microServ3r and dataCent3r products will be available "before mid-year 2012," the company adds.
More information on the Modular Computer can be found on the company's website, here.
Jonathan Angel can be reached at [email protected] and followed at www.twitter.com/gadgetsense.
---
This article was originally published on LinuxDevices.com and has been donated to the open source community by QuinStreet Inc. Please visit LinuxToday.com for up-to-date news and articles about Linux and open source.