Jan 26, 2011 — by Eric Brown — from the LinuxDevices Archive — 3 views
CompuLab announced a 5.1 x 3.7 x 0.6-inch computer built around the dual-core, 1GHz Nvidia Tegra 2 processor, designed as an open platform for ARM software development, among other uses. Claimed to run on only three Watts, the "Trim-Slice" features 1GB RAM, dual SDHC slots, a SATA SSD, dual-head HDMI/DVI, Wi-Fi, and Bluetooth, plus gigabit Ethernet, USB, and serial connectivity.
Billed as CompuLab's smallest and most energy-efficient computer to date, the Trim-Slice is available for both OEM and retail markets, says the Israel-based firm. The mini-PC can be used as a media player, IPTV box, infotainment system, signage computer, gaming device, or even a desktop replacement, says the company. The Trim-Slice is also touted as an open platform for ARM software developers.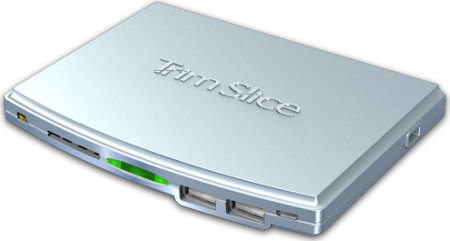 CompuLab Trim-Slice


(Click to enlarge)
Stated Mike Rapoport, Director of SW Development at CompuLab, "The open-source community and ISVs need an ARM development platform that is versatile, open and powerful. Trim-Slice meets that by incorporating PC-like performance, memory, storage, display, I/O and networking in an open platform that allows installation of any supported OS and application. CompuLab will offer more than one OS working on Trim-Slice out-of-the-box."
While CompuLab did not specify which specific OSes the Trim-Slice will support, Linux and Android seem likely at the very least. The company's x86-based "fit-PC" line of mini-PCs have run Linux and Windows (see below). While the Nvidia Tegra 2 supports Windows CE as well as Linux and Android, it is unclear whether proprietary OSes will be supported on the "open platform" Trim-Slice.
The Trim-Slice was announced only a week

after CompuLab unveiled its fit-PC3 (pictured), the latest and most powerful of its line of fit-PC mini-PCs.
While the fit-PC3 is based on the new AMD G-Series processor, and earlier models have used the Intel Atom and AMD Geode chips, the Trim-Slice represents CompuLab's first step into the ARM world. The tiny computer adopts the red-hot Nvidia Tegra 2 processor, which combines dual 1GHz Cortex-A9 cores with an Nvidia GeForce graphics processor.


Rear view of the Trim-Slice
(Click to enlarge)
The Tegra 2 has been the processor of choice for high-end Android tablets, such as the upcoming Motorola Xoom, Toshiba Tablet, and several Asus Eee Pad models. It is now beginning to appear on Android smartphones that are not much smaller than the Trim-Slice itself, including the LG Optimus 2X and Motorola Atrix 4G.
Equipped with 1GB of DDR2 RAM, the Trim-Slice offers both a full-sized SD and mini-SD slot, as well as an apparently optional SATA solid-state disk (SSD) with up to 64GB in capacity.
The mini-PC also squeezes in a gigabit Ethernet port, four USB 2.0 ports, a USB device port, and a serial port. A wireless module, meanwhile, supports both 802.11n Wi-Fi and Bluetooth, says CompuLab.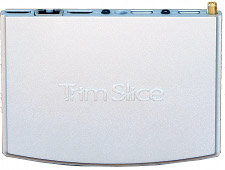 More views of the Trim-Slice


(Click on either to enlarge)
The Tegra 2 should be able to drive full HD video out through its dual-head HDMI 1.3 and DVI port. In addition, Compulab offers some IPTV flexibility by supplying a PAL/NTSC video-in connection.
Audio ports are also supplied to support the device's 5.1 channel digital audio. In addition, there are "extensions for" JTAG, dual UARTs, and SPI, says the company (see spec list below).
As its name implies, the 5 .1 x 3.7 x 0.6-inch Trim-Slice is the thinnest CompuLab computer yet (it's smaller than the 6.3 x 6.3 x 0.98-inch fit-PC3, but larger than the fit-PC2 and fit-PC2i, both of which measure 4.5 x 4.0 x 1.05 inches). In fact, aside from the device's industrial-looking all-metal nickel-plated die-cast housing, the Trim-Slice has the look and feel of a smartphone or mini-tablet, minus the screen.
The fanless device runs on 8-16V DC power and is said to average three Watts of consumption. By comparison, the AMD G-Series based fit-PC3 ranges from 9 (1GHz) to 18 (1.6GHz) Watts, and the Atom-based fit-PC2 and fit-PC2i offer 10 and nine-Watt power consumption respectively.
Features and specifications listed for the Trim-Slice include:
Processor — Nvidia Tegra 2 (dual-core ARM Cortex A9) @ 1GHz with integrated GeForce GPU
Memory — 1GB DDR2-800
Flash expansion — SDHC slot; micro-SDHC slot; up to 64GB SATA SSD
Networking:

LAN — 1 x gigabit Ethernet port
WLAN — 802.11b/g/n
PAN — Bluetooth

Other I/O:

4 x USB 2.0 ports (480MBps)
1 x USB device port
1 x RS232 port
HDMI 1.3 + DVI (dual head) port
PAL/NTSC video in
Audio line-out, line-in, 5.1 digital S/PDIF
Extensions for JTAG, 2 x UARTs, SPI

Power — 8-16V DC; 3 W average consumption
Dimensions — 5 .1 x 3.7 x 0.6 inches (130 x 95 x 15mm)
Stated Igor Vaisbein, Trim-Slice project manager at CompuLab, "The ultra-low power of Nvidia Tegra 2 enabled designing Trim-Slice into a miniature form-factor with unprecedentedly low-power envelope while providing rich multimedia capabilities and PC-like user experience."
Availability
CompuLab expects to start accepting orders from Trim-Slice in April. Trim-Slice will be guaranteed for long term (five-year) availability, and will be available in several configurations. It will also be offered to OEMs looking to re-brand the product, says the company. CompuLab notes that it will "cooperate with ISVs that select Trim-Slice as a reference platform."
Stated Irad Stavi, director of Business Development at CompuLab, "Trim-Slice pricing is yet to be finalized. It will be priced higher than a streamer, but lower than a tablet."
More information may be found at CompuLab's Trim-Slice page.
---
This article was originally published on LinuxDevices.com and has been donated to the open source community by QuinStreet Inc. Please visit LinuxToday.com for up-to-date news and articles about Linux and open source.