Jan 3, 2011 — by LinuxDevices Staff — from the LinuxDevices Archive — views
Toshiba will introduce a 10.1-inch Android 2.4 tablet that, like its earlier, troubled Folio tablet, runs on a dual-core Nvidia Tegra 2, according to an AP report. The "Toshiba Tablet" will boost screen resolution and add few features not found on the Folio, including GPS and a second five-megapixel camera, says the report.
Toshiba is preparing to release its first tablet for the U.S. market at the 2011 Consumer Electronics Show in Las Vegas this week, the Associated Press has reported. Tentatively called the Toshiba Tablet, the device features a 10.1-inch display and is said to run Android 2.4 — known as "Honeycomb" - a release designed specifically with tablet functionality in mind.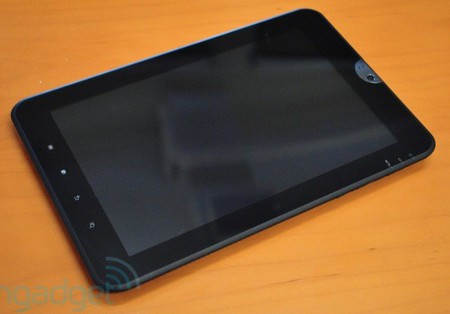 Toshiba Tablet, take two


Source: Engadget
Engadget
today
released some embargoed photos
(one of which is pictured above) of a non-functioning version of the tablet that Toshiba showed the publication several weeks ago. The story had few new details to add to the AP information described below, however.
With the Tablet, Toshiba appears to be makin

g an effort to compete with the Apple iPad and improve on the Folio 100 (pictured at right) — its initial, quick response to the burgeoning tablet market. That device suffered from so many issues that some retailers in the U.K. pulled it from their shelves. (The Folio recently received a firmware update that's said to solve many, but not all, of its issues.)
The new "Tablet" is expected to be slightly larger and heavier than the iPad — 1.7 pounds and just over half an inch thick, versus the iPad's 1.5 pounds and 0.5 inches. It will reportedly run Nvidia's dual-core Tegra 2 chip and offer only Wi-Fi connectivity at first, with carrier deals (and so wireless broadband connectivity) expected to follow.
Battery life — a far cry from the iPad's 10-plus hours — is said to clock in at seven hours.
So far, these specs are identical to the earlier Folio 100. However, besting both the Folio and the iPad, the new tablet will have not one but two cameras - a two-megapixel model on the front (up from the Folio's sole 1.3 megapixel cam) and a five-megapixel camera up front.
Like the Folio it offers an SD memory card slot, Bluetooth, a USB 2.0 port, and an HDMI port, and it now adds GPS as well.
The 10.1-inch capacitive display will support high-definition video viewing at 1080p. According to Engadget, the screen resolution has been boosted from the Folio's 1024 x 600 pixels to 1280 x 800. The story also notes the presence of an accelerometer and ambient light sensor.
Ergonomics are said to be improved with a rubberized back for easy gripping, a glossy, black front, and a replaceable rear plate for customizing the tablet's appearance.
As for pricing, that is not yet firmly settled, reports the AP, though the device should be "competitive with the iPad," which ranges from $499 for the 16GB, Wi-Fi-only model to $829 for the highest-end version, with 64GB of memory and both Wi-Fi and 3G connectivity. While Toshiba will introduce the Toshiba Tablet in January, the story adds, it won't become available until June.
Google has yet to get specific about the updates to Honeycomb — and has yet to confirm the growing rumors that this will be Android 2.4 instead of Android 3.0. However, Andy Rubin, Google's head of mobile technology, said in a meeting in December that "Honeycomb will enable applications to have multiple views and present information differently depending on whether they're running on a phone or a tablet," according to AP.
Toshiba should have lots of company in introducing a tablet at CES. Among the many Android models expected, ViewSonic is said to be introducing a hybrid, Android-running smartphone/tablet that can support 4G connectivity, and Motorola is likely to show off a tablet, teasingly shown off late in 2010, that will also run Honeycomb.
Hewlett-Packard will soon also be contributing to the tablet market with a WebOS model — likely in the March timeframe — and Research In Motion is expected to offer a new tablet in May.
Meanwhile, Microsoft CEO Steve Ballmer is expected to introduce several Windows 7-running tablets at CES, including models from Samsung and Dell. According to The New York Times, he may also show off a model running Windows 8.
Market research firm iSuppli expects shipments of tablets to reach 43.7 million in 2011, before climbing to 63.3 million in 2012.
Michelle Maisto is a writer for our sister publication eWEEK.
---
This article was originally published on LinuxDevices.com and has been donated to the open source community by QuinStreet Inc. Please visit LinuxToday.com for up-to-date news and articles about Linux and open source.