Jan 11, 2011 — by Eric Brown — from the LinuxDevices Archive — 370 views
At CES last week, MIPS Technologies, demonstrated a number of MIPS-based Android mobile devices, including two smartphones and several tablets. MIPS also announced that Chinese semiconductor firm Ingenic — whose MIPS-based processors power Velocity's Cruz Android tablets, has licensed the MIPS32 architecture to develop one of the new Android smartphones — while an Action Semiconductor MIPS SoC powers the other.
While ARM processors predominated in new mobile devices at CES last week, MIPS Technologies also had some goodies to show based on its own 32-bit MIPS cores. These included two unnamed prototypes of the first MIPS-based smartphones, as well as several tablet PCs.
Less than a year after announcing plans to develop a MIPS-based Android smartphone stack with Intrinsyc, MIPS says, it has signed more than eight mobile-related customers for applications processing, media processing, baseband processing and other technologies in e-readers, tablets, netbooks, and mobile handsets.

MIPS-based mobile devices at CES 2011
(Click to enlarge)
In the above photo supplied by MIPS without annotation, the tablet on the left appears to be Velocity Micro's Cruz Tablet (see below), but the other tablets appear to be from different vendors. No details were offered on the SFR device at the top. Meanwhile, the phone appears to be a different model than the Sanno phone pictured farther below.
MIPS also announced it has finally corralled China-based Ingenic Semiconductor into formally licensing the MIPS32 architecture for its mobile device SoCs. "Ingenic is leveraging the MIPS architecture for devices targeting a broad range of mobile products including e-readers, tablets, and smartphones leveraging the Android platform," says MIPS.
Ingenics has been building MIPS-derived Xburst cores for years, but hasn't had to pay any fees. Some 25 million XBurst CPUs have been shipped to date in products including Velocity Micro's Cruz tablets, says Ingenic.
MIPS helped support a port of Android to the MIPS architecture, a task that was completed in June 2009, based on Embedded Alley's initial Android to MIPS port. (Embedded Alley was since acquired by Mentor Graphics.)
MIPS has been running with the Android theme ever since. At CES 2010, MIPS demonstrated numerous Android-based IPTV STBs and related products — primarily using Sigma Designs processors. It had some more Android set-top news at this year's CES, announcing a new "SmartCE" platform based on Android (see farther below).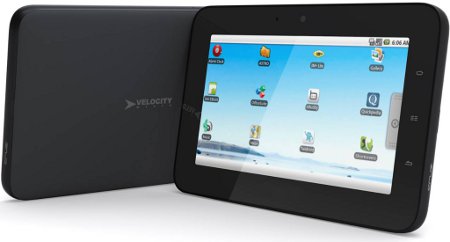 Velocity's Cruz Tablet
The first MIPS-based tablets, it is now revealed, are Velocity Micro's Android-based, seven-inch
Cruz Tablets
, all based on unnamed SoCs from Ingenic. The Cruz Tablets originally went on sale for $150 (a kids-oriented Cruz StoryPad), $200 (Cruz Reader), and $300 (Cruz Tablet), but these prices have all been discounted by
at least $50
at major retailers including Amazon, Best Buy, Walmart.com, and Borders.
The Cruz Tablet adds a few extras compared to the Cruz Reader, including a capacitive multitouch screen, faster Wi-Fi, and twice the memory allotment, with 512MB RAM, 4GB internal flash, and an 8GB card.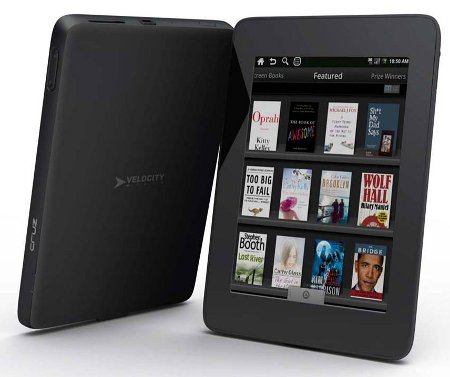 Velocity Micro's Cruz Reader
While full specs were released on these devices when they were
originally announced
back in July, the company apparently did not release the fact that the processor was an Xburst.
MIPS takes on cheap Android phone market
The two smartphones shown at CES are in pre-production now, and further details will be disclosed in the coming weeks, says MIPS. Sascha Segan of PCMag saw the phone demos, and said the unnamed OEMs were all "no-name Chinese devices." The photo of one of the phones that ran with the story shows a "Sanno" branding (see below).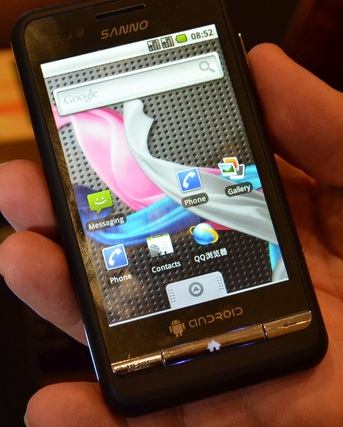 MIPS-based Sanno Android phone shown at CES


Source: PCMag
Writes Segan, "I was intrigued when I grabbed the Chinese-made MIPS smartphone. Running Android 2.1 "Éclair," it looked and felt just like a standard low-end, 600Mhz ARM11 Android phone. It was usable, but animations were jerky on the 320×480 screen, and playing games was a bit of a problem. It wasn't a performance standout."
Segan goes on to note, however, that "MIPS told me that it was running on a chip that's the equivalent of a 400Mhz ARM9, using MIPS's architecture, with a huge, cheap 130nm process. That's big news. It means MIPS could enable entry-level smartphones for well under $100, which could lead Android-based smartphones to really start replacing feature phones in the market."
Meanwhile, MIPS and Ingenic appear to have mobile device ambitions beyond the Chinese market. Stated Sandeep Vij, president and CEO, MIPS Technologies, "We are pleased to work closely with the company as [Ingenic] brings its innovative XBurst CPU technology to the U.S. market."
Less familiar is Action Semiconductor, also based in China. The company sells a wide variety of ATJx and AKx SoCs aimed at multimedia devices and industrial metering applications.
Ingenic Xburst details
No details were offered on which Ingenic Xburst processors were used in any of the above products, but the company website shows the most advanced model now shipping to be the 600MHz Ingenic Xburst Jz4760, said to be aimed at smartphones, tablets, e-readers, and GPS navigators.
In addition, Ingenic also notes that the Xburst architecture consumes 100mw at 1000MHz at a 65nm LP process, suggesting that a 1GHz model is in the works as well.
In addition to its dual MIPS32-based cores, the 600MHz Jz4760 includes a 2D graphics engine, as well as a video engine capable of 720P decoding, says Ingenic. It also supports Wi-Fi, 3G, Bluetooth, and "TV" functions, says the company. The SoC is said to support Android, Linux, Windows CE, and various unnamed real-time operating systems.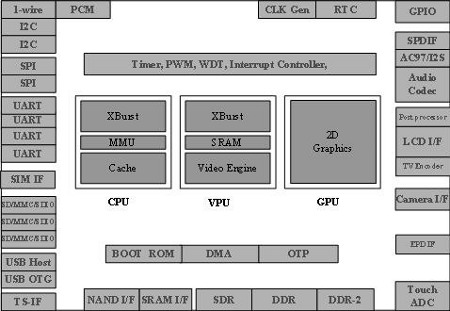 Ingenic Xburst JZ4760 block diagram
An earlier, MIPS-compatible Xburst
JZ4740
SoC, clockable to 400MHz, has been used in a number of low cost, Linux-based netbooks, including iUnika's open source
Gyy
, as well as in Qi Hardware's
Ben NanoNote
Linux clamshell.
Stated Qiang Liu, chairman and CEO for Ingenic Semiconductor, "Our XBurst CPU technology features the high performance, low power and high level of integration needed for success in the mobile market. MIPS Technologies' industry-standard architecture and broad ecosystem of third party support will be a great help as we continue to expand our business."
SmartCE aims at Android TVs
At last year's CES show, MIPS Technologies and its partners demonstrated a variety of Android- and MIPS processor-driven IPTV set-top boxes (STBs) and related products. Western Mediabridge and KDDI both demo'd IP STBs incorporating Sigma Designs processors, while Home Jinni, KatDC, and AllGo Systems showed related IPTV firmware, and Lemote demonstrated Android running on its YeeLoong netbook.
This year MIPS demonstrated an Android-based "SmartCE" software platform aimed at home entertainment devices such as digital televisions, set-top boxes and Blu-ray players. The SmartCE stack integrates Android with Adobe Flash Platform for TV, Skype, social networking widgets, and the Home Jinni ConnecTV application, says MIPS.
ConnecTV is said to let users search, organize and access music, photos, and video content from local sources and the Internet on sites such as YouTube, Netflix, and Yahoo! Movies.
SmartCE was demonstrated running on MIPS-based SoCs from several of MIPS' licensees, including Sigma Designs and ViXS Systems. Other licensees include Silicon Integrated Systems (SiS), Trident Microsystems, and Zoran Corporation, says the company. A reference implementation of the SmartCE Platform is available today, says MIPS.
Availability
More information on MIPS' Android-based mobile device development platform may be found at its Arriba Android Porting Kit page.
---
This article was originally published on LinuxDevices.com and has been donated to the open source community by QuinStreet Inc. Please visit LinuxToday.com for up-to-date news and articles about Linux and open source.